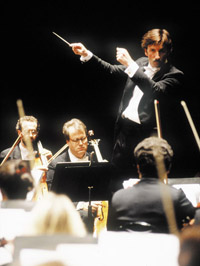 California Symphony Music Director Barry Jekowsky
Photo courtesy of Pavilion Associates
The California Symphony is celebrating its 15th anniversary this season by highlighting the performers and programs responsible for its success. But no one is likely more responsible for that success than founding Music Director Barry Jekowsky. His longstanding commitment to presenting American music and supporting young American composers and performers has molded the orchestra into what it is today.
A number of special events to mark the fifteen-year milestone are included on this year's calendar, including the performance of new works from all of its past Young American Composers-in-Residence along with pianist Stewart Goodyear, marimba soloist Makoto Nakura, violinists Robert McDuffie and Kyoto Takezawa, and Peter Schickele. The orchestra is also welcoming Stacey Street on board as the orchestra's newly appointed executive director. (Read NewMusicBox's interview with Street).
With noticeable pride, Jekowsky recounts the orchestra's history. Fifteen years ago, he stepped in and conducted the East Bay Symphony, a local community orchestra, just days before making his European debut. He returned from an "incredible success" in London to a message from the East Bay's board asking him to take over.
Jekowsky didn't feel the position fit with his own career goals and declined the board's offer, but a few days later they called back to ask what his vision for the orchestra would be. Jekowsky wasn't short on ideas. He told them that he wanted to form a "really top flight professional orchestra" made up of the "cream of the crop of the musicians in the Bay Area and California if possible." And more than that, "the orchestra would also have a real purpose." He clarifies that at that time, orchestras were going bankrupt across the country. "Orchestras were in trouble and they needed to sort of define themselves and have an identity. I love American music and I'm very dedicated to that. I said, 'You know, we should really have an orchestra in this country that plays a work by an American composer on every single concert. Never varying from that. And that would be the basis of the orchestra.' "
The board agreed and the California Symphony was born.
Many of the ideas for Jekowsky's dream orchestra were logically rooted in his own experiences. He had conducted a number of Dorothy DeLay's young students in concerto performances at Aspen and says he "developed an affinity for a lot of these young talents," performers such as Nadja Salerno-Sonnenberg and Gil Shaham. "I thought one of the other things we [as an orchestra] would do is feature profoundly gifted young performers, sort of the 'stars of tomorrow today,' that sort of thing." In line with that mission, the orchestra first presented the professional debut of violinist Kyoko Takezawa. The roster has since grown to include artists such as violinists Sarah Chang and Leila Josefowicz, cellists Alisa Weilerstein and Daniel Lee, and pianist Helen Huang.
Once the orchestra was on solid footing, Jekowsky lost no time pursuing another dream ñ the establishment of a young American composers residency program. Beyond commissioning new works and holding readings, he saw the need to foster deeper relationships between composers and orchestras, and he wanted to be able to offer composers higher quality performances of their music than one-day readings or one-time performances could provide.
He outlined his ideas for a residency program to friend and composer Jacob Druckman and was met with complete support. Jekowsky remembers, "He told me, 'What a great idea. I've always dreamt of something like that. Why didn't someone have that for me when I was coming up?' So he encouraged me to go for it."
Without funding in its first year, the Young American Composer-in-Residence program got off the ground running on little more than Jekowsky's passion and commitment. But by the second and third year, he says, "it got incredibly successful…it was the most easily funded of all the programs that we did."
To assist with composer selection, Jekowsky put together a screening committee of four American composers — Jacob Druckman, Christopher Rouse, John Adams, and William Kraft. Druckman's place was later filled by John Corigliano. "It was going to be just for Americans and adjudicated and overseen by Americans." So far, Jekowsky has invited four composers from across the country to work the orchestra — Kamran Ince, Chris Theofanidis, Kevin Puts, and Pierre Jalbert. Remarkably, all four have also been honored with the Rome Prize.
The program began as a two-year residency. It now attracts in excess of 90 applications, each including three or more scores, so the screening process is extremely time intensive. In addition, Jekowsky has seen the impact the residencies have had on each composer's work and the amount of growth that occurs through the year. Therefore, beginning with Kevin Puts, the residency time was increased to three years to allow more time for both processes. The fact that the orchestra can select only one composer from the many candidates "makes me very sad" Jekowsky admits, "but again, it's a matter of doing what you can do…I decided that I'm just going to give this gift to some lucky people and hope that some day it will enlarge with us and we'll be able to get bigger."
The composer works with the orchestra four or five times through the course of the season, providing an opportunity for the orchestra to try out different sections of the commission-in-progress and for the conductor and musicians to offer suggestions. The hour-long sessions are also professionally recorded.
"For that period of time, and it's understood by the musicians, the orchestra is a laboratory," Jekowsky explains. The rehearsals are meant to provide a time of learning and experimentation for the composer, and the players respond in kind. If the composer asks to hear something a different way, "there's no hissing in the orchestra, or if there is a wrong note, or mistakes in the parts. There is a collaboration between the conductor, the composer, and the orchestra."
Attesting to the support the players offer these young composers, they even trade phone numbers so they can discuss the music as it's being written and rehearsed. For example, Jekowsky illustrates, "if the third trombone is having a problem with his part, he will get in touch with the composer and maybe they'll meet over cup of coffee to talk about it. The players are just very committed to this, and the commitment has grown as the program has grown because they've seen the quality of the compositions that have come out of this process."
With so much care put into the crafting process, the end result is a consistently high quality premiere performance. "Did you ever hear of getting an hour of rehearsal on a 12-minute piece at the dress rehearsal?" Jekowsky asks. "That's the kind of commitment that we give our composers." Though Jekowsky admits that sometimes local critics suggest the other works on the program suffer for lack of adequate rehearsal, he considers the contribution worth the risk.
Along the way, the four composers have also developed tight network among themselves. "There's this incredible friendship that has happened," Jekowsky says, noting that they all tend to be in the audience the night of each other's premieres. "Between the composers, it's this club, which is so wonderful, the way each of them support each other."
Jekowsky can barely contain his enthusiasm for this crop of young composers. He points out that after the orchestra premiered Puts's First Symphony, representatives of the Pulitzer committee in the audience that night asked him to submit it for prize consideration. And Jekowsky considers Jalbert's latest work, Symphonia Sacra, "one of the greatest works I've come across, although they've all been at such a level, but this…is just an amazing work, it's just so deep and so amazing."
Though there are any number of niches Jekowsky could have fallen into as a conductor, the cause of American music was a natural fit for him. "I was kind of adopted into it when [Leonard] Slatkin chose me to be associate conductor of the National Symphony," he says. "It's who I am, and I decided that was the way to go."
"To me, it's not about how much I can do, it's more about the quality of work I can do," Jekowsky says, seeming to have retained an uncharacteristic idealism. "When you have a career it should have more of a purpose than for show. It's just having a commitment and a desire to make a difference. I always get more than I give to the composers. I learn, the musicians learn, and we're producing some composers who will be at the top of the heap and they already are going there."
Though not always popular with critics, the concerts featuring the young artists and the commissions are by the far the best attended. "We have to turn people away, but the audiences love it." And these are suburban audiences, he points out, made up of the concertgoers who stereotypically wait out in the lobby during the contemporary music portion. He feels that the program is an excellent example of how an organization can do something to "help solve what you're complaining about."
To accomplish this, Jekowsky asks each of the composers to be "ambassadors for new music" out in the community as well as to engage the audience in the concert hall. The composers are invited onstage to speak about their work just before the performance which Jekowsky feels helps them to "get to the heart of what the piece really means to them." With all the pressure on the composer that night, he says, "Can you imagine having the premiere and then I make them talk before hand? But it actually relaxes them. They get all their nerves out and then they are really ready to listen to their piece."
Jekowsky is continually impressed with both the talent of the composers the program attracts and the amount each composer develops as an artists during the course of the residency. The program's first composer, Kamran Ince, explained to him in retrospect how inspirational it had been for him to be able to hear the piece in process. It confirms for Jekowsky that a vivid imagination or even MIDI playback can never equal working with a real orchestra. Like a painter at work, the sessions throughout the season allow the composer to "take a step back from the canvas."
And providing that opportunity and the free range to create whatever type of piece the composer envisions is a large part of what Jekowsky and the California Symphony are all about. "It's like being a kid in a candy shop for these [composers] and it's not in college, it's not in the conservatory, it's in the real world as a young professional on the launching pad for hopefully a huge career."
Hear an excerpt of the California Symphony playing Solstice by Lou Harrison