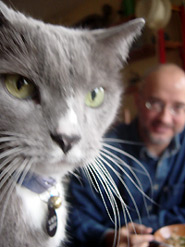 M.E. and Brett Campbell
The audience strolled in a little hesitantly. After all, instead of settling into plush concert hall seats, they were sitting in plastic folding chairs in the basement of a multi-story hotel in downtown Portland, Oregon. A single violist stood at a music stand in front of three 10-foot video screens. He began to play an insistent repeating pattern. Then a life size image of the violist, Brian Quincey, appeared on one of the screens next to him, playing a countermelody while the real Quincey continued playing the initial pattern. A new, identically dressed Quincey appeared on each screen in turn, playing a different melody and forming a virtual viola quartet.
Thus began the year's final concert for Portland's Third Angle New Music Ensemble—for a third of the audience anyway. For its season-ending examination of the parallels between architecture and music, the group split its audience in thirds and sent each in turn to one of three nearby downtown venues. For a performance in the lobby of the neoclassical US National Bank building, members of the group played neoclassical 20th century works by Igor Stravinsky and Francis Poulenc, as the audience arrayed themselves in front of teller's windows and desks. In the modern Fox Tower, a different subgroup of the ensemble played John Adams's rollicking Road Movies (in tribute to the spot's former tenant, a movie theater) and a jaunty 2003 work by Portland's own Kevin Walczyk called BlueVox, accompanied by the award-winning Jefferson Dancers, outfitted in orange and yellow costumes.
The group envisioned the third space, the Hilton Hotel basement, as a "raw space" that could be enhanced with video and computer music technology to create a futuristic "virtual" space. Following Quincey's split personality performance there, the group enlisted the help of video artist Brad Johnson and projectionist Danny Rosenberg to transform the grey basement into an underwater wonder-world. As Quincey's viola played a meandering tune, the triptych of video screens displayed an image of the basement walls. Then, as composer Brede Rorstad's pulsating, computer-generated accompaniment bubbled up under the viola line, the view shifted—around the corner, through a vault door, down a flooded corridor, finally emerging into what appeared to be a vast, sunken cathedral, its virtual architecture modeled on the Hilton basement. As the "camera" view drifted through arches and around corners, sparkling geometric figures bobbed up and drifted away, making the enchanted viewers feel as though they were scuba diving through a hidden world beneath Portland's streets—much like Alice's journey through the looking glass or the wardrobe that led to C.S. Lewis's Narnia. The fantastic virtual voyage ended with a return through the vault door to the actual images of the basement walls.
A panel discussion (featuring Third Angle violinist and artistic director Ron Blessinger, composer Walczyk, and Los Angeles architect Steven Erlich) that tried to explore connections between music and architecture was a bit anti-climactic after this magical journey—but that was quickly replaced by excitement over the announcement of Third Angle's upcoming 20th season. The group has recorded three CDs (of music by Aaron Copland, Portland composer David Schiff, and a live performance in a local glass factory), played dozens of works by Northwest composers as well as the West Coast premiere of John Cage and Kenneth Patchen's long-lost radio drama The City Wears a Slouch Hat, hosted composers such as Steve Reich and Lou Harrison, increasingly attracted grants and support from businesses and music lovers, and has given Northwest audiences a reliable source of contemporary, accessible, avant-garde music. Next year's schedule includes the return of acclaimed Chinese composers Zhou Long and Chen Yi, exploring the new music of China, a jazz-contemporary classical concert, and a 20th anniversary retrospective concert/celebration featuring the ensemble's greatest hits. But this year's inventive tripartite concert suggests that the ensemble's most exciting days lie ahead of it.
***
Brett Campbell writes about music and other arts for the Wall Street Journal, andante.com, and other publications. He teaches magazine writing at the University of Oregon and plays and sings in Gamelan Sari Pandhawa. He is completing a biography of Lou Harrison, co-authored with composer and music professor Bill Alves, with editorial assistance from M.E. (pictured above).