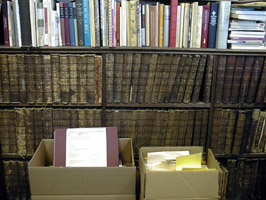 The Presser Archive
After 51 years in Bryn Mawr, the Theodore Presser Company will move its entire operations to nearby King of Prussia in January. The present facility houses historical archives of the Oliver Ditson Company and The John Church Company, as well as Presser and newer companies including Merion, Mercury, and Elkan-Vogel. In preparing to move to the new, smaller facility, the company has decided that to offer a large portion of these archives to one or more libraries.
"Theodore Presser Company is essential to the development of the music publishing business in America, and much of the material that we have on our premises reflects the history of this company and its interaction with other companies, from the infancy to the present day of the American music publishing business, " commented President Tom Broido in a telephone interview. Presser was founded in 1883, but its subsidiary Oliver Ditson dates back to 1783, making it the oldest music publisher in the United States.
The offered materials are mainly publications and supporting information of Presser, Ditson, and Church, from the late 19th century through the 1960s. This includes metal and wood printing plates from the 1930s and 40s, financial records, and correspondence between the company and musicians. In addition, there are piles of out-of-print sheet music, much of it solo music for piano and voice. "That was the heart of what Presser published at that time," Broido pointed out.
However, there is no existing inventory or catalog of the materials being offered. "We don't necessarily know every little thing in every box, that's one reason we want some one to catalog it," Broido commented. "As a reward, they will get the lion's share of it." Broido feels strongly that the materials in the archive will be much more useful when housed in a library. He explained that Presser does not have the facilities to serve as a "destination" for viewing such a collection. Once the archive is properly stored, "if somebody wanted a copy of an out-of-print title, we could refer them to that library." Also, if the inventory turns up an item of "historical value," Broido wants to make sure that researchers have proper access to it.
Since the company made it known that this archival material is available, they have received inquires from approximately twenty institutions, most of them libraries. Broido wants to make a decision about who will house the collection "soon," but stated that no official deadline had been set.
In an interview about their archives from the last century, the question came up about whether or not the company is currently accumulating similar material that will form an archive for the next century. Broido mused that "it might be nice to see a letter from Rochberg or Persichetti a hundred years from now," but added that "saving a lot of paper has become a luxury in business." They save letters from composers that make direct reference to publications, and discard thank-you notes and letters containing news of premieres. At the same time, the whole notion of archiving has changed with the advent of technology. They do save emails, but Broido feels that these are of "very little historical interest." Broido is also ambivalent about the value of manuscripts produced using Finale, Sibelius, or similar computer notation software. In Broido's opinion, "every copy that comes out has equal value, except the attributed value of the composer signing."