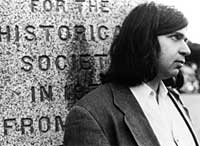 Frank J. Oteri
Photo by Melissa Richard
Over the years, I have frequently bemoaned the fact that there is no Nobel Prize for Music. While only in my most musically zealous moments I'd claim that musical contributions are as significant as strides toward world peace, even in my soberest moments I know in my heart that musical contributions are at least as significant as literary ones and literature is my second love. The Nobel Prize has introduced me along with people from around the world to many an unfamiliar writer, often the Prize is a guarantor that the works of a foreign author whose works have not appeared in English will finally be translated. But what about music, that so-called universal language, which does not need translation in order to reach all of us…
We have made up for the lack of a Nobel Prize in Music with a variety of lesser accolades, many of which are described in Adam B. Silverman's HyperHistory this month. Chief among American musical composition awards in renown is probably the Pulitzer Prize, an award initially established for Journalism during the First World War and later extending its domain to literature, theater, and finally music in the mid 1940s. Although the Pulitzer in Music has been awarded to many important composers and to works which have gone on to become part of the canon of American classical music (e.g. Copland's Appalachian Spring, Ives's Third Symphony, Barber's Vanessa, two of Carter's string quartets) and many of today's most visible figures include a Pulitzer among their honors (David Del Tredici, Ellen Taaffe Zwilich, Christopher Rouse, Aaron Jay Kernis, Wynton Marsalis…) But there have been many Pulitzer Prize winning works that have receded into reportorial oblivion. (When's the last time you've heard John La Montaine's Piano Concerto or Douglas Moore's opera Giants in the Earth?) And several recent prize-winning pieces, including three from the past decade, have never even been recorded (Shulamit Ran's Symphony, George Walker's Lilacs, Wayne Peterson's The Face of the Night, The Heart of the Dark…), which begs the question: Does the Pulitzer Prize ultimately have any relevance?
The list of great American composers who never won the Pulitzer Prize is even more daunting than the list of those who won – Milton Babbitt, John Cage, Morton Feldman, Andrew Imbrie, Harry Partch, Lou Harrison, Steve Reich, Meredith Monk, Ornette Coleman… In recent years, the Pulitzer Prize in Music has come under attack for being an "old boys' club" impervious to music beyond its stylistic prejudices, and a quick survey of all past winners will reveal that no self-published composition has ever won the award and most award-winners have been based in the East Coast. At the same time, although it may seem obvious, it is important to note that the only pieces eligible to win are pieces that are actually submitted and if you're self-published, no one's going to do it for you.
What are we to make of this year's winner, Lewis Spratlan, a composer well outside the usual circles who has been based at Amherst College for the past 30 years and whose winning work, the second act of an opera, was composed over 22 years ago? There has been some banter in the music community about there being a connection between Spratlan's winning the award and the fact that Gunther Schuller, Spratlan's teacher at Yale as well as the founder of Margun Music, his publisher, was the chairman of this year's Pulitzer committee), but after several hours in the company of Lew Spratlan I am convinced that he is not an "insider" in any way. Of course the line between insider and outsider can be very blurry as he admits in the conversation we had with him at Amherst which we offer here in a complete transcription with QuickTime streaming video excerpts. How does winning the Pulitzer Prize affect your career as a composer? We asked Wayne Peterson, Christopher Rouse, Charles Wuorinen and Ellen Taaffe Zwilich, and received our typical "Hymn and Fuguing Tune" variety of responses. John Luther Adams would like to know what non-winning pieces of music you think should have won the Pulitzer Prize.
And if you thought this covers all there is to cover about music composition prizes, there are announcements about even more additional prizes in this month's news including information about the 1999 Serge Koussevitzky Awards, the Ernst Von Siemens Foundation, the Philadelphia Orchestra Centennial Composition Competition, the 2000 ASCAP-Morton Gould Young Composer Awards, and more… Of course, there is still lots herein about great pieces of American music that haven't been acknowledged with big, prestigious awards, such as a fascinating array of new recordings and concerts all over the map.