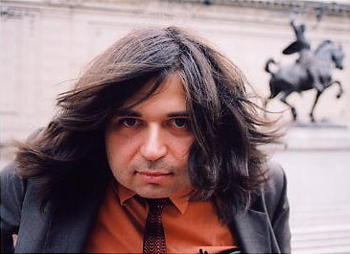 Frank J. Oteri
Photo by Jeffrey Herman
Many people in the music business will continue to ponder the significance of the simultaneous annual conferences of the American Symphony Orchestra League, OPERA America, Chorus America and Dance/USA that made up the first-ever National Performing Arts Convention in Pittsburgh last month. Of course I'm biased, but I believe the most important aspect of this über-conference was the presence of so many composers.
It began as a way to involve the three national service organizations for composers—American Music Center, American Composers Forum, Meet The Composer—in this historic event. And, as a result of a deal these three organizations brokered, 50 composers were able to attend the National Performing Arts Convention and display their materials in the exhibition spaces for two of the four conferences (ASOL and OPERA America) free of charge. Ultimately, over 70 composers showed up, 7 of whom kept detailed diaries of their experience.
What began as a disconnect—what do composers have to do with these meetings, which are largely about organizational management or finances, anyway?—morphed into a revelation. Composers are the one common denominator for all these organizations! Whereas each institution has a specific constituency—e.g. people who are involved with Chorus America are interested in the furtherance of choral music—composers are intimately involved with each of these disciplines: symphonic, operatic, choral, and dance. Perhaps that reality most clearly hit home after seeing composers every day during the convention constantly on the go and out of breath as they ran across town from hotel to hotel to catch a slice of each organization's conference sessions.
So, since composers create music for each of the media that these organizations promulgate, shouldn't it follow that composers should have a unique if not central role in their affairs?
Now, I'm not naïve enough to think that the presence of a small army of composers scattered through the sessions of four major national service organizations during a convention will mean that suddenly they will have more clout or that the organizations will be more acutely aware of the value of having a living composer's input in their decision-making processes. Joseph Dalton takes a close look at these four organizations and their constituencies to find out just how open they are to the cause of living composers.
It will take a lot more than showing up at a convention. This is just a beginning. For years, I have beaten the drums for people who care about the future of music to take a more activist role in the music industry. Whether you are a composer or a performer or express your love for music by working behind the scenes as an administrator, publicist, manager, publisher, record producer, radio programmer, music journalist, or any other music industry-related function, we are much stronger a force when we can come together across art forms to make things happen. While many people from a variety of disciplines were in Pittsburgh, many more were not. Whether you were there or not this time around, we'd like to hear your thoughts on what it would take for us to rally together to make a difference.
One person who has definitely made a difference has been outgoing Executive Director Richard Kessler, who this month will leave the American Music Center to assume the position of Executive Director at the Center for Arts Education. During Richard's tenure, which began seven years ago on July 8, 1997, the AMC reaffirmed the value of putting American music front and center through numerous programs, initiatives, and collaborations which would take pages to enumerate accurately.
It goes without saying that the one I'll always remember most though is one that, as luck would have it, also began on July 8, one year later, in 1998. That was the date of the very first phone conversation I ever had with Richard Kessler. It was a conversation that eventually led to my being hired by the American Music Center to launch NewMusicBox. I remember visiting the AMC's website after that phone call and seeing Richard's posted conversation with composer Steve Reich. It was called "In The First Person" and it was the beginning of an idea Richard had to create a web-based magazine from the American Music Center that could get people from all parts of the community to pay attention to what American composers had to say.
As the centerpiece of an issue devoted to bringing organizations together to make the world a better place for composers, it seemed natural that we feature a talk with Richard Kessler so we decided to bring Richard and Steve Reich in conversation together once again, this time to focus on redefinition and renewal and the incredible energy and inspiration it takes to make a difference.