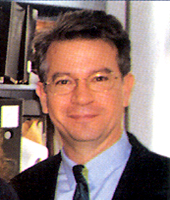 Ralph Jackson, BMI
BMI's Ralph Jackson has been named president of the BMI Foundation. He succeeds the foundation's founder and president, Theodora Zavin, who became president emeritus on November 1, 2001. Jackson, who joined the BMI staff in 1980, has served as the foundation's secretary and director since 1995.
In his new role, Jackson says, "I will get to do fun stuff like oversee the BMI Foundation's many programs which identify and support talented young musicians." Programs such as the John Lennon Scholarships, the Pete Carpenter Film Internship, the Jerry Bock Musical Theatre Award, the BMI Student Composer Awards, the Carlos Surinach Fund Commissions, the Boudleaux Bryant Fund Commissions, the Charlie Parker Jazz Composition Prize, and a dozen or so others.
But despite the added workload, the new position won't affect his work as Assistant Vice President, Classical Music Relations and Director of the BMI Student Composer Awards. "All the foundation's officers and directors work for the foundation in addition to whatever else we do in our 'day jobs' at BMI," he explains. "We serve without compensation because we are all really passionate about music." And because the foundation has no salaried employees and overhead expenses are small, Jackson reports that over 97 percent of all donations and interest income is used for grants and charitable purposes.
Jackson further demonstrates his own dedication to new music by serving on the boards of the American Music Center and the Charles Ives Society.
"Ralph was a natural successor," BMI President and CEO Frances Preston said when the appointment was announced. "His leadership and vision will be key to the continuation of the Foundation's main objective: to foster the growth of young composers and ensure the continuation of the heritage of American musical ingenuity for generations to come."
Speaking confidently about leading the foundation in the years ahead, Jackson points out, "Thea Zavin, our founding president, spent 17 years laying the groundwork and building the organization. We now have a foundation that all BMI employees, composers, and publishers can be proud of. My goal will simply be to grow the foundation further and build our existing scholarship, internship, commissioning, and awards programs. The mission will remain the same: encouraging the creation, performance, and study of music and the focus will be on American music."
Jackson himself was the recipient of several BMI Student Composer Awards, an experience that has provided him with unique insight into what the scholarships can mean for young composers. "Having been on the receiving end of the BMI Student Composers Awards and other awards programs has deeply affected how I feel about helping young creative people. I know from personal experience that for creative people, encouragement and recognition is incredibly important. It's been great being able to do that with the various BMI Foundation programs, whether it is for classical, jazz, blues, musical theatre, or popular music composers and songwriters."
Though devoted to furthering the work of composers, Jackson has abandoned his own original aspirations in that vein. "About 1983 I decided that composing music was not for me," he explains. "Specifically, I decided that composing music should only be pursued by those who had a truly insatiable drive to do it."
To support this, he points out that "music, in my opinion is the most difficult art form to create. Just think of it. When a painter applies paint, he or she sees the artwork just as the viewer will see it. And they see it immediately. Writers use the exact words that their reader will read. Under most circumstances, composers must "translate" their ideas (into notation), which will then be 'retranslated' by performers for an audience to hear. And composers must have the ability to hold over a long period of time, the original musical spark for a piece as they notate it.
"That was difficult for me," he acknowledges. "And so when I gave up composing I became an amateur painter, something I have enjoyed immensely. And certainly I've enjoyed supporting those composers who do have that insatiable, unexplainable drive to create music."
BMI also announced the election of the following Foundation Directors and Officers:
Robbin Ahrold (BMI Vice President, Corporate Relations) – Vice President


Gary F. Roth (BMI Assistant Vice President, Legal & Business Affairs) – Vice President


Jean Banks (BMI Senior Director, Musical Theatre & Jazz) – Secretary


Thomas Curry (BMI Vice President, Controller and Treasurer) – Treasurer