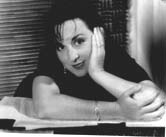 Rebeca Mauleón
Photo by David Belove courtesy of Meet the Composer
MOLLY SHERIDAN: Why don't you begin by talking briefly about your plans for the residency?
REBECA MAULEÓN: Well I think that the most important aspect of it is in bringing together a diverse cross section of a population in San Francisco, which in general has been very underserved due to its economic situation. This is an area we call South Market. It has a booming dot.com industry and then a very substantial low-income ethnic minority population, so just the challenge of working in this kind of environment and bringing world culture to this kind of diverse community is both challenging and very rewarding. Many of these people are recent immigrants who otherwise wouldn't really have access to the arts. However, I'm coming into a teaching situation [at the Yerba Buena Center for the Arts] that has really already been well established. The other exciting challenge for me was sharing musical skills with unskilled artists, people who are just regular folks, and eventually entertaining the idea of composing with them and for them and having them explore some of their own creativity. The way we're doing that, in particular with the seniors but also with the kids, is through poetry and spoken word, which is an area that as a composer I'd always wanted to get more involved in. So ultimately I'm kind of stretching my own creative horizons by working in that medium while at the same time giving them the benefits of my information in the whole world music genre. So we're doing such diverse amount of things. I'm teaching them to do musical accompaniment so they can create their own score to their poems. And this summer I'm going to be teaching them how to make their own instrument.
MOLLY SHERIDAN: What do you hope to gain as an artist from the residency?
REBECA MAULEÓN: I'm getting a lot of material from what I'm doing with the educational program. It's feeding me and fueling me for writing. It's really an important opportunity for me to be able to sit down and get inspired, so I'm looking forward to working on a lot of new material. Usually with a lot of these residencies it takes a little while to get going, but we started in right away with the educational part, so I'm actually looking forward now to really getting into some more composing.
MOLLY SHERIDAN: Do you think your previous connections to the community will in some ways be a distraction to your work?
REBECA MAULEÓN: You always make time for what you need to do. And also, the muse being what she is, you find that those moments of inspiration come whenever they come. There are moments that you have to be flexible within a residency like this because there are going to be times when you're just doing a lot more of one aspect than the other. But we have three years, and the beauty of this really is the flexibility and how much we can morph and change to accommodate schedules and lives and things like that. And I know when it comes down to it it's all going to get done. And then I'm also looking forward to the opportunity to collaborate with various artists in the community. I'm very big on collaboration and excited about the potential of working with people that on a regular basis I wouldn't have the opportunity to work with.
MOLLY SHERIDAN: What attracts you to collaboration?
REBECA MAULEÓN: Well I think it brings in refreshing perspectives and musical textures that normally you wouldn't be able to access. That way it's also not just a dictatorial concept where you are giving all of the information and they are regurgitating back what you want. It's much more a process of their molding your vision, helping you to bring it to life. In many of my pieces I also leave a lot open to improvisation. I don't like to have every single note written on paper, so there's always going to be a segment of a piece that's really free and open. Also, people from various aspects of community coming together and working — it's a sign of cooperation and understanding.
MOLLY SHERIDAN: How have your previous experiences as a composer prepared you for the challenges of this residency?
REBECA MAULEÓN: Well, foremost is not only familiarity but my comfort level with working with people of all cultural backgrounds and all ages. I try to talk to everyone on the same level so they don't feel they're being condescended to. The first challenge was working specifically with a group of seniors and then specifically a group of children and then learning how we connect. And we found that we do connect constantly. Now, for example, in my senior group, they've established an interest in learning more of the technical aspects of music and theory, so we're really finding that they also have the capacity to express what their needs are on the learning level. So that's one of the things that I think is the most important to establish, that nothing's set in stone, that there is a capacity to change and grow within the scope of the residency and that they themselves can shape it.
MOLLY SHERIDAN: Since New Residencies is about composers getting grants not just to work, but also to work with the community, what do you think is the role of composer in a community?
REBECA MAULEÓN: Well, unfortunately I think the composer has on a larger scale always been somewhat invisible. The mass media and the mass population don't even acknowledge the fact that there are people who create music. It's more of an entertainment-oriented issue — an extra curricular activity as opposed to something that should be fundamental. So that being said, now I think the challenge is not only to educate the current population on what the role of the composer is, but in having them understand that they too can be creators and composers. It's going to take a lot more of this kind of programming to bring an awareness of how music is made and how can people feel more connected to the process of music making. And that's not going to happen overnight. I think for me the most important thing is the demystification of the composer and bringing the whole process down to a more grassroots level — giving everybody access and the opportunity, and letting them know that regardless of your training, you too can be a creator and a music maker and not just be a passive consumer.