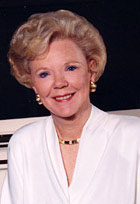 The late Joan B. Kroc.
Credit: Twyla Cecil, courtesy Joan B. Kroc Institute for International Peace Studies
In what is reportedly a totally unexpected windfall, NPR has been bequeathed more than $200 million from the estate of philanthropist Joan B. Kroc, widow of the founder of McDonald's Corp. It is believed to be the largest monetary gift ever received by an American cultural institution.
Though no official plans have been announced, the Washington Post reports speculation that the money could be used to restore funding to music and cultural programs recently affected by budget cutbacks. For those who would like to see an increase in the airtime devoted to American music, perhaps now would be the time to write a letter.
"We are inspired and humbled by this magnificent gift," said NPR President Kevin Klose in a statement issued today. "This remarkable act of generosity will help secure the future of NPR as a trusted and independent source of news, information and ideas for millions of listeners."
Most of the gift will become part of the NPR Endowment Fund for Excellence, created in 1993 to provide a sustaining source of support for NPR activities. The exact amount will depend on resolution of Kroc's estate and the final value of her investments. Disbursement of trust funds will take a number of months, giving the NPR board and staff time to plan how to best put the new funds to use.
"We will use that time wisely…to determine how best to translate this gift into an enduring legacy," said Klose. Joan Kroc, well know for her philanthropy, died of cancer Oct. 12 at age 75.
John A. Herrmann Jr., chairman of the NPR foundation, added that the gift will give NPR "the capacity to think big, both about the services of NPR and about further building the financial resources of this great institution."
"It is no secret that these have been challenging economic times for public radio, a challenge that is still unmet," concluded Klose. "We hope this gift will inspire a broad conversation about the funding needs for public radio, particularly our member stations."