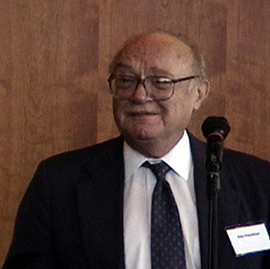 Ellis Freedman Receiving the American Music Center's Letter of Distinction in 1999
Ellis Freedman, who died on June 16 at the age of 82, was one of those extraordinary people who, although not a musician himself, made a great contribution to American music as an advocate, a visionary and a builder.
Over a legal career spanning nearly half a century, Ellis's client list included a "Who's Who" of the great American composers of the Twentieth Century: from Copland, Thomson, Bernstein, Carter and Schuman through Adams, Del Tredici, Druckman, Reich and Tilson Thomas. To all of these composers, as with his many other clients, he was not just a skilled and zealous legal representative, but in the true sense of the word, a "counselor:" someone to whom any problem could be brought, any secret told in complete confidence, and who would always give advice based not just on what would give the client a temporary advantage in the matter at hand, but what would best serve the client in the long run. Ellis always considered the world of American contemporary music to be a small village in which all of his composer clients would be living for their entire careers, and urged them to consider that scenario in making their business decisions. And I would be surprised if any of his composer clients ever regretted bearing that wise advice in mind.
Perhaps Ellis's most enduring contribution to American music, and certainly one of which he was very proud, was his role in creating and establishing the various foundations set up by his clients, most notably The Aaron Copland Fund for Music, Inc. and the Virgil Thomson Foundation Ltd. I do not think it slights the memory of either Copland or Thomson to believe, as I do, that the idea for these foundations evolved through discussions each composer had with Ellis over a period of years. And it is demonstrably true that Ellis took a leading role in developing the boards and programs of those foundations that now dispense more than $1.6 million annually to the field of American contemporary music, and are set to do so far into the future. This is something that honors the memories of Copland, Thomson, and Ellis Freedman.
Ellis was a consummate professional, but his excellent legal skills were matched and enhanced greatly by his common sense, humor, and great sense of fairness and decency that made working with him, as client, colleague or "adversary" a special pleasure. I met Ellis in 1985, when I had just been appointed President of Boosey & Hawkes, Inc., and he was represented many of B&H's most important composers, including Copland, Carter, Del Tredici and Druckman. At the time, I had practiced law for all of three years after four years as a manager at European American Music, and to say that I was relatively inexperienced compared to Ellis would be understating the case rather substantially. Yet he treated me with great courtesy and personal kindness, made a great effort to understand (and explain to his clients) the positions I and my company had to take at the time, and worked out deals that kept all of the composers with us and allowed relationships to build. I later learned that he did this with all of his composer clients at their respective publishers, and I quickly came to understand how important that kind of bridge-building is in creating and keeping the highly personal composer-publisher relationship healthy and strong.
Over the following years, he and I made numerous deals, including those that brought Reich and Adams to B&H, and we developed a strong personal friendship. But it was still one of the most moving moments of my professional life when Ellis called me in early 1996 to say that he was retiring from active practice and to ask whether I would take on the representation of his foundation clients, including Copland, Thomson and Koussevitzky. This was the easiest professional decision I have ever had to make (not to mention the quickest!). In the seven years since that time, my relationship with Ellis became, happily, even closer. Not only did I rely on him for technical and historical information about the foundations, but I came to rely on him even more as a wise counselor and close friend in both professional and personal matters. He remained a very active member of the boards of both the Copland and Thomson foundations until his final illness forced his retirement in early May, and his sage advice was very helpful to both in avoiding the worst effects of the recent difficult economic times.
I always looked forward to my regular catch-up sessions with Ellis, and it is very hard to accept that there will not be another one. I owe Ellis a great debt of gratitude, and so does everyone in the field of American contemporary music. Thanks, friend.