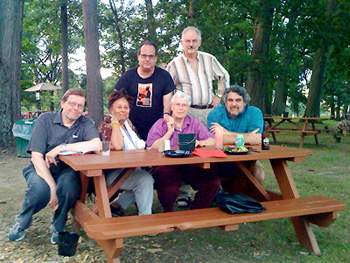 (L to R) Joseph kubera, Ione, Carl Stone, Pauline Oliveros, Kyle Gann, Larry Polansky
photo by Sarah Cahill
If I were going to imagine the perfect summer music festival, it would be pretty much identical to the New Albion festival at SummerScape, which runs through August 10th in the Spiegeltent at Bard College. Beginning last Friday with Lou Harrison's sublime Varied Trio, performed by the Abel-Steinberg-Winant Trio for whom he composed it, and concluding August 10th with the Deep Listening Band, with dozens of New Albion favorites in between—what could be better?
Founded by Foster Reed 25 years ago in San Francisco, New Albion Records has always been a great source of pride to those of us who live in the Bay Area. Over two decades, New Albion gathered together a community of composers, musicians, instrument builders, recording engineers, and artists, and documented their collaborations in one remarkable release after another. We eagerly anticipated each new recording, and listened over and over: Lou Harrison's La Koro Sutro, Carl Stone's Mom's, Morton Feldman's Rothko Chapel, Janice Giteck's Home, Revisited. Starting in the mid-'80s, I contributed an annual "Ten Best Records of the Year" to the East Bay Express, an alternative weekly, and New Albion releases consistently topped my list. Foster Reed was always an enigmatic presence in the Bay Area new music scene. One year, he gazed inscrutably from Gap billboards and magazine ads, wearing a good-looking grey Gap T-shirt. There was something so delightfully odd about the fact that this man, who devoted himself to seeking out neglected and forgotten experimental composers, was being celebrated by The Gap.
What makes Foster especially enigmatic is how he defines the New Albion aesthetic. How do those fantastic Ensemble Project Ars Nova recordings of Machaut and Ciconia fit in with Lou Harrison and Terry Riley? If you're devoted to the "mellow, languid, atmospheric music of wide-open spaces, redolent of California," as Kyle Gann wrote in the festival program book, how do you then produce albums of Ladino love songs, Maurice Ravel, Frank Martin, or Komitas? Foster does not consider these CDs to be anomalies; on the contrary, they are completely in line with what he seeks out for New Albion, although it may be hard to articulate why. He will tell you about their strange beauty, or their narrative trajectory; there is a connection, but he doesn't need to explain what it is.
It's still hard to believe that New Albion, such a quintessentially West Coast label, has moved to Elizaville, New York, in the Hudson Valley. The inventory is housed in a large barn, across from Foster and Tricia Reed's 1820 farmhouse, overlooking 35 acres of meadow and pond and forest. But while the geography of New Albion Records is different, its heart has not changed. Just as the innately California composers Ingram Marshall and Pauline Oliveros have moved to the East Coast without altering their style, and Carl Stone has moved to Japan without losing his California-ness, so New Albion has been transplanted but not transformed.
Of course, with such an ambitious and intricate undertaking, some problems arise. The Spiegeltent is a festive and welcoming atmosphere, but acoustically unpredictable. And being in the rural Hudson Valley has its drawbacks. During my concert, in the middle of Evan Ziporyn's Pondok, a skunk detonated itself outside (everyone's a critic!), requiring some airing of the tent during intermission. And then there are the dozens of performers, some of whom are endowed with extra-strong personalities. During the sound check for Friday's concert, percussionist Willie Winant got mad at the crew and, pulling down his pants, said "Well, I could play like this!" By that evening, he summoned up the most subtle, spellbinding performance of Lou Harrison's Solo to Anthony Cirone on tubular bells. The next afternoon, toy pianist Margaret Leng Tan and glass instrumentalist Miguel Frasconi offered a children's concert, and Margaret became so irritated at one child's disruption of Miguel's performance that she grabbed the girl in her arms and held her for the rest of the piece. Then she performed Ge Gan-ru's astonishingly dramatic Wrong, Wrong, Wrong! with her legendary flair.
One interesting facet of the festival is the way it combines established New Albion stalwarts with young performers just getting to know this music. On Friday, the Wroclaw Opera Chorus, in town to perform Szymanowski at the Fisher Center, delivered a lovely reading of Feldman's Rothko Chapel, brilliantly conducted by Steven Bodner. This coming Friday's performances of Fog Tropes and Shaker Loops feature musicians who weren't even born when those pieces were composed.
As with any summer music festival, the concerts themselves provide only part of the pleasure. There's also the socializing. Bumping into Pauline Oliveros in a café, we chatted about the new book about the San Francisco Tape Music Center. On Sunday night, I enjoyed a bottle of expensive scotch with Larry Polansky, Carl Stone, Joe Kubera, and Kyle Gann, and after a few drinks, Larry and Kyle burst into a spontaneous performance of an obscure round, called "When, Not If," by Ruth Crawford Seeger. They had independently memorized it. Joe and I had a nice talk with Turkish composer Erdem Helvacioglu after our concert on Saturday, outside the Spiegeltent, when it had been transformed into a loud throbbing disco, Bee Gees and all.
Back here in Berkeley now, I'm sorry to be missing the remaining concerts, but those of you on the East Coast can still get there for the highlights: on Thursday, Carl Stone introducing his new laptop work L'os a Moelle; on Friday, Ingram Marshall's iconic Fog Tropes, and Paul Dresher performing on his Quadrachord; Stephen Scott's bowed piano ensemble on Sunday afternoon; Ellen Fullman and her Long Stringed Instrument in the Fisher Center's lobby on Sunday; and Sounding the Bard Without Shakespeare with the Deep Listening Band back in the tent on Sunday evening. A veritable paradise for new music lovers, from beginning to end.