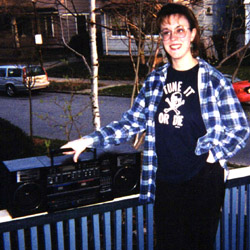 Jennifer Undercofler
Photo by Brian Krinke
Lately, it has gotten so that almost every time I turn in to my local classical music station, I feel as if I have been transported back to a very shiny version of the eighteenth century. Now, it's not any secret to me that this public radio station is hoping to attract listeners and underwriters with this pleasant diet of concerti grossi and Strauss waltzes, and as I result I have never given them a dime. It's not like I really listen to the station anymore, I just keep giving them a chance, hoping that somehow some stray note of Reich or Ives will accidentally escape from its niche slot of 3 to 6 PM on Sundays.
Has it always been this way? Has there ever been much contemporary American music on the radio? This is not an easy question to answer, it turns out, because documentation is both scarce and scattered. Much to my surprise, I have discovered that the 1930s were a decade filled with different kinds of new music programming. Not only did NBC and CBS commission new works, both networks hosted semi-regular broadcasts by the League of Composers, and even ran several short-lived weeklies devoted to new American music. Today, the image of a commercial network exec troubling his or head over the state of new American music seems incredibly alien!
I am convinced that the unlikely marriage between broadcast media and new American music occurred largely because, at the time, radio technology was still so new. This conclusion has profound implications for our own time, with Web radio just beginning to become a common presence in the American home. The first prize for new music on radio was issued by NBC in 1932, seven years after radio reproduction was plausibly able to replicate musical sound. If you consider that Web radio sound finally arrived at "AM" quality in 1995, we would be due for a new wave of commissions around 2002!
The Web finally opens up the possibility of permanent escape from a steady diet of Torelli and Strauss (and I mean Johann), but it doesn't guarantee it. It gets down to money, and, barring Yo-Yo Ma being elected president, we, the fans of new music, are going to have to work to attract the advertising dollar. Almost every Web site has a counter, but these unsophisticated devices are inevitably counting you as a new person every time you come back. Even so, the numbers are far too small. I am afraid that companies looking for a niche market aren't going to risk their advertising dollar for a group that is downright miniscule. So, do the work! The next time you turn off your local classical station in disgust, turn on your computer.