Something very interesting happened the other night at one of the concerts given at the Juilliard School in celebration of Elliott Carter's music: the program included a performance of the composer's wonderful Asko Concerto before intermission, then it was repeated to close the concert. Though almost any of Carter's music lends itself to repeat listening in order to grasp all that is offered to the listener, the concept of repeating a work within the context of a single concert is what immediately consumed my thoughts.
Of the many questions that initially jumped out, I entertained thoughts on what kind of music could benefit from repeated performance on the same program. I decided right off that I was not inclined in any way to hear masterpieces of classical music more than once in an evening. Two performances of Beethoven's Ninth Symphony or two performances of Mozart's "Jupiter" were out of the question. Opera? Can you imagine two consecutive performances of Meistersinger? I wouldn't even want to hear my favorite pieces this way! Concertos would come off as rote muscle-memory exercises, and programmatic works—like Strauss' glorious Eine Alpensinfonie—would be like watching the same movie twice in a row. Would I want to climb the mountain twice? I thought perhaps I might want to hear certain chamber pieces twice in a row. However, I realized that it was only those pieces which I didn't know very well which I desired to hear twice and not necessarily pieces that would benefit from repeated performance. To me it becomes a question of how and why we respond (or not) to certain types of music, and that nature of falling in love with music through repetition. I felt myself heading in the right direction and ultimately back to where I started: the new and the unknown.
The Audience
Focusing back again on the Carter performance, I was acquainted with Asko but I didn't know it well. Undoubtedly, hearing it twice benefited myself and everyone in the audience. I theorized that perhaps two approaches could be taken when hearing a work twice: First and most importantly was an emotional consideration. As a rule, more complex music cannot be enjoyed completely on one hearing. A visceral reaction to the music and the circumstances from which it was born is the most you can often expect from such a piece of new music the first time around. But by the time of the second performance, having heard the piece only minutes before, a listener is more prepared for complexity while simultaneously robbed of a feeling of inspired creation.
These realizations led me to question one of the principle components of a performance of Western concert music: it is designed and composed to be heard only once. Yet new works, at once unknown and idiomatically complex, can only benefit from repeated listening in ways that established repertoire pieces cannot be objectively considered, i.e. Beethoven's Fifth Symphony never had to make the effort to win me over in the same way as did Corigliano's Symphony No. 1. However, while the repeated performance worked to the advantage of the Carter piece, it may be anathema to what an artistic statement is supposed to be about: an artist's search for beauty and a reflection of the human experience. Would we recite a poem aloud twice consecutively?
The Performances
The two performances of the Asko Concerto by the New Juilliard Ensemble also reminded me of my own performance history. Without fail, after leaving the stage, I would feel a rush of energy and confidence—e.g. "If they would only let me back out there I could do a much better job." This is a very common experience even among the highest level of musicians and performers. The nerves are gone and one is calm, collected, and focused. This seemed to be the case at Juilliard. The second go-around with Asko seemed a much more determined reading of the work by the musicians. Interpretation and its indelible attachment to a particular moment in time become apparent.
The performers who live moment to moment with the notes on the page, in their memories (physical and mental), in addition to the live-direction of a conductor drawing a performance out of them, is unique to that place and time and can never be recreated in the same way. Through repeated performance, we discover the ever-changing magic of great pieces of music. In fact, the most enduring works often not only contain beautiful music, but also fill themselves with creative room in which performers can thrive and co-exist.
Memory
For all the antics among certain music fans and critics about whether one composer's music is qualitatively better than another's, a frequent argument I hear from classicists is the viability of new pieces and whether or not they will "stand the test of time." What about the test of repeated hearings? Twice in a row? Thrice? I believe the pieces that are most widely beloved have become so because of the process of repeatedly inspired interpretation throughout time. Sibelius offered his Seventh Symphony to eternity, and it continues to inspire. However, without repeated performances of Sibelius' symphonies soon after their creation, they would never have become the unquestioned masterpieces of the last century. The ingenious conductor Serge Koussevitzky, a man responsible for commissioning some of the greatest music of the 20th century, is important in my mind not for his talent as a conductor or his ability to have these pieces commissioned, but because after commissioning new works, he would program them year after year, thus giving the works a chance at becoming known through repeated performances. It was all part of the wonderful process of music becoming engrained in us through the ritual of repetition.
The great Romantic symphonies have been with me from my youth and will be with me for the rest of my life. Do I need to listen to them often? No. It is only after a good amount of time passes that I desire to hear my old friends: the Beethoven symphonies, Mozart's late symphonies, Bach's Mass in B Minor, Berlioz's Symphonie fantastique, Stravinsky's Sacre, and all the other irrefutable masterpieces of our tradition.
As for new friends and new music, I believe that almost anything that a composer has to offer is contained within any given piece of music he or she composes, i.e. one learns to hear that composer's voice as one would hear the voice of one's own brother or sister and recognize it immediately. When I find an inspired moment in a composer's music, it triggers empathy with his or her music and inspires me to want to know his or her voice more intimately—to know all that composer's other music (good pieces and bad). Whether we recognize it from such a close distance, the music of our time is a reflection of who we are and a reflection of our values. Our times are complicated and creative conditions for artists have never been more competitive. Inasmuch as a Beethoven Sonata is a glimpse into the social circles of Vienna of 1810, Philip Glass' score to Koyaanisqatsi is an embodiment of 1982 America, and the new music being made today is a reflection of who we are at this moment in history. These new works are complex and competitive and will serve as testaments more telling than what could possibly be contained in history books. Without a chance to get to know these pieces, which we can only do with repeated exposure to them, we are limiting our self-understanding and shadowing the path forward.
The truth is that we are human and we forget. We forget what we have done, the things that we knew, and who we were. I almost depend on my bad memory to be able to experience the joy in rediscovering old pieces. We are different people when we find these pieces years later. This pursuit then becomes not so much a desire to find repertoire which would benefit from repeated performance within the same program, but rather a search for the inspiration behind such a choice. The moral here is that old works were at some point new works and without repeated performances—be they minutes apart or years apart—we cannot discover their virtues without giving them a chance. In order to fall in love with any piece of music, you need to hear it again and again.
***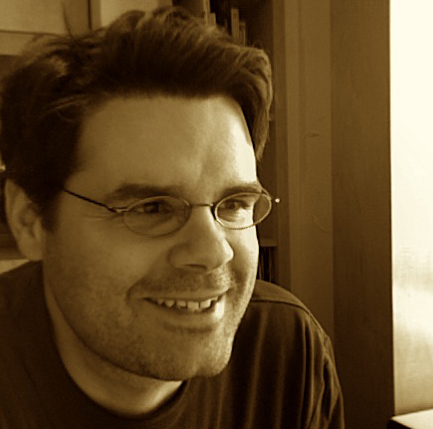 Richard Guérin
Richard Guérin is Associate Director of the record label Orange Mountain Music and represents composers Evan Ziporyn and Giancarlo Vulcano.