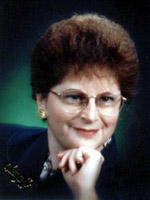 Roberta Lindsey
Photo by Olin Mills Photographers
Roberta Lindsey is Visiting Assistant Professor at Indiana University, Indianapolis. Epstein Award funds will be used by Dr. Lindsey to conduct research on the Aaron Copland Collection at the Library of Congress. Her work in this collection includes 3 projects: the completion of a compilation of essays in honor of Copland; research on "Apache" dance from Grohg; a study of the impact of Concerts Koussevitsky on Copland.
The collection of essays represents groundbreaking research on nine major compositions by Copland, spanning fifty years. Each essay postulates a unique view of Copland's work as it pertains to events affecting the composer's life. Dr. Lindsey recently added a listing of related documents for the Appendix. The project is complete and the manuscript is currently with the publisher and peer readers. Contributors to the collection include Sally Bick, Arthur Berger, Jennifer DeLapp, Neil Lerner, Nina Perlove, Marta Robertson, Larry Starr and Judith Tick, in addition to Dr. Lindsey herself.
Copland removed the "Apache" dance from Grohg and used it in another work, Hear Ye! Hear Ye! Originally this was a popular dance performed in the late 1800s by the "toughs" and their girls in Paris. Composers picked up the term and appear to have used it to signify any athletic partner dance. By the 1920s, when Copland was in Paris, the "toughs" and their girls were regulated by the French government, who used them to attract tourists to certain areas of the city. Lindsey's current research has indicated that by that time Copland was in Paris, the dance had undergone a significant change to become a stylized, athletic social dance.
Dr. Lindsey has been researching the nature of the relationship between the popular dance form and the one in Grohg using materials housed at the Library of Congress. Her research on this topic is ongoing, and she hopes to complete it within the next two years. She had originally planned to write a single article on Copland and the Apache dance, but she now thinks that she will be able to write at least two articles, given the amount of material she has uncovered.
The Library of Congress Koussevitsky Archive contains documents about the Concerts Koussevitsky held in Paris during the 1920s. These concerts had a profound effect on Copland. Some of the compositions that received either premieres or first Parisian performance by Koussevitsky at these concerts include: Horace Victorieux by Honegger (1921); Commemoration Fraternalle by Alexander Kastalsky (1921); Doubenouchka by Rimsky-Korsakov (1921); La For't Païenne by Koechlin (1922), Huit Chansons Russes by Liadov (1922); and Deuxieme Suite by Milhaud (1922).
Lindsey's goal is to translate the original programs, explore the impact these concerts had on young composers (including Copland) and illustrate how they evolved into the programs Koussevitsky later performed with the Boston Symphony Orchestra. She plans on developing her findings into an annotated collection containing a complete translation of the programs, proper attribution for Koussevitsky's own notes, and additional commentary about the music and the time period. She hopes to be able to complete work on this project within approximately three years.