Roger Zare has been awarded the ASCAP Foundation's Rudolf Nissim Prize for Green Flash, a nine-minute composition for orchestra. The prize includes a $5,000 cash honorarium. Green Flash was selected from over 220 submissions.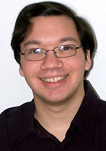 Roger Zare
Zare describes Green Flash as a "musical journey from daybreak to sunset" which "focuses on the manipulation of colors and textures." The work was first performed by Donald Crockett conducting the USC Thornton Symphony as part of the 2007 annual New Music for Orchestra concert. It was subsequently selected by the American Composers Orchestra for the 2008 Underwood Readings. As a result of the reading, Zare received The Underwood Commission from the ACO for a new work to be premiered during the 2009-2010 season at Carnegie Hall.
A native of Sarasota, Florida, Roger Zare is currently a master's candidate at the Peabody Conservatory. His music has been performed by the Florida West Coast Symphony, the Pine View Chamber Orchestra and Chorus, ensembles at the Sarasota Music Festival, the Santa Monica Symphony Wind Quintet, Peabody's Fourth Corner Wind Trio, and by the Starving Composers' Ensemble at USC. Zare has also scored and performed in two short films that were produced at USC.
The jury for this year's Nissim Prize was: Gisele Ben-Dor, conductor laureate of the Santa Barbara Symphony, and conductor emerita of the Boston Pro-Arte Chamber Orchestra; Emily Freeman Brown, director of orchestral activities and music director of opera at Bowling Green State University (OH); and Mark Mandarano, artistic director of the Sinfonietta of Riverdale (NY).
The jury additionally recognized the following composers for Special Distinction:
Harold Blumenfeld (St. Louis, MO) for Vers Sataniques, a 26-minute work for baritone, mezzo colorature, and orchestra with text by Baudelaire;
Daniel James Chan (Los Angeles, CA) for Generations: Concerto for Violin and Orchestra, an 18-minute work;
Arthur Gottschalk (Houston, TX) for Requiem – For the Living, a 60-minute work for vocal soloists, SATB choir, and chamber orchestra; and
David Kechley (Williamstown, MA) for Transformations, a 20-minute orchestral triptych.
The Rudolf Nissim Prize, established with a bequest by (and named for) the former head of ASCAP's International Department, is awarded annually to an ASCAP-member concert composer for a work requiring a conductor that has not been performed professionally. A jury of conductors selects the winning score.
—FJO