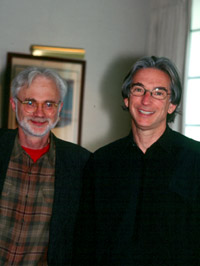 John Adams and Michael Tilson Thomas
Photo courtesy Shuman Associates
The San Francisco Symphony has announced a ten-year commissioning project with composer John Adams. The endeavor will result in the creation of four new works, beginning with a piece to be written for the SFS's 2002-03 European Tour and culminating with a commission in celebration of the Orchestra's 100th season. In between time, Adams will write a third work for the SFS and one for the San Francisco Youth Symphony.
The project allows the Adams and the SFS to continue a relationship begun when the composer was appointed the orchestra's first New Music Advisor in 1979, then as its Composer-in-Residence, a position he held until 1985. The new commissioning project was announced on the twentieth anniversary of the world premiere of Harmonium, Adams's first SFS commission.
Brent Assink, the SFS's executive director, explains that Adams was a natural choice for such an extensive project. "We don't have a relationship with another composer that is as deep or as broad as our relationship with John Adams," he says. "We actually looked at our past relationship with John and realized that had been 20 years since the first work. We thought that it was also important to look ahead to the future, particularly our centennial year which is about nine years away." In addition, he notes, the SFS considered historical relationships between composers and orchestras, most notably Copland with both the New York Philharmonic and Boston Symphony Orchestra. He says that from this, "a kind of collective idea emerged that we solidify our past relationship with John into a future relationship that would ultimately culminate with a major orchestral work written for the SFS on the occasion of our centennial year in 2011."
"I think it's also important to point out that John knows this orchestra so well," Assink adds. "He undoubtedly will write this music with the San Francisco Symphony musicians in mind, many of whom he knows personally."
When the project was announced, Adams himself noted that "working with the San Francisco Symphony has always been a family affair. The orchestra has an innate feeling for my music, and we seem to understand each other as though we'd grown from a common gene pool. For twenty years and more, I've been inspired by these great musicians, and the thought of writing for them again fills me with pleasure and awe. This is the kind of opportunity composers dream of."
Adams's performance history with the SFS is substantial. Between 1980 and 1990, he produced a string of orchestral works, many of them premiered and first recorded by the orchestra. They include Common Tones in Simple Time

(1979-80), Harmonium (1981), Grand Pianola Music (1982), Harmonielehre (1985), The Chairman Dances (1986), and Short Ride in a Fast Machine

(1986). Over the course of past twenty years, the SFS has commissioned four Adams works and given seven world and U.S. premieres, most recently the January 2001 North American premiere of Adams's co-commissioned El Niño. Adams also appears frequently as a guest conductor with the orchestra and has been a supporter of the San Francisco Youth Orchestra, which has performed his music at home and on international tours.