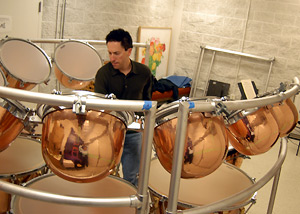 David Herbert and his "tenor" timpani
David Herbert, timpanist with the San Francisco Symphony, will give the world premiere performances of William Kraft's XIII/The Great Encounter, Concerto No. 2 for Timpani and Orchestra in seven performances from June 9 through 18. What's particularly interesting is that Kraft originally hesitated to accept the commission from the San Francisco Symphony since he had already composed a timpani concerto. But Herbert came up with the idea of expanding the range of the instrument, giving Kraft more to work with. He worked with instrument builders to create nine additional timpani in higher registers, which he calls "tenor" timpani, and metal workers fabricated a racking system so that he could play all 15 timpani at one time.
Those of you in the Bay Area can checkout Kraft's new composition and Herbert's new instruments paired with Beethoven's 9th Symphony at Davies Symphony Hall on June 9, 10, 12, 15, 16, and 18, and on June 17 at Cupertino's Flint Center.