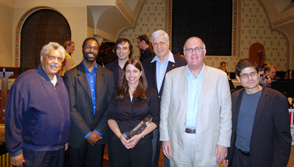 L-R Rufus Reid, Dennis Mackrel, Darcy James Argue, Sara Jacovino, BMI's Robbin Ahrold, Jim McNeely, and Mike Holober
Photo by Jamil Walker, courtesy BMI
Sara Jacovino was awarded the BMI Foundation's ninth annual Charlie Parker Jazz Composition Prize for her big band work Mental Block during the 21st Anniversary Summer Showcase Concert of the BMI Jazz Composers Workshop, which was held on Friday, June 26, 2009 at Christ and St. Stephen's Church in New York City. The concert featured the BMI/New York Jazz Orchestra, a 17-piece modern repertory ensemble made up of leading New York musicians. Jacovino received a cash award along with a $3,000 Manny Albam commission, named in memory of the Workshop's co-founder and longtime musical director, to compose a new piece for the next year's concert.
According to Jacovino, Mental Block "tells the story of the classic composer's struggle to formulate a original and creative idea. Several themes are presented which serve to represent the emotions and changing mindset of a writer while suffering a 'mental block.' I develop these ideas to be reflective of one's journey through the creative process. In the end, the composer has a revelation and is able to work his way through the struggle, leaving him with a sense of inner peace."
Jacovino's work was one of three compositions—along with Noriaki Mori's Rainy Song and Tom Goehring's I'm Not Sayin' (I'm Not Sayin')—chosen as finalists for the Composition Prize. Each were played during the first half of the concert after which the three judges of the competition—drummer/composer Dennis Mackrel and two prior Parker Award recipients, bassist/composer Rufus Reid and Secret Society bandleader/composer Darcy James Argue—convened to decide the winner. Other works on the program included compositions by Workshop participants Ann Belmont, Emilio Solla, Idan Santhaus, Brett Gold, and Michele Caniato, as well as the suite Mulberry Street by last year's Charlie Parker Jazz Composition Prize/Manny Albam Commission winner, Jeff Fairbanks.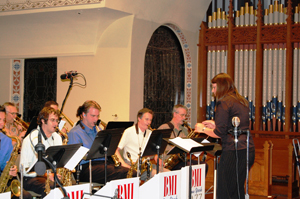 Sara Jacovino conducts the BMI/New York Jazz Orchestra
Photo by Jamil Walker, courtesy BMI
The BMI Jazz Composers Workshop is administered by BMI Vice President Robbin Ahrold, and led by composer Jim McNeely. The Workshop offers a unique collaborative environment for professional jazz musicians with an emphasis on composition for the large jazz (big band) ensemble. The Workshop provides an environment where composers are free to explore new avenues in the creative process, while at the same time honing their skills. Pianist, composer-arranger, and educator Mike Holober serves as Associate Musical Director of the Workshop.(—culled from the press release)