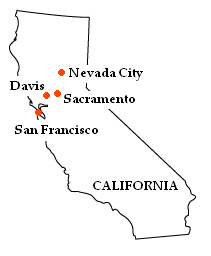 Image by S.C. Birmaher
Making a go of new music in California, outside the mainstream music centers of San Francisco and Los Angeles, is a risky proposition. Nonetheless, the Sacramento region boasts a unique and vibrant small new music scene where tradition is less important than the spirit of unfettered exploration. In fact, you could say that exploration is its only tradition.
That spirit owes much to the late 1960s when composers John Cage and Karlheinz Stockhausen taught at the University of California at Davis, a scant 11 miles from downtown Sacramento. Until then, UC Davis was known as primarily an agricultural research university surrounded by sun-dappled rice fields and massive sunflower farms. The roots of a new music scene took hold with sold out performances at Davis of Stockhausen's Kontakte and Cage's Atlas Eclipticalis. The region's new music scene has never been the same since. Today the ghosts of Cage and Stockhausen are but a bare whisper, but the spirit of musical experimentation remains strong.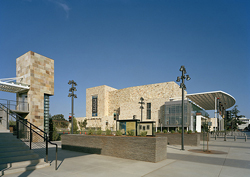 Mondavi Center
At Davis, that spirit has been taken up by the Empyrean Ensemble. Founded in 1988 by composer/conductor Ross Bauer and now co-directed by composers Laurie San Martin & Kurt Rohde, the ensemble plays a broad range of new music. In addition to its "Fault Line" concert series showcasing a stylistically diverse array of new works by composers from all over California—last season included music by Aaron Einbond, Dan Becker, and Erica Muhl—and an annual program devoted to scores from graduate composers at the university, other programs also mix contemporary music landmarks from the U.S. and beyond. Previous seasons have featured performances of John Adams's China Gates, Brian Ferneyhough's Bone Alphabet, Arvo Pärt's Fratres, Aaron Copland's Piano Quartet, and even Arnold Schoenberg's Verklärte Nacht. Empyrean's concerts are now performed in the five-year-old confines of the Mondavi Center for the Arts—a facility that is rapidly gaining a reputation for being one of the best acoustically designed halls on the West Coast.
The seven musicians who make up the core of the group all share a strong presence in ensembles, conservatories, and universities spread throughout the Bay Area. This is a defining trait for many musicians and composers in the Sacramento region. With the hotbed musical centers of San Francisco, Oakland, and Berkeley only a 90-minute freeway drive away, it stands to reason that Sacramento's new music scene would be heavily pollinated by the cities to its west.
One of the oldest new music festivals on the west coast is the Sacramento State University's Festival of New American Music. This annual November festival, now in its 30th season, has no over-arching theme or dogmas save for an emphasis on contemporary music and presenting it for free. Each year, the festival is anchored by a keynote speaker. Last year that mantle fell to composer Frederick Rzewski, who performed his expansive two-piano and percussion work Bring Them Home, with Elaine Lust. Rzewski also offered a curious and highly didactic master class titled "Non-sequiturs in classical music."
This year's festival (November 1-13) will feature composer Pauline Oliveros as its keynote speaker and there will be several performances of her works. The festival will also introduce the Kansas City-based ensemble New Ear to the region, as well as invite the San Francisco-based ensemble Earplay for a concert of Wayne Peterson's music in honor of his 80th birthday. But the festival is not solely focused on established contemporary music icons. Works by emerging composers also make their way to the Capistrano Hall stage. Unfortunately the festival is still relatively unknown, even in the Bay Area. Like most new music festivals marketing is virtually non-existent.
"We always put whatever money we raise towards bringing in visiting artists," admits Festival Director Stephen Blumberg.
*
Another defining characteristic of the new music scene in Sacramento and the surrounding region is the lack of any overall stylistic identity to any of the new music or its composers. And since Sacramento is rapidly becoming the urban musical center of the Great Central Valley, this means it is an epicenter to a new music scene spanning almost 400 miles of territory. From Bakersfield to Davis, many composers toil in relative obscurity unaware that a great many colleagues are also involved in the pursuits of composing, teaching, and raising funds to present new music.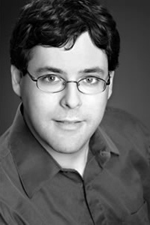 Kenneth Froehlich
"There are several outstanding composers here in the valley, but with limited performance opportunities and the geographic restrictions, it becomes much harder for a composer to get known and performed," according to Kenneth Froelich, composition professor California State University, Fresno.
But that is changing thanks to a recent Meet The Composer-supported initiative called "Sonic Bloom" whose goal has been to bring more than 40 composers together on the campus of California State University Stanislaus to forge a geographic bond.
"It's a process for composers to find ways to work together in a unified way to advance the cause of new music in their region," says Ed Harsh, incoming President of Meet The Composer, who is particularly gratified that the program "helps these composers help themselves." That help was evident in the many new works from Central Valley composers that were performed during the "Sonic Bloom" conference held last February.
For composer Deborah Kavasch, chair of the music department at Stanislaus, the initiative seems to be having its intended effect: "I felt that this gathering fostered a real sense of a community of composers of all ages and stages of careers." Ultimately, however, the hundreds of miles that separate these 40 composers and the need to find the means for securing ongoing funding will prove the biggest challenges to this fledgling group of composers.
*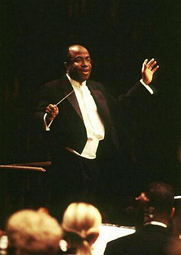 Michael Morgan
Thankfully, the value of new music has not been lost on one of the biggest presenters of classical music in the Central Valley, the Sacramento Philharmonic. Under music director Michael Morgan, the orchestra has fostered the creation of three new works from California composers. The first, Night Thoughts, by one-time Californian André Previn, was commissioned in honor of Sacramento-based painter Wayne Thiebaud. The other two—Gang Situ's Concerto for Guitar and Orchestra and Jon Jang's Chinese American Symphony—were part of the orchestra's "Gold Mountain" project, a commissioning initiative designed to address the Californian Chinese-American immigrant experience.
No assessment of the music scene in Sacramento would be complete without acknowledging the influx of new blood to the scene from composers who have emigrated to the area. One of those is composer and guitarist Derek Keller who recently released his first CD, Impositions and Consequences, on John Zorn's Tzadik label. Keller's kinetic works are a bold amalgam of jazz, classical and Zappa-esque rock music whose development was deeply influenced by Roger Reynolds at the University of California at San Diego, where Keller got his doctorate.
The recent arrival of the choir Vox Musica to the Sacramento music scene is also indicative of the talent moving into the area that highly values new music. This eight-woman choir, under the direction of Daniel Paulson, devoted almost half of the programming of its first season to showcasing the work of living composers, both local and international. And next season promises a similar mix.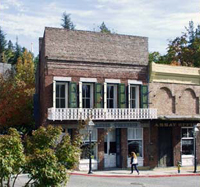 Nevada City
Sixty miles east, as the crow flies, is the Nevada County Composer's Cooperative, one of the oldest composer cooperatives in the region. The cooperative, which boasts Terry Riley among its members, debuts new works each June in a "Wet Ink" concert presented during the Music In the Mountains festival, held in the Sierra Nevada foothill town of Nevada City. It is a bourgeoning area that has benefited greatly from the urban flight out of the hyper-expensive housing market of San Francisco.
According to composer Mark Vance, who serves as the NCCC's executive director, "The Nevada City-Grass Valley area is almost like a 21st-century Vienna or Florence. There seems to be a creative magnet pulling artists here from every discipline who are all attracted to the dark, rich, creative, soil of Nevada County. They are refugees relocating here, seeking solace from the larger metropolitan cacophony."
As this fast growing region continues to develop, its composers—both natives and transplants—will continue to find ways to disseminate a musical landscape that ranges from solace to cacophony.
***
Edward Ortiz is the classical music and opera critic for the Sacramento Bee. Prior to joining the Bee he worked as staff reporter for the Boston Globe and the Providence Journal, and is a contributor to the website San Francisco Classical Voice.