South of the Poconos, west of Philly, and way east of the Iron City, Central PA (no one around here really says Pennsylvania) encapsulates Harrisburg, Lancaster, York, and, perhaps most famously, Hershey (the "sweetest place on earth"). To those more accustomed to large urban hubs, it might feel like the middle of nowhere, but music fans here have a wide range of options, especially when you consider the concert calendars assembled by the many liberal arts colleges dotting the landscape.
Presenters know that they have a responsibility to bring fresh, new performers and music to the area. Often an orchestra or chamber group scheduled to play on the east coast will fill in a few concert dates here first. After their big city premiere, many soloists will tour—which bodes well for Central PA. More often than not, you'll hear a new work and meet a composer who is, or will soon be, making headlines in the national arts sections.
Of course, you can always slip away to Philadelphia for the likes of Orchestra 2001, get to Pittsburgh to catch the fabulous New Music Ensemble under Kevin Noe, or make a weekend of it in NYC, but there are plenty of events to keep active in Central PA. Here's a closer look at a few of the movers and shakers in the midstate.
Dickinson College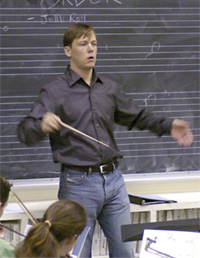 Composer Robert Pound
About 20 miles west of Harrisburg is Dickinson College in Carlisle, PA. The campus is near the heart of the charming town of 18,000 and has a lot to offer the community. Most notably, Dickinson College supports an ensemble in residence—and not just any old group, but performers with a new music slant. Previously the college hosted the Corigliano String Quartet (dedicated to the presentation of new American music and founded in 1996 with the blessing of the ensemble's Pulitzer, Grammy, and Oscar-winning namesake); and currently, Alarm Will Sound is at the college through summer 2007. The 20-member band, committed to innovative performances and recordings of today's music, have established a reputation for performing demanding music with energetic virtuosity. (Rumor has it that another cutting-edge ensemble will follow when Alarm Will Sound finishes.) This residency program is a great resource for the community and provides stellar study opportunities for the students.
Other great outreach efforts are the performances and masterclasses with visiting composers like Milton Babbitt and Samuel Adler, in addition to those offered regularly by the faculty. Composer Robert Pound is chair of the music department and sees that students and the community take full advantage of the new music opportunities. Voice instructor Lynn Helding is not just a singer but also a pioneer in the emerging field of voice science!
Concertante
The resident chamber ensemble at Harrisburg's Whitaker Center for Science and Art, Concertante is committed to the presentation of new work. That, coupled with their "go-for-it," spot-on playing, makes for some killer concerts. Comprised of a core of six virtuoso string players, the group performs in varied combinations of instrumentalists: sometimes a trio, or maybe a guest vocalist or pianist will join them. In addition to regular tours across the country, Concertante is truly global, spotted everywhere from New York's Carnegie Hall to London's Royal Festival Hall to Shanghai's Grand Theatre.
This year, Concertante launches One Plus Five—a three-year, six-composer commissioning project designed to create six string sextets, each featuring just one of their core players. The group will premiere the first piece this weekend, Lowell Liebermann's new work featuring violinist Xiao-Dong Wang, and later in the season they will present Tigran Mansurian's take on the "soloist in a sextet" with violist Ara Gregorian. Future seasons will include new sextets by Gabriela Frank, Shulamit Ran, Richard Danielpour, and Kevin Puts.
Concertante also regularly finds itself doing a "preview" or "teaser" performance away from the Whitaker Center, perhaps at a tapas bar or at a library. They are young and hip players who have enough spunk to try something new and enough talent to breathe life into any chamber work of the past. If they make it to your neck of the woods, go see them, or plan a trip to Harrisburg and hear them in their natural habitat.
While in Harrisburg, you might stop off for a nightcap along Second Street—just a few blocks from the Whitaker Center, it's the scene to be seen. There are clubs and restaurants to suit anyone's style. Favorite places for a meal or post-concert drink include Café Fresco (215 North 2nd St.) and Mangia Qui (272 North Street). Both host live music.
Gretna Music
Another chamber music institution in Central PA is Gretna Music, about 30 miles east of Harrisburg. Combining the pleasantness of Pennsylvania's outdoors and the freshness of new music, they held their 31st season of concerts this summer. They also have a winter season at Elizabethtown College.
Gretna Music strives to make the concert not just a listening experience but a complete entertainment package (and I mean that in the best sense.) "Concert Conversations" precede every performance and often a combined art or multimedia presentation is offered. For example, the nearby Annville Theater showed Jagged Harmonies, a film about J.S. Bach and Frederick the Great in conjunction with Tempesta di Mare's concert program, which also included a pre-screening lecture and demonstration with Tempesta di Mare!
New music thrives on Gretna's diverse series thanks to groups like Philadelphia's Time For Three, an experimental country/jazz/bluegrass/classical string group, and the Audubon String Quartet, an ensemble which, when its members aren't engaged in legal battles, can be heard playing new works by composers such as Donald Erb and Peter Schickele. Gretna Music also presents jazz in the summer with visiting performers such as Leon Redbone, Bill Charlap, and Patricia Barber. There is always something fresh: last year featured wonderful performances of works by Henri Dutilleux and Eric Ewazen; and Boston Brass will open this year's winter season.
Next Generation Festival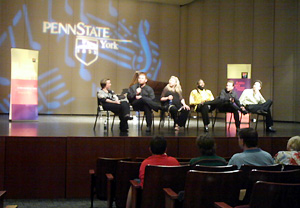 Next Generation Festival
Each summer pianist Awadagin Pratt visits Central PA and presents the Next Generation Festival with his friends and students. Concerts take place across the region, from Gettysburg to Selinsgrove, based out of Millersville University. Last season audiences enjoyed music by Osvaldo Golijov and Dmitri Shostakovich; previously the festival included premieres of works by Thomas Kraines and Theodore Shapiro.
The artists making appearances at NGF are quite diverse, from the Cypress String Quartet and Rachel Barton Pine, to Juliette Kang and Zuill Bailey. If you go, be sure to stick around after the concerts for the "talkback"—I have it on good authority that whoever is the current "chip leader" in their nightly poker games has to answer some sort of dare. But hijinks aside, these talkbacks really do provide a chance for the performers to communicate with the audience at another level and help add another level of "personality" to the player.
The NGF takes place over two weeks each June and future commissions are afoot for upcoming seasons. It's a real force in Central PA, getting out the word for music and really showing off new faces. Every concert has fresh listeners, and you can feel the electricity between the performers and audience.
If you're in Annville for the Next Generation Festival or at a performance at Lebanon Valley College (another fine Liberal Arts school in the area) stop by MJ's Coffee Shop inside the Annville Theater. Their jazz series runs October through June each year on the first Thursday of the month, though their calendar features all sorts of artists throughout the week.
But Wait, There's More
I've listed the key presenters above, but it's not exhaustive. Try one of the regional orchestras if you want some new orchestral sounds: The Harrisburg Symphony and energetic Music Director Stuart Malina often bring in guest composers.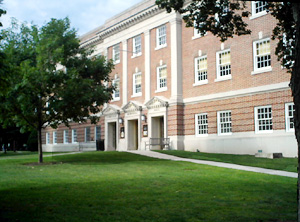 Sunderman Conservatory of Music at Gettysburg College
There are lots of higher educational institutions to visit in this area of the state, and just 37 miles southwest of Harrisburg is Gettysburg College. They host the Sunderman Chamber Music concerts, a chamber music series that attracts world-class performers hosted in an intimate setting. Last season, eighth blackbird brought their Pierrot Lunaire with soprano Lucy Shelton to the newly refurbished Majestic Theater and this year So Percussion will drop by.
About 40 miles southwest of Harrisburg is Franklin and Marshall College in Lancaster. F&M's Barshinger Center hosts new works with the F&M Philharmonia, F&M Symphonic Wind Ensemble, and last semester they staged faculty composer John Carbon's opera based on the life of Benjamin Franklin (in honor of the 300th anniversary of his birth).
While you're in Lancaster, stop by the historic Fulton Opera House, widely considered to be the nation's oldest continuously operating theatre. The Pennsylvania Academy of Music is also in Lancaster and is a great resource for students and locals in the area. Rounding out the scene in Lancaster, new works often are on the program of Allegro!, the area's chamber orchestra, and the Lancaster Symphony Orchestra has given an annual composer award since 1959.
I'm sure you're getting road weary so we'll stop here, though we haven't hit York, just 25 miles south of Harrisburg, or Allentown, which is a bit further down the road. You might have thought otherwise when we started this tour, but there's really not enough space to cover all of the new music concerts that take place in Central PA in just one article—quite frankly, it's an excellent problem to have.
***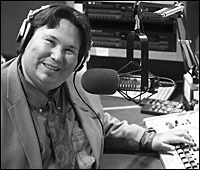 John Nasukaluk Clare
John Nasukaluk Clare is a radio broadcast professional, violinist, and webmaster of ClassicallyHip.com. Winner of ASCAP's Deems Taylor Award in 2005, he is a member of Phi Beta, the American Music Center, and an ordained minister of New Music of Universal Life Church. He moved from Las Vegas to Harrisburg, PA, in June of 2005.