New Orleans may not be at the cutting edge of "new music" or musical innovation, but the community of musicians and the spirit and reverence that is shown towards it's creation is among the most supportive and genuine I've yet to encounter. In New Orleans, music is for living: for dancing, for grieving, celebrating, eating, parading. It's in the streets just as much as on the stage. It's a music that reflects the history of the city and it's music that is growing (and shrinking) along side it. More than any place I've experienced, music is community—it's not about the virtuosity or perfection of a player, but about their intention and spirit, of which there is no shortage.
News Orleans is a cultural center famed for fusion, the ground on which many uniquely American art forms have been developed and preserved—including music, cuisine, performance art, visual art, and architecture. These cultural expressions, and the people who gave birth to them, are what give the city its flavor and its internationally recognized cultural stature. They are, at the core, what make the city an American icon.
Before Hurricane Katrina struck in August 2005, New Orleans was far from being a well-balanced social utopia. Tourism—which relied on selling the city's "image" and traditions—thrived, and yet the extravagance and grandeur of that packaged experience existed within blocks of the most impoverished neighborhoods where some of the deepest traditions of New Orleans were founded and are today preserved. Two-and-a-half years after the hurricane, the city is still straining to rebuild, with a third of its neighborhoods abandoned, in disrepair, and showing few and slow signs of recovery. The tourism industry, which feeds much of the music scene in New Orleans, is struggling to attract visitors again, and yet there is a resilience and determination among local musicians and artists to remain and create new life in the city.
Making Music In the Streets
While New Orleans has certainly had its share of musicians hit the national big time (Galactic, The Meters, Alan Toussaint, Irma Thomas, The Marsalis Family), it is one of the few places where the music feels intrinsically and fundamentally tied to the physical city. And while the city is most well known as a place of preservation and tradition, innovation can also be heard throughout the music scene.
This relationship of innovation within "living traditions" is most apparent in the brass band tradition of New Orleans, which dates back to the late 19th century. This music developed as a fusion between European-styled military band music (when both France and Spain owned Louisiana for a significant time) and African folk music (brought to the Americas by West African slaves), and played a major role in the development of early jazz.
In the 1970s and 1980s, the music experienced a renaissance, when bands such as Rebirth and the Dirty Dozen broke away from traditional stylings and added elements of funk and hip hop. They also updated their lyrics. In one of Rebirths most famous early hits, they sing, "Leave that pipe alone, lil' brothers", speaking out against the crack cocaine epidemic that struck the city quite hard in the '80s.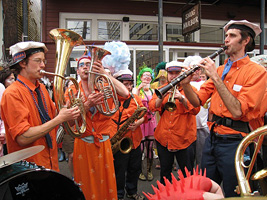 Panorama Jazz Band
Today, that duality of being rooted in tradition while also incorporating new styles and forms can be heard in young brass bands such as The Hot 8, Soul Rebels, New Birth, and Jupiter. These bands still function as working brass bands in New Orleans—playing for festivals, funerals, and second lines (traditional, locally hosted street parades outside the tourist track) that occur every Sunday in various neighborhoods, And while it is clear that they revere the old traditions and songs, they also are eager to speak of their own experience growing up in this city through their music. In the same set, Hot 8 can be heard playing versions of the old hymn "I'll Fly Away" and Marvin Gaye's "Sexual Healing," and their original tunes range from "Rastafunk" to "Get Real," in which they can be heard free-styling about growing up and playing music in New Orleans:
This is spiritual
We been doing this for ages
How the fuck you think my people made it through slavery
We taking the chance to spend our lives on the street
At the second-line, I find, that's where the snakes beat.

Although many of the Soul Rebels were displaced by the hurricane and are currently living in Houston, you can hear them play weekly at the clubs around town. Members of The Nightcrawlers have also been scattered across the country, but twice a year you can hear them play versions of "Lil' Liza Jane" that sound as though they were arranged by the love child of Gil Evans and Anthony Braxton.
During Mardi Gras season you can hear a brass band on just about every other block, featuring players of all ages and levels of musical ability. The Panorama Brass Band—whose musicians reconverge here every year, drawn from New Orleans, New York, and Texas—plays music of the Balkans and Serbia back-to-back with New Orleans traditionals. (There is a striking similarity in the groove of these two traditions.) Also not to be missed is the creative anarchy of the Krewe of Eris parade, during which a band of 40-plus intermediate horn players march throughout their neighborhood and the French quarter for five hours, playing all original songs, many with complex forms and in odd-metered time signatures.
Up Off the Pavement
Indoors, in the clubs and on the stages of New Orleans, "new music" and original music very often reflect the city's unique history and its prominent traditions of jazz, funk, and free improvisation. Typical New Orleans bands include horns (tubas, trumpets, saxophones), accordions flow like wine, and percussion or rhythm guitars and banjos are at the heart of many groups. A good weekend night in New Orleans can be maddening when trying to decide which band to go listen to. However, the city is small and the venues fairly centralized, especially since the hurricane, so it's possible to check out two or three groups in one evening.
During a recent walk down Frenchmen St.—the more underground live music "strip" that's traversed by locals more than tourists—I came across three of my favorite groups. The Herringbone Orchestra and Why Are We Building Such a Big Ship? were double billed at The Dragon's Den. Both bands are all acoustic (accordion, bass, harp, and various horns) and sizeable in number (usually 9-12 players), playing beautifully arranged original music that sounds like it came out of the very marrow of New Orleans; waltzes, ballads, and dance songs with a lyrical grittiness. Songwriting is something that New Orleans musicians know how to do well, and because of this many groups are built around strong and charismatic vocalists.
One of my favorite singer-songwriters, Alex McMurray, was playing a solo set of his original music just down the street at DBA that same night. Alex is the leader of several prominent groups in New Orleans, including the Tin Men and the Valparaiso Men's Chorus (a raucous collection of some of New Orleans' top musicians who converge to sing quirky arrangements of traditional shanties the way sailors would have done—no holds barred, cursing and swearing like…well…drunken sailors.) Alex has lived in New Orleans for 17 years now, with a year spent in New York City after the hurricane. In a recent interview, he characterized the city's allure:
There's a lot of characters and weirdoes around New Orleans. Nobody has jobs, so people tend to just hang around a lot more. It's not the richest town in the world, so you have a lot of desperate people (me included), just wandering around trying to do what makes them happy, and those people are what make it more real and genuine than any city I've known.
Alex has a voice and style variously reminiscent of Tom Waits and Louis Armstrong, but without coming off as an imitation of either. To catch him in a solo setting is indeed an intimate and rare treat, as each song feels it may be on the verge of falling apart and falling together in a fragile rawness.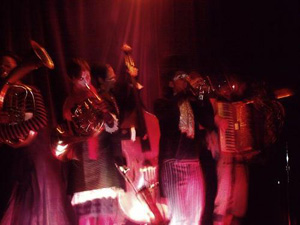 Why Are We Building Such a Big Ship?
Of course, there is a whole slew of bands creating music without a vocalist fronting the group. The Magnetic Ear (a quintet of tenor/bari saxophones, trombone, tuba, and electronics) recently released their new CD of original collective improvisation, funk, and ballads, after a summer series of weekly gigs where the aim was to bring in new compositions each week and just read them down in front of the audience.
Although a "new music" scene, in the sense of chamber musicians and composers experimenting and pushing the envelope of sound and form, is definitely hidden and not a priority in New Orleans, there is a small but persistent faction of performers and composers dedicated to this cause. Dan Ostriecher, bari sax player in Magnetic Ear, also helps book the Open Ears Music Series, which consists of weekly concerts of "adventure jazz and improvised music." In a season of Open Ears shows you will find evenings of solo performer/composers, cello-electronics-percussion trios, original string quartet music, and good old-fashioned free jazz.
The Naked Orchestra, lead by Jonathan Freilich and Jimbo Walsh, played on the series recently, and if New Orleans can be said to have a "Godfather of New Music," Jimbo would most likely be it. While Jimbo is an accomplished guitarist, playing in funk and rock bands throughout the city, he also leads another life as a composer and professor of composition at Loyola University. The Naked Orchestra follows in the tradition of creative orchestras such as the Art Ensemble of Chicago, The Arkestra, and many more. They balance complex charted material with masterful improvisation, performances possible only due to the caliber of the musicians in the band. Before a recent performance at the New Orleans Jazz Festival, Freilich stated, "We're gonna give you everything today, far out, far in, ups, downs, inside-out, upside-down, in-between and maybe some things we don't even know about yet." A pledge that held true. As we listened and watched this 20-piece ensemble, it struck me how special it was to see many of the best musicians in the city, from various corners and styles of New Orleans' music scene, working together to create and enjoy this new experience. A testament to not only the dedication of the musicians, but also to the vitality and living spirit of this city to nourish and inspire them.
***
Aurora Nealand is a saxophonist/composer living in New Orleans and New York. She performs regularly with the Panorama Jazz Band, Why Are We Building Such a Big Ship, and VaVaVoom in New Orleans, and Veveritse, Stagger Back Brass Band, and The Blue Vipers in New York.