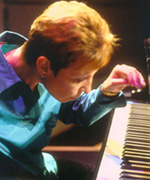 Amy D. Rubin
Seattle claims Trimpin (who uses only his last name) as its own, but the sculptor, instrument builder, composer, and sound artist has only been a local resident since 1980. Born in Istein, Germany, in 1951, he began his creative tinkering at an early age under the tutelage of his grandfather and dad. A master recycler and transformer of found objects into striking innovations, he left his homeland to occupy a place which would furnish him with more useful materials to manipulate. In his own words, "I moved to the United States to have access to junk." Trimpin: Archival Investigations, housed through February 24 at the Jack Straw New Media Gallery, shows just what he did with all that junk. It's a retrospective view of some of his best known pieces from the 1970s and '80s which mark him as a master mixer of computers and traditional acoustic instruments. His work is frequently whimsical, and in the case of the Player Piano Rolls, both archival and practical. The show includes:
Balancing Clown Playback Device (1978): "Four clowns rigged with small amplifiers, speakers, and playback heads salvaged from thrift store tape recorders. They originally ran on wires taken from old wire recordings found at a flea market; a mechanical wheel would tilt the wire up and down, causing the clowns to roll back and forth, playing the sound recorded on the wires."

Turntables and Pecking Chicken Controllers (1980): "The liquid in the glass chickens is heated up by small light bulbs, causing it to rise to the birds' heads and tilt them forward: the reflectors on their heads bounce light into the phone sensors. This apparatus functions as a random number generator, which can control a variety of electromechanical devices—in this case, turntables made from pottery wheels and the tone arms from old phonographs. These turntables can also be controlled with a MIDI keyboard or other device to manipulate speed and direction."

Player Piano Roll Reader (1981): "This was specifically designed to convert all of Colon Noncarrow's hand-punched player piano rolls into a computer database which could then be played back on any MIDI-controlled instrument. The score can also be printed out from the database for editing or other functions."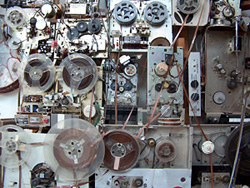 Early multitrack set up with tape recorders
Trimpin's gallery talk on January 12 was a humorous and personal account of pieces and processes from his past as well as speculations about current ideas waiting in the wings. He mused about his childhood and evolution. While others his age were kicking balls after school, the young Trimpin dismantled radios and reconfigured them to pick up short wave stations. Trumpet was his instrument, and he wondered why it needed to be limited to playing one pitch at a time, and why that pitch had to fit into the system of conventional tuning. These questions led to his construction of the electric trumpet with two bells designed for microtonal polyphony. Mastery of this instrument required vigilant hours of practice with a slow learning curve, and over time Trimpin's lips gave out.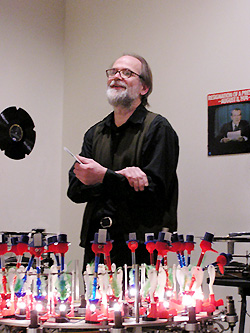 Trimpin beside his Turntables and Pecking Chicken Controllers
Photo by Amy Rubin
At this early juncture adversity became the hand of fortune, and the boy with lips too swollen to play turned to the visual art world. As a self-described kind of "sublimation and compensation," he began to teach himself to draw and, as more opportunities presented themselves, his technique grew to accommodate them. The former brass player became the set designer for Samuel Becket's Endgame, a production directed by the playwright. Over time things visual and things sonic began to come together. Today he continues to wonder about the potential of making sound visual for those without the ability to hear.
During the Q and A we heard about obstacles to Trimpin's creative progress here in the United States: lack of funding for new work, lack of fees for presentation, and a lack of respect for artists. We also learned that while he occasionally has student helpers, he functions more like a one-man band without any support from a university engineering or music department. On the brighter side, his work is being presented by a consortium of ten arts institutions over the next two years including Seattle's Henry Art Gallery, the Frye Art Museum, Consolidated Works, Suyama Space, the Missoula Art Museum, the Vancouver Jazz Festival, and the Tacoma Art Museum.
For me, the evening was inspiring. I saw and heard a man of many talents and limitless imagination. His own actions encourage others to think without boundaries and borders. It's no wonder that his musical inspirations include Harry Partch, Anthony Braxton, and Cecil Taylor, because like them, his thoughts are large and loose enough to accommodate things nebulous, complex, and challenging.
Trimpin's current commission for the Kronos Quartet has been under development for a few years. Each player will have a screen showing streaming information (such as seismographic readings regarding the location and magnitude of earthquakes) which will be converted into musical output by the live performers, linking the continuous data to various parameters of sound. In addition, Trimpin will add his motorized bowing wheel into the equation, enabling all the instruments to be bowed perpetually without alternating bowing directions.
I raised my hand and asked, "How will the streaming and transformation take place? How will the real-time decision making occur? How will you work with the players?" My thought was that even after hours of rehearsal, it takes a lot for four people to agree on the interpretation of a Beethoven string quartet. How would he get them to agree on interpreting something this abstract and unfamiliar? Trimpin smiled playfully and with a shrug answered, "I don't know. I'm still learning."
***
Amy Rubin, pianist and composer, has written and performed music for the concert stage, jazz ensemble, film, television, and theater in the U.S. and abroad. Following a Fulbright in Ghana, she directed the music program at Fairleigh Dickinson University in New Jersey, was a visiting professor at Cornish College, and now collaborates with the Seattle Chamber Players and the Seattle Symphony. Her ability to embrace all musical styles has brought her many awards including the Washington State Artist Trust Fellowship, the King County Special Projects Award, the 2005 Jack Straw Artist Support Award, and resulted in numerous recordings of her work.