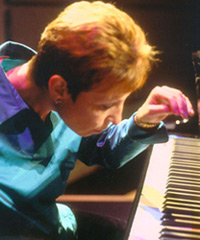 Amy D. Rubin
Gerard Schwarz has championed American symphonic music of a specific style. He has brought attention to the voices of Hanson, Diamond, Hovhaness, Piston, Creston, and Lazarof through high quality performances and recordings on the Naxos label. In addition, the Seattle Symphony has premiered over fifty new works since 1986. This year he brought us the Made In America Festival: Part 1 (1925-1960). Next year, Part 2 will focus on American works from the second half of the 20th century to the present time.
In May, the orchestra presented five concerts featuring the music of Riegger, Piston, Sessions, Hanson, Mennin, Fine, Thompson, Diamond, and Schuman, as well as the more familiar American icons, Bernstein and Copland. Schwartz marked these individuals as the "masters of the American symphonic repertoire." Honorary composer-in-residence David Diamond, who was to celebrate his 90th birthday this year, attended certain events just weeks before his death in his hometown of Rochester, New York.
How does one select the works that speak the most about America's past and present, and represent American orchestral music as a unique and equal presence in a milieu which originated and evolved across the Atlantic? Making the choice is not an enviable task and Schwartz omitted many important composers: Barber, Ellington, Gershwin, Foss, Schuller, and the rugged Ruggles, just to name a few. Creating a festival and planning a wedding reception have something in common. The actual event may be joyous but the names left off the list may become a serious subject for scrutiny and can potentially overshadow the celebration.
A number of us met the gracious and engaging David Diamond at an intimate cocktail reception hosted by the Symphony. I asked his reaction to a former teacher of mine, Robert Palmer, composer of a promising string quartet in the 1950s. Diamond suggested that Palmer's career did not blossom because he lacked his own voice. Composers take note!
Diamond was accompanied by his life-long friend and former neighbor Sam Elliott, who met Diamond in Rochester. Sam's mother had issued a warning to her boys that the composer needed quiet for his musings, so they had better "keep the lid" on the noise level. Nine-year-old Sam paid Diamond a visit to placate him, the two became instant friends, and Sam, though not a musician, has attended most of Diamond's events for forty-some years. He is even protectively watchful over Diamond's ASCAP earnings.
During the May 17th event, Diamond's words echoed in my mind. Did the works being played have something individual and personal to say that was distinctly American? Virgil Thomson's Second Symphony seems a sentimental waltz-driven journey of whimsy, filled with "American sounding" open 4ths, and his unadorned triadic harmonic language. Mennin's nautical Moby Dick is colorfully orchestrated but for me suffers from Diamond's issue of "lack of voice." Bernstein's biblical Symphony No. 1 "Jeremiah," shows clues to where he will go a decade later with melodic phrases about to burst into "Maria." Whereas his works for opera and theater are consistently well shaped, this early work fizzles out, leaving the soprano standing on stage a bit helplessly as the music fades and the audience wonders if indeed, the piece is over. I looked around and saw a sea of respectful but detached listeners. The audience perked up with actual "Bravos!" to the Ives/Schuman Variations on "America." Jocular, buoyant, romping through the land of the familiar, it evoked patriotic engagement and clearly a strong identification on the part of the average listener. Good or bad, this was American, and played with flair and dazzle by this excellent American orchestra under the baton of Maestro Schwarz.
As a partner in the festival, Huw Edwards conducted his final concert with the Seattle Youth Symphony Orchestra, which was founded in 1942 and is the largest youth symphony organization in the United States. Wow! What a great string sound, the brass section rocks, and the woodwinds meet any challenge! His fine work speaks for itself and he will be sorely missed. Benaroya Hall was packed and the orchestra was joined by a major presence in our musical scene, clarinetist Laura DeLuca. This collaboration produced a wonderful performance of the Copland Clarinet Concerto—captivating, bold, teasing, lyrically expressive, and stylistically on the mark. DeLuca was at home mixing a warm classical sound with jazzy note bending. The other highlight of the program was resident composer John Mackey's Antiphonal Dances, which connected nicely to the Copland rhythmically and harmonically, and clearly delighted both players and audience.
The festival's final concert included Copland's bold and terse Symphonic Ode, Schuman's Symphony No.3, with gorgeous playing by the brass, and the percussion-driven Symphony No.2 by Chavez which, like Copland, delights in transmuting short rhythmic riffs. No, there isn't time to speculate on who influenced whom. Last was Hanson's almost over the top Symphony No.2, "Romantic." The players smiled broadly through tremolos and sweeping melodies reminiscent of 1940s movie scores. Schwarz's performances were clean and commanding.
Like I said before, not everyone can be invited to the wedding and those who are left out, for whatever reason, usually stir controversy. So what sorts of things should a festival like this take into consideration? Feel free to chime in and answer any of the following:
What should be the goals of a festival like this one? To revisit important works? Showcase the new and innovative? Show the linear connections between composers of one sensibility or, by juxtaposition, show the range of language and style that goes under the heading "American Music?" Should works performed have the capacity to recruit new American audiences? Should they help to brand and identify our profile abroad? What about American women? They were invisible in the first part of the century and the second half brought the orchestral works of Tower, Zwillich, León and others to public attention. Should we give them extra space to make up for lost time? Should local composers be featured? Seattle looks out to the Pacific Rim, and some composers create out of this experience. The 2005 festival bypassed the works of Cowell, Harrison, and Cage who composed American music inspired by cross-cultural connections. Is there time to include them next year? Probably not. Next year's festival has a lot of ground to cover. Reich, Adams, Glass, Corigliano, and the afore mentioned women are senior statesman in the composition world. How will we find the time and space to not only look back but also provide ourselves and the larger world a taste of what is new and American right now? Who will be listening and what will we want them to hear?
I invite NewMusicBox readers to send me their responses (my email is ARubin7540@comcast.net), which I will read and forward to the symphony.
***
Amy Rubin, pianist and composer, has written and performed music for the concert stage, jazz ensemble, film, television, and theater in the U.S. and abroad. Following a Fulbright in Ghana, she directed the music program at Fairleigh Dickinson University in New Jersey, was a visiting professor at Cornish College, and now collaborates with the Seattle Chamber Players and the Seattle Symphony. Her ability to embrace all musical styles has brought her many awards including the Washington State Artist Trust Fellowship, the King County Special Projects Award, the 2005 Jack Straw Artist Support Award, and resulted in numerous recordings of her work.