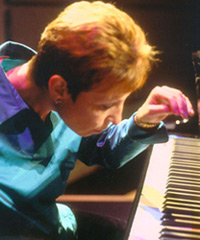 Amy D. Rubin
Greetings from Seattle! Washington composers are fortunate to have a group, the Washington Composers Forum, which disseminates information and presents events. Forum President Christopher Shainin says this about our new music scene: "Like other cities, Seattle offers a range of new music, from the quasi-improvised and electronic, to scores for orchestral, rock, jazz, and concert band instruments. But here composers and performers are as influenced by living on the Pacific Rim as by the recent influx of Eastern Europeans. Because it is a mid-sized city, these influences and ways of working are often crowded on the same stages. The cultural space is further pressed between the ocean and mountains. The resulting music is condensed, tangled, and always in revision."
Recently, I heard an evening of new and digital music presented by the University of Washington's Center for Digital and Experimental Music at Meany Hall. New York virtuoso violinist Mari Kimura was the focal point of the event. She shared the space with video, prerecorded audio, visually projected text, and her playing was frequently transformed by real-time computer manipulation. Richard Karpen's Sotto/Sopra was on the program and he writes: "The computer processing of the live input of the violin creates a canvas of sound that ranges from the intimate to the orchestral, from one layer of notes to dense, overlapping, contrapuntal, harmonic, and noise based textures. The performer now has many arms, hands, fingers…" I pictured the many-armed Indian deity Shiva with multiple violins. Quite different was The Old Rose Reader by Frances White, a multi media work combining text projected on a screen, a recorded narration track in French, and live violin playing haunting, plaintiff melodic lines which skirt the landscape of microtonality. The text, a combination of mythological references and fairy tale-like images, combined with the other elements to create a nouveau ode to a rose—a moody tone poem of sorts.
The juxtaposition of such a large venue as Meany Hall with the intimate audience size undercut the presentation somewhat for me, which made Lyn Goeringer's presentation a few nights later on "Listening To Spaces" especially meaningful. Her talk was held at Jack Straw, a kind of grass roots, hands on place of possibility for many composers and creative artists in the Seattle community. The institution supports numerous recording projects every year in addition to housing a regular "Composer Spotlight" series where grant recipients present performance/talks of their current work.
Goeringer's work addresses the fluid relationship between people and sound in installation environments. Central to this is the inclusion of a theremin she has developed which becomes a sampler of sorts, and then extends its capabilities through midi. Goeringer likes to be able to produce sound which is intensely quiet and has learned and grown from past aggravations to be proactive as a composer. In her installation Growth she uses frequencies of sound that are not present in either the human voice or cell phones, so that no matter who is talking or whose phone is ringing—no problem—her work will be heard! She creates pieces which strike me as a series of Cageian inquiries addressing larger questions about form, sound, space, and the listener.
We watched a video of her recent installation which once again featured the sampling theremin processing the sounds of those who entered and moved in the space. Some danced, some jumped, some twirled; one woman began to lick the antenna of the theremin, wondering what the sonic outcome would be. The answer? A disappointment. No change in sound, and the taste—no, not as good as ice cream.
On the jazz side of the Seattle scene, Dawn Clement, a jazz pianist and composer in her early twenties has a large presence. She played to a full house at Tula's, a smoke free, warm, and respectful environment in Belltown, which even has a nice piano. The music fit the space and the audience was an attentive group of fans eager to hear where her next solo would go. Clement already has her own compositional voice. She premiered her own Deeply Seated which grooves on an eleven-beat-long chromatic vamp, with interspersions of 5/4 thrown in. Sometimes she travels almost roughshod over the rhythm section with spontaneous riffs grouped in 5s and 7s, and like riding the surf, she enjoys the tension of the waves she's made and then pulls back content to once again float along with the other musicians. Her playing incorporates Bach-like contrapuntal lines, tango, ballads, and bebop licks in a way that defies predictability.
***
Amy Rubin, pianist and composer, has written and performed music for the concert stage, jazz ensemble, film, television, and theater in the U.S. and abroad. Following a Fulbright in Ghana, she directed the music program at Fairleigh Dickinson University in New Jersey, was a visiting professor at Cornish College, and now collaborates with the Seattle Chamber Players and the Seattle Symphony. Her ability to embrace all musical styles has brought her many awards including the Washington State Artist Trust Fellowship, the King County Special Projects Award, the 2005 Jack Straw Artist Support Award, and resulted in numerous recordings of her work.