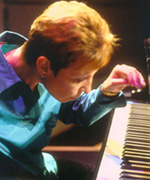 Amy D. Rubin
This month, the Central District Forum for Arts and Ideas brought violinist/composer/bandleader Daniel Bernard Roumain and his backing band, The Mission, to Seattle's Town Hall. Local arts groups like the Seattle Theatre Group, Jack Straw Productions, and On The Boards joined in as promotional and/or education partners to make it their mission to make his "Mission" flourish.
I was able to see him and his 24 Bits: Hip-Hop Studies and Etudes, Book 1 on and off stage, in duet and in ensemble in a variety of venues: a presentation at Jack Straw Studios, a dress rehearsal at Town Hall, and finally a webcast from the city government's public service station the Seattle Channel.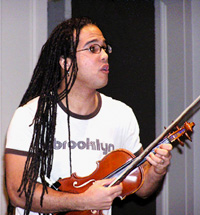 Daniel Bernard Roumain
Photo by Amy Rubin
Roumain is a charismatic personality who values music of the body and heart over music created using games of intellectual sophistication. At the Jack Straw Composer Spotlight series he was outspoken and vulnerable, and his connection to the violin was palpable. Sometimes he turned to it as if it were an additional body part, sometimes an alter ego, and sometimes a Greek chorus commenting, illustrating, and extending his thoughts. He began by playing fragments of music which moves and shapes him, fragments of Hatikva, blues riffs, Paganini passages, and then returned to simplicity: the vitality of one note played well. I enjoyed his frequent irreverence regarding the academy and his definition of timbre borrowed from collaborator, choreographer Bill T. Jones, as "the sound of your lover's voice," a refreshing alternative to the definition provided by the Harvard Dictionary of Music.
Roumain then introduced his Hip-Hop Studies and Etudes. Almost all are very brief, rarely exceeding four minutes in length, and are built around 4 to 5-note riffs which repeat and mutate in cross rhythms over a four on the floor pulse. The pitch sets varied from piece to piece, from modal to chromatic, and interpolated by improvisation; occasionally they have a minimal harmonic background. Violinist Earl Maneein joined in and seemed perfectly capable of transforming blues, heavy metal, and Alban Berg-like gestures at a moment's notice into something real and original. It was great to hear not one, but two violinists groove in virtuosity.
The next day, DBR & The Mission, (both violinists plus rhythm section and turntablist) were joined on the Town Hall stage by four local high school string players chosen by the Seattle Theatre Group's More Music At the Moore program. I watched the quartet's initial shyness disappear as they dove head-on into both the notated riffs and improv sections, urged on by Roumain's growls of, "Hit me!" à la James Brown.
At Jack Straw the night before, Roumain had shared some criticisms which have come his way, judgments about the content and direction of his work. But what is being judged? Are we asking his pieces to be repertoire that will be played one hundred years from now? Are we evaluating his ideology of inclusion and transformation when bringing concert music and hip-hop audiences together? In Seattle, it's nice to see an audience driven to a standing ovation as they were at Town Hall. Were they applauding the music, the performers, the ideas? Does it really matter?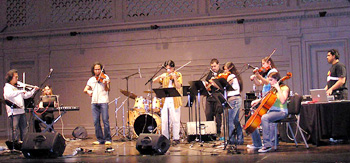 DBR and The Mission joined by local high school students
Photo by Amy Rubin
What does matter is that it makes a big difference when multiple arts presenters in a community get behind an artist by providing a space to speak informally, a concert with a connection to local youth, web streaming for those who can access it, and excellent promotion. Fortunately, Seattle's connection to Roumain doesn't stop here. Vicky Lee, the director of education and performance programs for the Seattle Theatre Group is bringing him back for a residency and performance with Seattle's top teen artists on April Fool's Day. "Hit me!"
Also, congratulations goes out to DBR who won a national CBS News poll last week, earning the opportunity to be featured on the CBS Evening News with Bob Schieffer this coming Friday, March 10. Three brief reports were aired last week and viewers were asked to vote for the one they were most interested in seeing in a full story. Charles Amirkhanian, director of San Francisco's Other Minds festival, reports that CBS cameras were present during the festival's March 6 performance featuring DBR, DJ Scientific, and the Del Sol String Quartet. This footage and more will be part of an "Assignment America Report" by Steve Hartman, so be sure to tune in.
***
Amy Rubin, pianist and composer, has written and performed music for the concert stage, jazz ensemble, film, television, and theater in the U.S. and abroad. Following a Fulbright in Ghana, she directed the music program at Fairleigh Dickinson University in New Jersey, was a visiting professor at Cornish College, and now collaborates with the Seattle Chamber Players and the Seattle Symphony. Her ability to embrace all musical styles has brought her many awards including the Washington State Artist Trust Fellowship, the King County Special Projects Award, the 2005 Jack Straw Artist Support Award, and resulted in numerous recordings of her work.