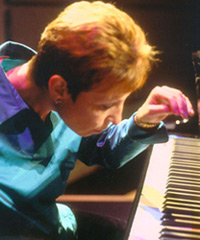 Amy D. Rubin
The Seattle Chamber Players champion new music of all sorts with eclectic, provocative and frequently interdisciplinary presentations. Recent events have ranged from collaborative evenings with composer/performers John Zorn and Frederic Rzewski, to commissions of local composers like Wayne Horvitz, to a performance of Stanley Silverman's film score for Nanook of The North, originally composed for Tashi and performed live against the original Robert J. Flaherty footage. Beyond SCP's well-rehearsed and nourished premieres, the group is exemplary in stretching what we expect and receive from a "concert music" venue.
Last month, SCP not only sold out its performance of Astor Piazzolla's opera, María de Buenos Aires, but could barely accommodate a second audience which eagerly paid for tickets to the morning's dress rehearsal. Why so popular? As flutist Paul Taub responded, "I think it's the drop dead beautiful tunes that are so emotive. They are always fresh and have such a universal appeal, whether you are a fan of jazz, classical music, pop, Latin, etc." Conductor Pablo Zinger imported traditional tango singers for the presentation. Though not staged, a theatrical flair was achieved by featuring two local dancers. I noticed many dancer-like bodies in the audience and the young woman seated next to me had never heard of SCP, or been inside Benaroya Hall. She was there because she was beginning to study tango with one of the showcased dancers. Producers take note: a good way of attracting a new audience is to include artists from another discipline who have a following in the local community. Composer's recipe for a crowd pleaser: begin with melodies and harmonies which touch our core; add sometimes raw, sometimes seductive rhythms; don't be afraid to transform your melodies with the power of modulation; and combine all to convey the dance of sexual innuendo. Even an obtuse plot can be forgiven when these other ingredients are part of the mix.
Born in Argentina, Piazzolla spent part of his childhood in New York City's Greenwich Village. He collaborated with American jazz players such as Gary Burton and Gerry Mulligan, and has inspired a number of tango based pieces such as Cafe Music by Paul Schoenfield. Piazzolla rejected the expectations of those who demanded that tango stay frozen in time. He erased the line between composer and improviser. Most important, Piazzolla's success can provide advice to the rest of us. He was true to his language and his vision, and was urged by his mentor, Nadia Boulanger, to stick with tango. A message to young composers: you do not need to reinvent the wheel with each new piece. An alternative creative approach is to stick with the wheel that is really yours and spin it at different speeds, on different surfaces, at different angles and watch it roll!
***
Amy Rubin, pianist and composer, has written and performed music for the concert stage, jazz ensemble, film, television, and theater in the U.S. and abroad. Following a Fulbright in Ghana, she directed the music program at Fairleigh Dickinson University in New Jersey, was a visiting professor at Cornish College, and now collaborates with the Seattle Chamber Players and the Seattle Symphony. Her ability to embrace all musical styles has brought her many awards including the Washington State Artist Trust Fellowship, the King County Special Projects Award, the 2005 Jack Straw Artist Support Award, and resulted in numerous recordings of her work.