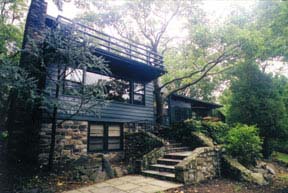 Copland House
Copland House announced the recipients of the 2003 Aaron Copland Awards and inaugurated the Sylvia Goldstein Award at a reception in New York's Steinway Hall last night.
Copland House Artistic and Executive Director Michael Boriskin opened the event by thanking the people who had helped "turn Copland House into a creative center for music" and welcomed the next "wonderful group of composers" who have been offered an all-expenses-paid residency in the coming year. Just a train ride away from the mad pace of New York City, the awards offer a select group of composers the chance live and work in Aaron Copland's home in Westchester.
This year's selected composers include creators of electronic and computer music, performance art, jazz-infused works, and mainstream and progressive symphony and chamber works. They are:
Fernando Benadon (30, Walnut Creek, CA)
Yotam Haber (26, Ithaca, NY)
Mark Kilstofte ( 44, Greenville, SC)
Jerome Kitzke (48, New York, NY)
Tom Lopez (38, Oberlin, OH)
Doug Opel (56, Fort Wayne, IN)
Judith Lang Zaimont (57, Edina, MN)
Kilstofte is the first composer to be selected for a second Aaron Copland Award, having already received one in 1998, Copland House's inaugural year. Three others were chosen as alternates: Paul Elwood (44, Brevard, NC), Brian Fennelly (65, Kingston, NY), and Eleanor Sandresky (45, New York, NY).
The first Sylvia Goldstein Award was also presented to Donald Crockett (52, La Canada, CA) for his orchestra work, Cascade, written during his Copland House residency in 1999. The award honors the memory of Sylvia Goldstein, the late Boosey & Hawkes publishing executive and mentor to several generations of composers, and is intended to help support the performance, recording, or publication of a work composed in whole or in part at Copland House. This year's prize was juried by John Corigliano, Aaron Jay Kernis, and Ned Rorem. Honorable mention went to another orchestral work—Les espaces infinis by Pierre Jalbert of Houston, TX.
The evening's program also included a short preview of the new coplandhouse.org Web site (to be launched later this week) and acknowledgment of Ned Rorem's upcoming 80th birthday. Jennifer Bilfield, President of Boosey & Hawkes, was on hand to represent Rorem's publisher and offer her personal recollections of the composer, "a treasure to celebrate at every opportunity." Performances of Rorem's "Mountain Song" for flute and piano, "Autumn Music" for violin and piano, and three songs from his landmark song cycle Evidence of Things Not Seen, concluded the evening.