With the announcement of seventeen new commissions, Meet The Composer's COMMISSIONING MUSIC/USA 2002 program continues to demonstrate the organization's dedication to the creation of new and adventurous works of American Music.
Since the inception of the commissioning program 14 years ago, MTC has had a hand in the creation and performance of more than 700 works, and perhaps more importantly, seen to it that those pieces are not shelved after the premiere but become part of our contemporary repertoire. These works include titles such as John Adams's opera Death of Klinghoffer, John Corigliano's Symphony No. 1, Philip Glass's Timpani Concerto, Tan Dun's Concerto for Six Players, and Steve Reich's Drumming.
SNAPSHOT:
Inside an MTC Composer Collaboration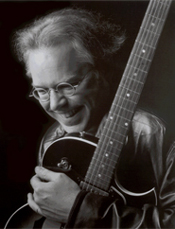 Photo courtesy Bill Frisell
Bill Frisell will create a new 90-minute multimedia suite for guitar, trumpet, violin, and charcoal. The composer/guitarist will join trumpeter Ron Miles and violinist Jenny Scheinman to perform live with video-projected animation by award-winning "alternative" cartoonist Jim Woodring. Arts at St. Ann's in Brooklyn will premiere the work in June 2003.
Molly Sheridan: So the suite is for guitar, trumpet, violin, and charcoal. Can you explain the charcoal part to me?
Bill Frisell: Oh, that's my friend Jim Woodring, and he's…well more than a cartoonist. Our kids went to the same school, that's how we met, and we immediately connected somehow. What he does with his drawing and art, almost as soon as I met him I felt this connection to what he was doing with that and what I was doing with the music. And we had this idea that had been growing for a long time. We've done a couple of things together–he's done a couple of my album covers and he did a little children's book a couple years ago and I made a short CD that goes along with it, but we've been wanting to do something on a larger scale for a long time. So anyway, that's what the charcoal is. A lot of his work is really colorful and it's hard to describe if you haven't seen it but for this project he's limited everything to being black and white, so it's either ink drawings or this charcoal and pencil stuff.
Molly Sheridan: Can you put your finger on what it is about his art that you find so inspiring, that you've connected to? Is there a characteristic of it or something that you can put into words?
Bill Frisell: Well, oh boy. A lot of his stuff comes from dreams and there's a lot of mystery in it. He has some way of bringing this feeling to the surface, sort of a half-awake, half-asleep thing that happens. That really attracts me. It's something that I wish I could get at in my own stuff–to sort of bring that state up to the surface. I really feel that a lot when I look at his stuff. That's not the only thing, but there's sort of a combination of funny stuff in there and then this sort of scary stuff always around the corner that I like.
Molly Sheridan: How would you characterize the music you'll write for this particular ensemble?
Bill Frisell: Well, at this point it's not done yet. Right away just the texture of these three instruments came into my mind. I still don't know exactly what it's going to sound like but it's a real sort of miniaturized orchestra sort of thing and pretty stripped down. Hopefully it can still sound big but it won't be like having a band rocking out with bass and drums or anything like that. It will be a more intimate thing, but I'm hoping there can be some sort of miniature orchestral quality to it. I have a lot of little snippets of things. That's usually how I go about doing it. I have a lot of pieces of things that I've written and then I try to sort of just piece them all together like a puzzle. It feels weird because [Jim's] been working on it since January, so his part is pretty much done, but then in my usual way I'm sort of waiting till the very last moment. I've been working on it, and then we'll have a bunch of rehearsals and I know things are going to change a lot on my end.
Molly Sheridan: Would you have been able to take on this project without the MTC grant?
Bill Frisell: We were pretty determined to do it no matter what, but this definitely helps. It's just a huge amount of work. Jim's basically put everything else on hold to do this, so we would have found a way to do it, but it definitely would have been a lot harder, that's for sure.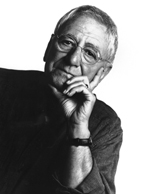 Bernard Rand
Photograph by Jack Mitchell
In this round of COMMISSIONING MUSIC/USA 2002, MTC handed out awards totaling $200,000. MTC President Heather A. Hitchens pointed out the fact that those commissioned truly represent the variety of American composers working today–from Bernard Rands's concerto for guitar and chamber orchestra to Zakir Hussain's dance suite combining hip-hop, Afro-Cuban bata, Brazilian samba, North Indian tabla, and West African djembe. "With the announcement of the 2002 award recipients," she acknowledged, "Commissioning Music/USA continues its tradition of enriching the American repertoire with vital new works from a wide array of musical styles, capturing the true spirit and character of our time."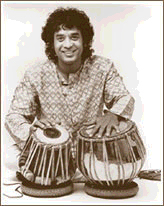 Zakir Hussain
Photo courtesy ZH Management
Representative of one of this year's many multi-disciplinary projects, composer Miles Green, influenced by classic Busby Berkeley production numbers, will collaborate with choreographer Elizabeth Streb to create a work for voice, extant compositions (Berkeley film scores), synthesized material, and an amplified performing deck. Likely echoing the sentiments of many of today's composers, Green spoke to the personal importance of the award. "There is no way I can quantify the spiritual boost being recognized by MTC granted me. It's hard living the dual existence necessary to survive a commitment to the arts in this economy. The Meet the Composer award gave me great pride and my time in the studio felt happier and more productive because of it."
In addition to drawing on a range of musical genres, a number of works will be created for multi-disciplinary projects with dance and theatre companies; others feature twists on traditional chamber music settings. The composers include: (click through for project descriptions)
***
Project descriptions courtesy Meet The Composer:

Dan Becker, San Francisco, CA
Commissioning Parties: Kathleen Supové, Brooklyn, NY, and Reduta Deux, New York, NY

Composer Dan Becker will create a new 15-minute work for pianist Kathleen Supové. The work will be undertaken in a collaborative manner, and will contain many of the following characteristics: the use of a Yamaha Disklavier piano, the use of a digital sampler, or a combination of the two. The work is scheduled to be completed by winter of 2002/03. At that time Kathy will program the work into her "Exploding Piano" performance season, as well as at several universities that feature a Disklavier in their Music Technology Departments, such as New York University and UC Berkeley.
Sebastian Currier, New York, NY
Commissioning Party: Copland House, Cortlandt Manor, NY

Composer Sebastian Currier will write a 16-19 minute piece for a chamber ensemble comprised of flute, clarinet, violin, cello, and piano. The piece will consist of a series of imaginary dances. Rather than a foxtrot, tango, allemande, or a waltz – each with their own characteristic rhythmic structure and character – there will be a series of fantasy dances, sometimes whimsical, sometimes otherworldly, at times suggestive of pre-existing dances, at other times purely fantastical. The piece will be completed by the fall of 2003, with performances beginning shortly after that.
David Dzubay, Bloomington, IN
Commissioning Party: Manhattan Brass Quintet, New Rochelle, NY

Composer and trumpet player David Dzubay will write a new 15-minute piece for brass quintet in multiple movements. He will finish the composition by April 2003, after which time the Manhattan Brass Quintet will perform the new work on concert series in New York, New Jersey, Indiana, and Taiwan.
Bill Frisell, Bainbridge Island, WA
Commissioning Party: The St. Ann Center for Restoration and the Arts, Brooklyn, NY

Composer and guitarist Bill Frisell will compose a 90-minute multimedia suite for guitar, trumpet, violin and charcoal. He was inspired by award-winning "alternative" cartoonist Jim Woodring and the classical "chops" of trumpeter Ron Miles and violinist Jenny Scheinman. The trio will perform live in Frisell's latest collaboration, Mysterio Sympatico, to Woodring's animations and collages, which will be projected onto a large, on-stage screen. Arts at St. Ann's will premiere the work for four performances in Brooklyn Bridge Park in DUMBO Summer 2003.
Miles Green, Brooklyn, NY
Commissioning Party: Streb/Ringside, New York, NY

Composer Miles Green, in collaboration with choreographer Elizabeth Streb, will create the score for a new evening length work entitled RIPPED. The score will combine voice, extant compositions, synthesized material, and an amplified performing deck. In RIPPED, like an animated flipbook, a continuous line of action will be formed as performers, set pieces, and visual effects collide to create glaring, jagged action images one after another. The work will pay homage to daredevils (mud wrestlers, magicians, mountain climbers) who deal with really basic elements: water, air, wood, breath, and bone. Working with these elements, Miles Green's voice, the sound of the dancers against surfaces, and the sounds of elements on surfaces will be the basic instruments of the composed score.
Jennifer Higdon, Philadelphia, PA
Commissioning Parties: eighth blackbird, Evanston, IL, and Concert Artists Guild, New York, NY

Composer and performer Jennifer Higdon will create two works for eighth blackbird. The first, a single-movement work of 14-16 minutes duration, will serve as a substantial concert piece, highlighting the virtuosic and coloristic gifts of the group. The second, a single-movement work of 3-4 minutes, will serve as either a concert-opener or an encore piece. This will be a "racing dance" for the group in the spirit of virtuosic movement. Both works will be scored for the full ensemble of flute, clarinet, violin, cello, piano, and percussion. Both works will be completed by December 2003 for a premiere in January 2004.
Daniel Hoffman, Oakland, CA
Commissioning Party: A Traveling Jewish Theatre, San Francisco, CA

Composer Daniel Hoffman will write a music theater work, Opening to You, to be presented by A Traveling Jewish Theatre in 2003. The work will be 70-80 minutes composed for violin, guitar, percussion, and three actor/musicians. It will be developed during a month long workshop and a six week rehearsal period, followed by 20 to 30 performances over the course of 4-6 weeks in January 2003. The piece will be centered on Norman Fischer's new translations of the Psalms. Hoffman will draw from five particular musical styles for his composition: 20th Century Western classical music, Yiddish folk music, Jewish liturgical music, classical Arabic music, and American jazz and popular music styles.
Zakir Hussain, San Anselmo, CA
Commissioning Party: Painted Bride Art Center, Philadelphia, PA

Classical tabla virtuoso/composer/multi-percussionist Zakir Hussain will compose a new 25-minute piece for an evening length music and dance suite titled Flammable Contents: ZH/RH/SH. Artistically, this project breaks through into a new dimension bringing together (for the first time to create new work and perform it live) the legendary master Zakir Hussain (ZH), the foremost practitioner of hip-hop dance Rennie Harris (RH), and Spoken Hand (SH) – an innovative large hand drumming orchestra, comprised of Afro-Cuban bata, Brazilian samba, North Indian tabla, and West African djembe batteries. Flammable Contents: ZH/RH/SH is envisioned by the collaborating artists as a summit of live music and hip-hop dance and will premiere October 17, 2002 at the Painted Bride Art Center.
Anthony Iannaccone, Ypsilanti, MI
Commissioning Parties: Camerata Woodwind Quintet, Macomb, IL, Eastern Winds, Ypsilanti, MI, Musical Arts Quintet, Muncie, IN, and Van Buren Quintet, Winchester, VA

Composer Anthony Iannaccone will write a new work for woodwind quintet. The quintet will consist of three contrasting movements, with a total duration of 20 minutes. The commission will be performed by four respected woodwind quintets from four states, with the premiere scheduled for April 2003.
Leroy Jenkins, Brooklyn, NY
Commissioning Party: Relâche, Inc., Philadelphia, PA

Improvisation artist and musical pioneer Leroy Jenkins will compose a 12-18 minute work for the eight-person Relâche ensemble (viola, oboe/English Horn, flute/piccolo, clarinet/saxophone, bassoon, keyboard/piano, bass/contrabass, and percussion). Relâche is planning for the next season five Future Sounds programs, each featuring a new commission. In addition to the programs highlighting works by Mr. Jenkins (to be performed in January 2003), the remaining programs will include commissions by Cynthia Folio, Fred Frith, Paul Epstein, and Christian Marclay. Each of the five Future Sounds programs will be centered on a specific theme or inter-arts idea, which has been drawn from the interests of each composer, with Jenkins' being experimental improvisation and jazz.
Tania León, Nyack, NY
Commissioning Parties: MOSAIC, Weston, CT, and The Circum Arts Foundation, New York, NY

Composer and conductor Tania León will create a 20-25 minute work for the ensemble MOSAIC consisting of flute, cello, piano, and percussion. The work will be performed both as a concert work for MOSAIC and as part of a collaboration with the choreographer Donald Byrd. This project will bring together Donald Byrd and his dance artists Donald Byrd/The Group; composers Tania León and Steven Mackey, and video artist Star Reese. The premiere will be at Symphony Space in March 2003 with choreography by Mr. Byrd. The remaining performances will be as part of MOSAIC's concert touring season.
Meredith Monk, New York, NY
Commissioning Parties: The House Foundation for the Arts, New York, NY, and Anchorage Concert Association, Anchorage, AK

Composer, singer, choreographer and creator of new opera, musical theater works, films and installations, Meredith Monk will compose a new 15-minute work for solo voice and piano. This new work will continue her nearly 40-year, and yet still groundbreaking, exploration of the voice as a multi-faceted instrument capable of tapping into emotions for which we have no words. The House Foundation for the Arts will present the New York premiere in five performances during the 2002-2003 and 2003-2004 seasons at such venues as Joe's Pub and the Knitting Factory. The Anchorage Concert Association will co-commission the work and present it once during the 2003 season. This work will also become a standard part of Ms. Monk's solo concert repertory and as such will be performed each year at venues throughout the world.
Bernard Rands, Cambridge, MA
Commissioning Parties: Boston Modern Orchestra Project, Roslindale, MA, Cleveland Chamber Symphony, Cleveland, OH, and Princeton Symphony Orchestra, Princeton, NJ

Composer Bernard Rands will write a new 25-minute concerto for guitar and chamber orchestra. The chamber orchestra of 24 instrumentalists will be made up of flute, oboe, clarinet, bassoon, horn, trumpet, trombone, harp, percussion, and strings. The concerto will be completed by the end of 2003. Boston Modern Orchestra Project will premiere the piece in spring 2004, with plans to perform the work again in the fall of 2004. Co-commissioner, the Cleveland Chamber Symphony, will also present two performances of the work during the 2003-2004 concert season. The Princeton Symphony Orchestra, also a co-commissioner, will present the piece during the 2004 calendar year – Bernard Rands's 70th birthday year.
Stephen Scott, Colorado Springs, CO
Commissioning Party: Other Minds, San Francisco, CA

Stephen Scott will compose a new 60-minute work for soprano and The Bowed Piano Ensemble of ten musicians. The commission will expose the ground-breaking work of this under-recognized composer and inventor who maintains total command of his medium: bowed piano ensemble music, in which the musicians thread nylon fishing lines through the strings of two grand pianos and pull them back and forth to resonate the strings, all without pressing a single key. For his composition of Paisajes Audibles/Sounding Landscapes, Mr. Scott will collaborate with the painter/photographer Ildefonso Aguilar, taking as his point of departure various landscapes, both physical and imagined, natural and cultural, of Lanzarote, the eastern-most of the Canary Islands. The work will be written for soprano Victoria Hansen and the 10-member Bowed Piano Ensemble. This work will be premiered at the 9th Other Minds Festival in March 2003.
SoVoSó, Oakland, CA
Commissioning Party: AXIS Dance Company, Oakland, CA, Weber State University, Ogden, UT, Texas International Theatrical Arts Society, Dallas, TX, and University of Texas at Austin, Austin, TX

Renowned Bay Area a cappella group, SoVoSó, will create a new 25-minute dancework entitled Sans Instruments in collaboration with choreographer Sonya Delwaide and AXIS Dance Company. The collaboration will be closely constructed so that one musician will be linked to one dancer. There will be a continuous dialogue and improvisation between the musician, dancers, and choreographer. SoVoSó will create the musical piece out of improvisations inspired by the dance movements. The sonic quality of the piece will embrace and punctuate the essence of the unique visual aspects of Delwaide's choreography, while at the same time, pairing with, mimicking and offering accompaniment to the devices and apparatus that propel the AXIS dancers. This project will premiere October 2002 at ODC Theater in San Francisco.
Matthew Steckler, Salem, MA
Commissioning Party: The Center for Arts in Natick, Natick, MA

Composer Matthew Steckler will write a 60-70 minute suite of 8-12 short pieces for woodwind quartet, which will be recorded for an album to be released after the multiple premieres. The pieces will loosely be unified within a single concept or theme, of a programmatic or musical nature. The suite will premiere in January 2003 at the Center for Arts in Natick, and will be staged subsequently in at least six other U.S locations.
Guy Yarden, Brooklyn, NY
Commissioning Party: La Donna Dance, Inc., New York, NY

Composer, administrator and curator Guy Yarden will create a new 45-60 minute work for choreographer Donna Uchizono's Salon. He will create a series of songs that employ aspects of traditional tango as their point of departure. The music will investigate the representations of sensuality, melancholy, and intimacy that are common in social dance. Salon will investigate the constant, dynamic interplay of exchange between partners highlighted through the constriction of space using the counterclockwise circle of the tango as a structural metaphor. This new work will be specifically created to be presented in "alternative spaces" such as ballrooms and dance halls, and will be completed by fall 2003.