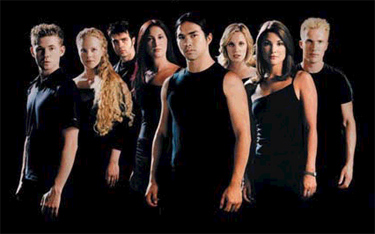 The Planets
Funny that the most remarkable track on The Planets debut CD would turn out to be the silence—specifically a one-minute silence credited to Cage.
The Planets is the latest in the sex-sells genre of classical crossover (a group of eight twenty-something "classical" musicians dressed as if they were diverted on their way to a dance club). The ensemble is the brainchild of Brit Mike Batt, a songwriter/composer and producer of such previous classical crossover phenomena as violinist Vanessa Mae and the statuesque string quartet Bond.
The Planets' album is a mash of arrangements credited to Batt of works by Ravel, Debussy, and Bach, among others. (Sound samples here). The one-minute gap separating the album from the bonus tracks tacked on to the end is titled A One Minute Silence and attributed to Batt/Cage. "In a moment of humor, I decided to credit the silent space as a track," Batt explains, "as a spoof on John Cage's 4'33" but only, of course, one minute—which negates the only perceptible parameter which distinguishes John Cage's work from any other piece of silence. When Peters Edition (on behalf of John Cage) claimed it, I was shocked into a condition whereby I couldn't stop laughing, even to sleep!"
Despite recent reports in the London press that Batt received an "enraged" letter about the matter, Gene Caprioglio, Cage's principal representative at publisher C.F. Peters, clarifies that it was nothing more than a standard form letter sent by the Mechanical-Copyright Protection Society (the British organization that licenses music and collects royalties) on their behalf. "Our London office said they had been contacted by MCPS and asked if [Peters] wanted to collect on this. They had come up with it independently and our London office said, 'Sure.' "
Caprioglio also points out the holes in Batt's reasoning. As a matter of detail, Cage left the duration of the silence open-ended in the score. But even more to the point, Batt uses Cage's name and exploits the caché that goes along with it. "If he just put it under his own name, we would have no claim to it. The fact that he put Cage's name on there is what makes it interesting to anyone at all, but that's just my opinion."
Batt counters that he told EMI that it was not John, but his own alter-ego Clint Cage who co-composed the work with him. However, his liner notes seem to indicate otherwise, offering the following blatant nod to the Cage known as John: "I have nothing to say about this track."
While agreeing that the whole matter must be approached with a certain light heartedness for the time being, Caprioglio says it will be pursued. "I find it very amusing. I don't think it's worth antagonizing EMI and other people about, but we haven't really come to a conclusion yet. At this point our position is that we should get royalties on it because he's using Cage's name. If it goes any further we might actually go as far as to contact the Cage Trust and see how they feel about it."
Speaking on behalf of the John Cage Trust, Laura Kuhn says she agrees with Caprioglio. "[Batt] said he was doing a composition by John Cage and therefore royalties are due." Caprioglio estimates that the bill would amount to about $0.08 per CD sold.
But Batt, ever the showman, says no matter what he will not pay. "I do not expect this to go to court but if it does I would cheerfully go to jail in defense of my position that this is my silence and nobody else's!"