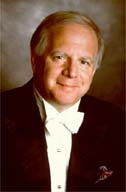 Leonard Slatkin
Photo courtesy of the National Symphony Orchestra
Conductor and noted champion of American music Leonard Slatkin is among the 2003 Medal of Arts Recipients announced by President George W. Bush. Slatkin and the nine other honorees were presented with the medals by the President and First Lady Laura Bush in an Oval Office ceremony at the White House yesterday. Established by Congress in 1984, the distinction is the nation's highest honor for artistic excellence.
"I am very proud to have been selected as a recipient of this most prestigious honor," Slatkin said, accepting the award. "The arts are an invaluable source of this country's vast creative output. To be recognized for any part of that spirit is indeed a humbling honor."
Music Director of the National Symphony Orchestra since 1996, Slatkin is also chief conductor of the BBC Symphony Orchestra. He flew in for the presentation ceremony from London, where he is preparing the orchestra and soloists for a recording of Samuel Barber's Vanessa. Patricia O'Kelly at the NSO said that Slatkin was picked up at the White House and taken directly back to the airport so he would be back in time for rehearsals today.
Music was heavily honored this year. In addition to Slatkin, this year's recipients also include the PBS television program Austin City Limits, children's book author Beverly Cleary, arts educator Rafe Esquith, dancer Suzanne Farrell, blues musician Buddy Guy, director Ron Howard, the Mormon Tabernacle Choir, country singer George Strait, and dancer Tommy Tune.
"These ten remarkable individuals represent decades of significant artistic achievements." said Dana Gioia, chairman of the National Endowment for the Arts. "Whether they embodied the grace and drama of great choreography, fired the imaginations of children, created unforgettable movies, or moved us with the passion of many voices, these inspiring people and institutions have made special contributions to the richness of our nation's cultural life."
The Medal of Arts is awarded "to those who have made extraordinary contributions to the creation, growth and support of the arts in the United States." The President selects the recipients based on the recommendations of The National Council on the Arts (the Endowment's Presidentially appointed advisory body).