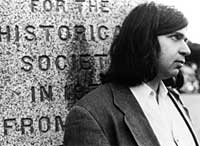 Frank J. Oteri
Photo by Melissa Richard
This month's issue of NewMusicBox is particularly personal for me. The first music I ever cared about that lasted longer that three minutes and involved extended musical forms was music written for Broadway musicals. Popular music seemed too obvious and too driven by commercial forces (I'd yet to discover truly alternative rock music), and classical music was music from another place and another time with no seeming relevance to someone growing up in New York City in the second half of the 20th century—the sitcoms I grew up watching never mentioned Ives, Henry Cowell or Ruth Crawford Seeger.
It might seem odd, nowadays, that someone running away from overly commercial music—and trying, at the same time, to steer clear of drippy nostalgia—would turn to Broadway, which seems to offer nothing more than endless revivals of sure-fire hits and committee-manufactured over-the-top spectacles. Way back in the 1970s, we still had Richard Rodgers, whom I even met a couple of times on opening nights of his latest works, and a string of incredibly innovative musicals by Stephen Sondheim. Being taken to Broadway shows during those years gave me my first opportunity to hear great music by living composers—and it made me want to be a composer. Broadway eventually led me to opera, and later, to all things avant-garde and contemporary. I attended the American premiere of Philip Glass's Satyagraha at the start of my freshman year at Columbia and after that I no longer wanted to write musicals. And then, during the 1980s, Broadway seemed to have lost its creative edge, while American opera, which had been almost utterly neglected by American opera companies in the past, was suddenly flourishing.
Now, it's 20 years later. Opera companies regularly stage "musicals" and some musical theater composers occasionally write "operas." Many composers have shaped entire artistic careers defying the expectations of both genres.
No one defies labels more vociferously than Robert Ashley, whose music doesn't sound anything like any other opera or musical theater I've ever heard. In a conversation we had at his Tribeca studio, he spoke at great length about how there is no word to adequately describe what he does. Barry Drogin arrives at a similar conclusion about the current state of the field in his HyperHistory, which is appropriately titled "The Form Without a Name." Composers Stephen Sondheim, Philip Glass, Elizabeth Swados, Dominic Argento, Mark Adamo and Jack Beeson, and producers Diane Wondisford (of Music-Theatre Group) and Grethe Hollby (of American Opera Projects) have all chimed in their opinions about the differences between opera and musical theater. Their comments reveal as great a variety as currently exists in creative work today. One thing is certain, however: these disparate musical genres have always inspired a great deal more collaboration than most other forms of composition. John Luther Adams invites you to collaborate with your own comments about the unusual process of composing music for the stage.
Perhaps it was this spirit of collaborative experimentation that so inspired me growing up. It is a way of looking at the creative process that can help make artistic endeavors more relevant to a great many people. From my vantage point, sitting in front of a computer in an office slightly west of Broadway, it also seems like one of the few non-Web-based ways of reaching a wide and extremely diverse audience.