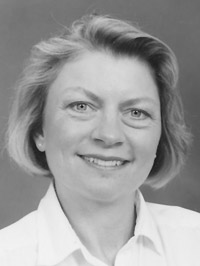 Mariana Whitmer
Mariana Sonntag Whitmer has been appointed the new Executive Director of the Society for American Music (formerly The Sonneck Society). Whitmer will work with President Rae Linda Brown and the other ten members of the Board to carry out the Society's mission: "to stimulate the appreciation, performance, creation, and study of American music in all its historical and contemporary styles and contexts, including, but not limited to art and popular musics, the musics of ethnic groups and minorities, and the full range of activities associated with music. 'American' is understood to embrace North America, including Central America and the Caribbean, and aspects of its cultures elsewhere in the world."
Whitmer will be managing the new offices of the Society at the Unversity of Pittsburgh. The establishment of the Pittsburgh office will give the Society access to the resources of the Center for American Music at the University of Pittsburgh. Her primary role will be assisting in the execution of the goals of the Society, providing a focal point for Society business, and serving as official greeter for new members.
Whitmer brings to the Society a diverse background, experienced in musical as well as business concerns. Her academic credentials include a B.A. in Musicology from the University of Southern California in 1978, and a Ph.D.in Historical Musicology from the University of Chicago in 1987. She worked at the IBM Corporation from 1985-1996, where she managed a team of technical and marketing specialists in corporate sales. Dr. Whitmer also has extensive experience as an early childhood music specialist.
It was Dr. Whitmer's combined interest in musical research that brought her to the "Voices Across Time" project in January 1999. "Voices" is a project of the Society of American Music, in consultation with the Center for American Music. Working with Deane Root, former President of the Society, she assisted realizing an innovative curriculum that uses music as a primary source for teaching American history. The curriculum is currently being piloted in schools across the United States.
One of the goals of the Society is to encourage historical investigation into all aspects of American musical life. In an interview, Dr. Whitmer noted that more and more musicologists are turning to the previously-neglected field of American music, and that universities are hiring more "American music specialists." She intends to spurs more interest in American music not only among musicologists, but also among students of all ages, composers, and performers. To this end, the Society's current website is undergoing a "facelift." There are also plans to make the society's two periodicals available online.
Upcoming activities of the Society for American Music include participation in the "2000 Music Megaconference" November 1-5, in Toronto with fourteen other music societies. The Society will present awards to American jazz greats Oscar Peterson and Billy Taylor at this conference. Other events include the annual Society conference, which will be held in Trinidad in March 2001, with the Center for Black Music Research. The Society makes a concerted effort to include performers as conference participants, with a wide variety of concerts and lecture-recitals planned for both the November and March sessions.
The Society for American Music was founded in 1975 and first named The Sonneck Society, in honor of Oscar G. T. Sonneck. It is a constituent member of the American Council of Learned Societies. Its publications include the journal "American Music" and its "Bulletin" and "Membership Directory." The Society has over 1000 individual and institutional members.