Anat Fort Trio, Nu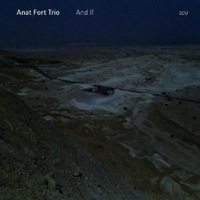 Pianist Anat Fort's first ECM disc, A Long Story, has remained in frequent rotation in my music collection since it came out in 2007, so it was exciting when her most recent release, And If turned up in the mail! Fort has played with drummer Roland Schneider and bassist Gary Wang for ten years as the Anat Fort Trio, yet this is the first recording they've released together.
Born near Tel Aviv, Fort grew up studying classical piano and came to the U.S. in the early 1990s to study jazz. Her classical training is quite evident on the recording—one of several factors that make And If a compelling listen—and it comes as no surprise that Fort has also composed for chamber ensembles, chorus, and orchestra in addition to her trio work.
Six of the ten compositions presented on And If are divided into musically related pairs. Two works entitled Paul Motian (1) and Paul Motian (2) bookend the CD—impressionistic, spare pieces inspired by the iconic drummer. There is also an interior pair of pieces on this disc—the gentle, Chopin-esque En If is paired with another very short interlude with a more active drum part entitled If, three tracks later.
Sandwiched between these two interior bookends are Some which begins with undulating piano arpeggios and transforms into a complex work in which all three instruments travel parallel musical pathways (with occasional crossroad meetings), and Something 'bout Camels. The longest work on the disc, Something 'bout Camels is an expanded version of a work by the same name on Fort's first ECM recording, A Long Story. It opens with an eerie section for double bass harmonics, over which are introduced melodic piano fragments and bits of cymbal scraping. At about 4:10 the trio settles into a slow, steady groove that includes delicious percussion contributions from Schneider. Eventually the music gives way to an extended pizzicato bass solo that is ornamented with haunting references to the opening harmonics, and the work ends with a shiver of cymbal and plucked strings.
The final pairing, Lanesboro and Minnesota, are both inspired by a residency Fort conducted in Lanesboro, Minnesota. These two works sound the most typically "jazzy" to my ears, and definitely conjure the wide-open landscapes of the Midwest. Lanesboro is hymnal, with a steady stream of vertical chord progressions, while the wistful Minnesota (which has a strikingly lovely opening sequence) moves along at a slightly faster pace, invoking images of flying over snow-capped mountains. Both works feature excellent solo work by bassist Wang, who contributes his voice while leaving plenty of room for the other two players.
Clouds Moving is an ebullient, dancing work that showcases how effectively this trio plays together. Always pushing forward, the performance sounds tight and relaxed at the same time. The shifty, jagged rhythms and funky energy of Nu are refreshing surprises after a long stretch of silky-smooth noblesse. This all too-short track (clocking in at just under three minutes) shows that the trio is clearly more than capable of rocking out and bringing some sassy to the table through tart dissonances that nip at the ears and quirky interchanges between musicians.
The strength of And If is its versatility and elegant simplicity. It draws the listener in through solid compositional structure combined with dexterous trio interactions, plus a spare and spacious approach to the musical landscapes presented. Although this disc will likely be too "pretty" for some, there is nonetheless a great deal of musical experimentation evident throughout the compositions. This music brings numerous original ideas and innovative sounds to the jazz world, and should have broad appeal to fans of a variety of musical genres.