Mirror by Charles Lloyd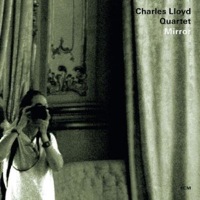 Saxophonist Charles Lloyd has been a prominent figure in the jazz world since the 1960s, and his musical sensibilities have moved in various directions over the years, traveling along the fringes of the post-bop period, avant-garde improvisation, and beyond. In his most recent recording, Mirror, he is joined by three young musicians—Reuben Rogers on double bass, Eric Harland on drums, and the much celebrated Jason Moran on piano—to create a finely wrought selection of pieces that breathe creativity into tunes new and old alike.
Among the tracks penned by composers other than Lloyd are two Thelonious Monk tunes, "Monk's Mood" and "Ruby, My Dear," as well as a version of the standard "I Fall In Love Too Easily" on which Lloyd switches out his usual tenor saxophone for alto, bringing a breathy, delicate tone to the track. Also featured are several renditions of gospel songs; "Go Down Moses," with beautifully fragile yet propulsive drumming by Harland and an engaging, supportive bass performance by Rogers, and the swinging, infectious "The Water Is Wide." A surprise is the Brian Wilson (of Beach Boys fame) tune "Caroline, No", which relays a satisfying sense of devil-may-care looseness conveyed in part by the lightly stuttering snare drum line that weaves its way through the composition.
Lloyd's own compositions show his penchant for ballads: In "Desolation Sound" and "Mirror," Moran makes sparkling contributions on piano that pair effortlessly with Lloyd's saxophone, while Lloyd gives a freewheeling performance over another round of Harland's scampering snare drum in "Being And Becoming, Road To Dakshineshwar With Sangeeta." The disc's final track "Tagi" is a complete change of pace, a meditative work with Lloyd softly reciting a text on Eastern philosophy over a throaty, droning bass voice, accompanied by contemplative piano lines and dashes of bowed double bass.
The quartet plays as if they have all been friends for years and years, a testament to Lloyd's ability as a bandleader and as an inspiring musical figure to a younger generation of musicians. With Mirror Lloyd distinguishes himself as a musician with the ability to experiment and create challenging music without losing touch with his audience.