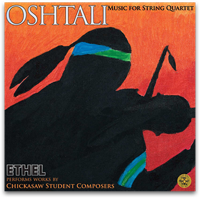 Dylan Bennett: "Holhchifo Ki'yo" from Oshtali

Amanda Shackleford: "Yeah… I Hit Like A Girl" from Oshtali
In addition to a steady stream of regular concert touring, the string quartet ETHEL routinely conducts educational initiatives throughout the country. Most recently they set up shop at the Chickasaw Summer Arts Academy in Ada, Oklahoma, working directly with 11 young composers ranging in age from 13 to 21 to record Oshtali, the first album in history to feature the works of American Indian student composers The students had received coaching from Chickasaw Nation Composer-In-Residence Jerod Impichchaachaaha' Tate in 2008 and 2009, and they participated in every aspect of the album production process, including recording sessions at the Oklahoma City University Wanda L. Bass Music Center. The project is part of ongoing initiatives created by the Chickasaw Nation Division of Arts and Humanities.
Produced by Alan Bise, the 16 works presented on this disc encompass a wide range of styles and sounds, all performed with ETHEL's characteristic verve. The composers write short statements about their pieces in the liner notes, which can also be found on the Thunderbird Records website, and a more in-depth glimpse into the project is provided here:
Oshtali opens with Fantasia by Joseph Cruise Berry, an exciting, intensely rhythmic roller coaster that surrounds a contrasting slow, hazy middle section. Dylan Bennett has two compositions represented: the harmonically lush Holhchifo Ki'yo, which translates into English as "Un-nameable," and The Seven Seas which develops an initial "piratey tune," as he calls it, that transforms into seven different melodies throughout the course of the piece. One can clearly hear the impact of the late Romantic period in John McAlester's meaty Concerto for Strings, while Ryan Lee May's lovely, mysterious Solo shows the influence of his classical guitar studies.
Extra-musical sources served as inspiration for a number of the compositions. Amanda Shackleford's Yeah… I Hit Like a Girl (which wins my vote for Best Title) is a piece about practicing martial arts, and her other included composition, The River of Our Times, is a response to a painting by her sister which traces the development, subsequent repression, and current revitalization of the Chickasaw language over the ages. These two works incorporate percussion instruments (drums and shakers) and vocalizations into the string textures in a natural, thoughtful manner. Turning to music as a means to address emotional states or impactful life events, Here's the Hurt by Katelyn Duty is a darkly beautiful homage to her father, who died from cancer. The first of Courtney Parchcorn's two represented compositions, Enough, makes use of dissonance and tension to express her feelings when being overwhelmed or pulled in many different directions, while her other piece, Innocence, is dedicated to the children of a reservation in South Dakota. The youngest composer of the group, Aubrey Halford, contributes two poignant compositions to the disc, Lullaby and Stages. They reveal an individuality that one looks forward to hearing grow and develop in the years to come.
Since there has been so much chatter about alt-classical of late, it should be noted that this CD provides a clear indication that the next generation of that style is preparing to step into those Converse All-Stars. Johnothan Bomboy incorporates elements of his favorite "underground music" in Innominate (which features an additional piano part) to arrive at an original sound, and his Lucky Charm is a quirky, infectious work that could very possibly be labeled "contemporary hoedown." Celtic fiddle music is the musical influence of choice for Katie Barrick, who pairs energy with well-crafted lyricism in The Devil's Advocate. Stasen Whitehead also tips his hat to a favorite band through aggressive, driving rhythmic double-stops and the effective use of looped material, not to mention the title of his piece, Sigur.
Overall, Oshtali is a collection of vital, engaging compositions by a talented group of young composers that not only provides a tribute to the heritage and future of the Chickasaw Nation, but that also creates a strong sense of optimism for the future of contemporary music in the US.