Julia Wolfe – LAD (for nine bagpipes), pt. 2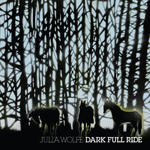 Purchase:


Buy directly from Cantaloupe
Julia Wolfe: Dark Full Ride: Music in Multiples
Cantaloupe Records CA21058
Matthew Welch: bagpipes
Talujon Percussion Quartet: drum sets
Lisa Moore: piano
Robert Black: double bass

You might want to clear small children and pets from the room first, but then by all means pop Julia Wolfe's amazingly intense new album Dark Full Ride into the stereo and crank it.

Or really, an even better approach may be to break out the quality headphones and let your ears wander around inside the swirling stereo worlds conjured by these "music for multiples" recordings. No sonic wallflower, Wolfe really goes for the jugular (or the ear canal equivalent) with this collection, and whether you come away having loved or hated the results (I don't think there is a middle line to walk in this case), you will almost guaranteedly have been gobsmacked.


Do you suspect that's hyperbole? The music makes its entrance with LAD for multiple bagpipes—in this case, Matthew Welsh and instrument times nine. Its opening sliding lines, with pitches stretched out like taffy, almost physically reach out and cock your head to the side as your ears will them to capture the pitch. Out of this landscape it's as if a siren emerges from the massive drone, wailing out an alert. The warning is passed on from line to line, each joining in the rising chorus of anxiety. Hold tight; this ride is going to keep at it for six more minutes of amazing volume, timbre, and harmonies.


All of the pieces on this album for multiples are dived into two or more tracks. LAD is presented in a two-part serving, and at the crossover a more "traditional" bagpipe language emerges (see samples above), pure and powerful for a moment before the braid of multiple lines widens out the sonic parade. Perhaps much because of the aural workout that leads up to this glorious expression of sound, it resonates all the more deeply. Fiercely addictive.


There's a little more air in the room as the Talujon Percussion Quartet opens up the disc's title track Dark Full Ride. There are almost nineteen minutes of sonic terrain to absorb on this tour of four drum sets, an exploration that runs the gamut from dry staccatoed rhythms spit out on high hats to the pounding bass of the kick drum. You probably wouldn't want to live next door to their rehearsal studio, but it's a fascinating (and at times even foot stomping/head thrashing) expedition through the instruments' full battery of sound producing options. Depending on your own personal level of fascination with this palette, the piece may overstay at points, but taken as a whole it's a gripping work, whether or not you are a recovering drummer yourself.


Interestingly, where you would think it would have come with the nine bagpipes, it's with the six pianos of my lips from speaking (here remarkably performed by Lisa Moore) that Wolfe really pushes things over the edge. In perhaps the most confrontational work on the disc, she pummels the listener with aggressive clusters of notes and weighted silences, a sort of sonic gluttony or a very particular kind of madness. It pushes emotional buttons, and in the comfort of your own home the temptation might be to push back by hitting the off switch on the stereo. But it's also a piece that rewards multiple passes and careful attention to its internal details if you have the patience and the time to give it. Regardless, coming as the third selection in this dense feast, this likely proves that the disc is not an album many listeners will want to consume in a single sitting.


If you are proceeding through the disc from A to Z, however, Stronghold for eight double basses (each manned by Robert Black) serves as the cool down of this workout—an oceanic rocking, not always so gentle, after the disc-long multipronged assault. The busy tremolos and rumbling full bow strokes pull the ear along as new lines crash up through the surface and trouble the waters. The work's final dense net of growling sound proves a perfect wall to hit at the end of this gripping journey. Where once there were many, now only echoes remain.