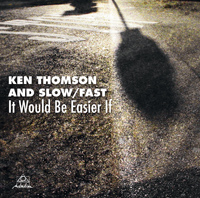 Saxophonist and composer Ken Thomson has made a name for himself playing in and collaborating with a wide variety of groups, including Bang on a Can and the Asphalt Orchestra, and he is the co-founder of the punk/jazz ensemble Gutbucket. With his latest venture, the group Slow/Fast, he seeks to combine the disparate areas of his musical life—contemporary classical, rock, and jazz—into one integrated whole that he calls "21st Century Third Stream."
Three of the five works on the recording, Kleine Helmet, No, no, no, and the title track, It Would Be Easier If, are all slow, relaxing works that feature melodic trumpet lines placed over washes of gentle sustained guitar chords mixed with hi-hat and cymbal playing that is active yet sports a light touch. Thomson chooses bass clarinet over saxophone in Kleine Helmet and It Would Be Easier If, which pairs nicely with Russ Johnson's trumpet to create parallel melodic lines, providing a satisfying contrast of light and dark timbres.
The second track, Goddamn You Ice Cream Truck definitely works the "Gutbucket" aspect of Thomson's music through its driving rhythms and aggressive, raw feel. Nir Felder rocks out admirably on guitar, and I wish that the guitar were a bit louder and placed more front and center in the mix at times, to bring the intensity of this track fully over the edge.
Wanderangst is a delightful change of pace, opening with a quirky, slightly lopsided pizzicato bass and bass clarinet duet that is soon joined by Melanie Sehman on glockenspiel. Eventually the whole group enters and speeds up while maintaining the skipping motion of the opening, this time with bass clarinet doubling bass rather than trumpet, and guitar following the trumpet's lead, until they regroup at about six minutes in and revert to the standard instrumental layout. Finally after a quick reference to the beginning section, the work slams into a high-octane conclusion.
It Would Be Easier If is a solid recording made with plenty of creativity and good ideas. To my own ears, some of the tracks wander off a bit into the realm of "noodles," and it would be really interesting to hear what could happen with this ensemble by mixing up the standard roles of the instruments, by for instance putting trumpet in the background and letting the guitar or bass sing the solo for an entire track. Nevertheless, there are plenty of tempting elements that will draw a variety of listeners from Thomson's different musical worlds.