Little Women – I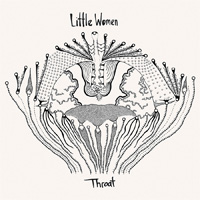 "Little Women" is not an apt moniker for a group more likely to conjure up modern monstrosity than any form of 19th-century femininity. The Brooklyn-based quartet—consisting of Travis LaPlante on tenor saxophone, Darius Jones on alto, Andrew Smiley on electric guitar, and Jason Nazary on drums—takes some starting cues from fellow Brooklynites the Zs, both in terms of instrumentation as well as the incorporation of elements from jazz, punk, and new music. But while Zs is certainly nothing to sniff at, in some ways Little Women is even more ferocious in its use of noise and improvisation. Perhaps the best thing about their sound is how similar the members of the group make all of these disparate elements things seem like extensions of the same homogeneous substance: there are shifts from composition to improvisation, free jazz to prog rock, &c., but with few exceptions it's all remarkably organic.
Little Women's 2008 EP Teeth presented four tracks comprising a singular suite, providing a decent sampling of what the group is capable of. But their new release is a defining statement for this young group. Throat, out now on Aum Fidelity, uses the same suite arrangement as Teeth but expands it to a full-length format. On this go-round, Smiley replaces former guitarist Ben Greenberg, who also plays for the Zs. Greenberg is certainly an excellent guitarist; but where his technique could often be quite concentrated and exacting, Smiley's is utterly annihilative. Everything he plays turns to fragments and sediment. It's an ideal fit to the group's sound, although for coherency's sake it's perhaps for the best that he's usually a bit lower in the mix than the saxes.
Whereas most of Teeth was centered around tunes (or fragments of), Throat more often than not exhibits monolithic noise-walls as the centralizing aspect of the music. Which isn't to say that the band is only capable of cacophony (although they are quite capable of that). There are myriad moments on Throat where Little Women busts out with ensemble that's as tight as a tourniquet. The suite is structurally taut as well, generally utilizing alternate strategies of attack and beguile.
The album opens with the first of seven nameless tracks. It's perhaps the most literal sonic manifestation of "pummeling" any musician could possibly aspire to, as LaPlante and Jones lock into a breakneck groove that shifts gears every half-minute. But the band couldn't possibly maintain this aggression without becoming either extremely exhausted or -ing. Following attacca on the heels of some locked-in riffing at the end of the first part, Smiley and Nazary drop out suddenly for part II, leaving Jones and LaPlante to grapple with a succession of long breathed, harmonically beating multiphonics. It's creepy-beautiful. Part III marks a return to the assault, with Smiley this time leading the charge.
IV begins with the most unexpected and jarring thing on the whole album: a graceful, contrapuntal, melodic section. But while it initially might seemnot to fit with the gestalt of the rest of the suite, it turns into the most daringly realized section of music on the album. After an introductory solo by Jones over tasteful multiphonic accompaniment, LaPlante snakes a glorious tenor line through Jones's ostinato-like melody. When the saxes drop out, Smiley and Nazary attempt to maintain the tenor of the piece, but soon their spastic attempt at beauty disfigures into noisy sparing. The band seems to try to start everything up again, but can no longer escape the dissonance. It all ends up being kind of tragic and dystopian.
Part V by contrast starts out pugnacious and confident; but when it attempts to break into a groove, the components are too vertiginous to coalesce. This time, the entire group dials it back to create a soft, ethereal beauty through to the end of the section. Part VI then loosely rehashes the materials from III, complete with guitar armageddon. The only real complaint to be had with anything on the album is that, in similar vein to Teeth, Throat ends with a bit of guttural nonsense shouted and grunted by the members of the group. It might be conceptually apropos, but isn't actually good music. However, the rest of the album more than compensates for this lapse.
Being "tough" is sometimes pejoratively correlated with being "stupid" in the hearts and minds of the new music community. Considering how brawny Little Women putatively is, it's conspicuous the wide range of response it's capable of eliciting. This is because the members of the group are, in fact, quite smart about their music. The structuring is ambitious and efficacious, and behind the stentorian blasts there's a general affectivity to everything that keeps the album rewarding even after the shell shock wears off.