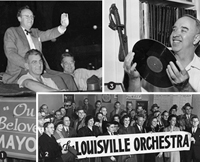 Music Makes a City

Watch it:
Theatrical release:
9/17—NYC; 9/24—LA
Commercial release of Music Makes a City (DVD): 10/15
Perhaps you have to be a certain kind of music fan to have chills running up and down your spine and a lump in your throat during a documentary about an orchestra—an orchestra that found fame through its inspired championing of new music, mind you. Then again, who doesn't love a tale of people following their passions and achieving big, bold dreams that seemed at first to be impossible?
Music Makes a City, a new documentary directed by Owsley Brown III and Jerome Hiler, tells the story of the building and evolution of the Louisville Orchestra under conductor Robert Whitney through times of significant challenge and great triumph. Watching the film in 2010, the biggest reason for fans of culture to run out and see it might be the core suggestion it makes: that when times get tough, the talented get bold.
Interviews with many of the composers (such as Chou Wen-chung, Gunther Schuller, Elliott Carter, Lukas Foss, Harold Shapero), whose art and careers were uniquely touched by their involvement with this ensemble, make up a large portion of the included footage, as do the reminiscences of those who played in the orchestra: musicians with day jobs as plumbers, dental assistants, and school teachers who gathered in their off hours to practice and perform some of the freshest music in the repertoire. Enriching these stories is a selection of archival photography and film footage that brings to life the key players in this endeavor, as well as the city that supported it (most notably, the city's mayor, Charles Farnsley).
Though admittedly not a lavishly produced or action-packed documentary, the circumstances surrounding certain moments in Louisville's history, such as their performance of Martha Graham's Judith to a score by William Schuman and their subsequent trip to Carnegie Hall, prove to be quite the thrill. In other places, the film may have benefited from a bit more concision, but overall it's an engaging, behind-the-scenes look at a unique orchestra and the choices that enlivened and sustained it through the decades. When a delegation of Russian composers, including Shostakovich, visit America and request the opportunity to go to Louisville, Kentucky, the "home of new music," well, new music fans, you just try not to get emotional.
The film's score is packed with 30-some pieces selected from among the Louisville Orchestra's noteworthy First Edition recordings, including six works that are played at some minutes length beneath a montage of cityscapes and local nature scenes. Considering the subject matter, I would like to have seen even more of the underscoring identified on screen as it was played, but all is revealed in the closing credits for the similarly curious listener.
The film concludes with the note that "the Louisville Orchestra has recorded over 120 original commissions and 400 world premieres." I couldn't help but think of the press release I received last week that announced proudly that 84 orchestras were performing 157 premieres this season. Times are tough. Perhaps one or two ensembles might take a lesson from Louisville here and decide to step out of the crowd by adding quite a few more.