Phil Kline—The Man Who Knows Misery from John the Revelator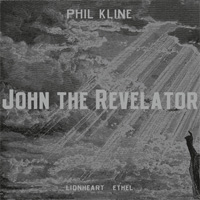 When Catholic Mass is a regular part of your childhood, some sensory indoctrination never seems to fade, even if decades have passed since you last put in any quality time on a kneeler. There's the smell of burning incense, the pageantry and, of course, the music. No matter how tone-deaf your parish priest, you could still count on him to sing you towards the blessings of our heavenly father, and that sonic impression can be too powerful to shake.
Phil Kline, the New York composer we know best as the leader of boombox parades through the Village at Christmas time, has taken up that iconic religious sound world and offers his original take on the more elaborate choral Mass with his John the Revelator, now available on the Cantaloupe label. His approach to the composition was to fold original settings of the traditional Latin Ordinary in with his own set of Propers drawn from a variety of sources both religious and secular—everything from the Old Testament to Samuel Beckett's The Unnamable. And the centerpiece of the work is Kline's take on the gospel blues of Blind Willie Johnson, from whose influential catalog he also borrowed his own work's title.
That doesn't exactly put Revelator in the same camp as the work of Thomas Tallis or Arvo Pärt (even if, in certain respects, it does whisper to a similar place). Still, Kline was raised in a Lutheran household in the Midwest, and it's tempting to listen to this unique 45-minute Mass and wonder how much of his personal history and thoughts on God are ensconced inside it. Though it's rare to hear anything as grandiose as a fully sung High Mass in the American heartland, Kline plays its symbolism against a kind of secular contemporary Americanism (musically as well as in the text), eyes and ears aimed beseechingly toward—? Well, that may be some of the point.
Taken as a whole, the piece doesn't come across so much as offertory worship as it does a presentation of acknowledged spiritual mystery and wonder—a challenging, questioning, emotional ride. And it's impressively served thanks to both the underlying composition and the stunning performances turned in by the all-male vocal ensemble Lionheart and Ethel string quartet (with the composer himself stepping in for a brief organ passage). Lionheart performs the more traditional passages of the work in a pure, warm a capella, with Ethel deepening the settings in the Propers, adding layers of more complex timbre and emotion. And for listeners familiar with Kline's vocal writing in pieces such as Zippo Songs, there's also a notable harmonic signature to listen for and enjoy in a new context.
When this WNYC commission was premiered in 2006 at the World Financial Center's glass-enclosed Winter Garden, the venue's soaring ceiling and wet acoustic offered an additional twist on cathedral tradition. The piece will get a second hearing in that venue on May 31 as part of the annual Bang on a Can Marathon, and there is admittedly something special in hearing a Mass in the company of others. The studio recording, however, concentrates and cleans up the sound, allowing it to hit the ear more powerfully (and, perhaps, more personally).
Kline has made something of a habit in his work of taking a seemingly loaded gun of cultural implication—the boombox, Vietnam, the nonsensical political ramblings of Donald Rumsfeld—and firing it cleanly through the clichés into his intended target. Here once again, with what could be just another well-worn trope, Kline takes you and your expectations and directs them somewhere startling and fresh.
***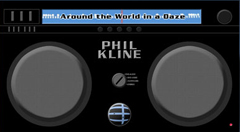 Need more Phil Kline? Then the Starkland label has a treat for you—particularly those with surround sound playback equipment. Kline's Around the World in a Daze, a 10-movement work of manipulated audio samples and acoustic performance (Ethel, vocalist Kamala Sankaram, violinist Todd Reynolds, and much from the composer himself) was commissioned and designed specially for this hi-res DVD package. There's plenty to enjoy in this piece for your standard audio consumer, but for the audiophiles in the crowd, the real fun is in sitting immersed in this mash up of street noise, music clips, music boxes, bug zappers, and many other bits of sonic detritus caught up by the composer's ear and microphone. Combined with the photos (also taken by the composer) it feels a lot like an admission ticket into Kline's head!