Robert Ward – 2nd Movement from
Quintet for Oboe and String Quartet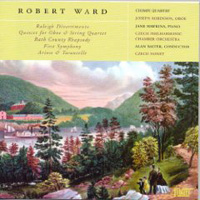 Purchase:


Robert Ward: Quintet for Oboe and String Quartet,
Raleigh Divertimento
for Nonet,
Bath Country Rhapsody
for Piano and String Quartet, Arioso and Taratelle for Viola and Piano, First Symphony
Albany Records TROY1063
Robert Ward is probably mostly remembered today as the most recent composer to have been awarded a Pulitzer Prize for Music for a staged opera (The Crucible in 1962; although in 2000, Lewis Spratlan received the award for the second act of his as-yet-unstaged 1975 opera Life is a Dream based on a concert performance by Boston's Dinosaur Annex). But Ward has also written a significant body of instrumental music worthy of greater exposure—I've long been a fan of his charming wind quintet, Raleigh Divertimento, which the Dorian Wind Quintet recorded many years ago. A new disc from Albany offers a sweeping cross-section of Ward's non-vocal output, spanning a period of more than 60 years but presented in reverse chronological order. But although the material featured here spans many generations, Ward's formal and harmonic language remains remarkably consistent; it's straight out of mid-20th century American neoclassicism with some very occasional voice-leading reminiscent of the early American Moravian composers or even Charles Ives—which keeps everything ever-so-slightly comfortably off-kilter, at least for my sensibilities.
It's doubtful that the disc's opening Quintet for Oboe and Strings will sound to you like something written only four years ago, but once you get over received ideas about what music from a given time period should sound like, you'll appreciate the music's Baroque logic and pastoral melodies, particularly some lovely interplay between the oboe and first violin in the second movement. The same holds true for the 2004 Nonet reworking of the aforementioned Raleigh Divertimento, which Ward created at the request of the Czech Nonet (who perform it on this CD), adding four strings (violin, viola, cello, and contrabass) to the original's five winds which further enhances the work's timbral variety.
The 1991 Bath County Rhapsody, scored for piano and string quartet, is inspired by the 200 year history of Bath County, Virginia, and attempts to recount everything from the county's original native American inhabitants to the agony of the Civil War to more recent scenes of "partyin', fiddlin' and dancin'." Although at times the performance sounds a bit tentative—less than synchronized entrances, erratic string intonation—at least we finally have a commercially available recording of the piece.
Ward, in the program notes he specifically wrote for this recording, claims that his 1955 Arioso and Tarantelle for Viola and Piano reflects his admiration for Bach and Handel. To my ears, this lush work—with its long melodic lines that wander through progressions filled with subtle chromatic shifts—sounds much more in the spirit of early 20th century English and French composers or American romantics like Samuel Barber than anything that someone in the 18th century would have come up with. Given the still relative paucity of solo chamber music repertoire for the viola, this charming work should attract a wide cadre of possible champions now that there's finally a readily available recording of it.
Finally, there's Ward's First Symphony, written in 1942 while he was still a grad student at Juilliard, right before joining the U.S. Army to fight in the Second World War. This is a work completely in tune with the spirit of the zeitgeist in which it was created, whatever that means, since this was the era when many American composers were attempting to write their "great American symphony"—Elliott Carter's Symphony No. 1; Aaron Copland's 3rd; David Diamond's first four; Roy Harris's 4th, 5th and 6th; the first two of Peter Mennin and Vincent Persichetti; Walter Piston's 2nd; William Schuman's 3rd, 4th and 5th; Roger Sessions's 2nd; and on and on. Ward himself went on to write two more symphonies himself only a few years later, one of which was frequently programmed by Eugene Ormandy. All in all, Ward's first essay in the medium—despite its undeniable lyricism and assured handling of the orchestra—has some pretty stiff competition, even though almost none of this important repertoire gets performed with any regularity these days. So while I'd like to write that having this recording of Ward's formidable contribution to this canon in a convincing performance by Alan Balter leading the Czech Philharmonic Chamber Orchestra will lead to its revival, don't hold your breath. Still, having the recording will assure that you can hear it as many times as you want, which is ideal since this music is chock full of details that won't necessarily be perceptible from only listening to it once.