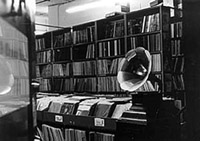 The relationship between music and theater has always been controversial – and productive. On one end of the spectrum are pieces in which text is obviously or completely dominant. Though there are no solely text-based pieces in this month's new discs — if you want one, try Randy Hostetler's Happily Ever After, featured in the November 2000 Soundtracks — there is Lukas Foss' Elegy for Anne Frank. In this new recording, excerpts from the young girl's diary, read aloud by the composer's daughter, actress Elizabeth Foss, are followed by musical commentary.
The struggle to balance singing with the clarity of spoken speech has plagued musicians since ancient times. Michael Kowalski set out to write music that stayed out of the way of the text in his chamber opera Fraternity of Deceit, and he succeeds admirably. Christopher Mohr took the opposite approach in his opera From the Realm of the Shadow, employing voices purely for sonic value, using no words at all. The two works are antithetical in other ways, as well. Fraternity is a story of two men and the lack of trust that exists between them; Shadow is a story of two women and the way in which their love heals a community (both composers wrote their own libretti). Kowalski's instrumental accompaniment is restricted to cello and keyboard; Mohr uses many instruments, including a 34-note-to-the-octave Oud.
One of the most interesting uses of text with music that I heard this month was singer Katt Simon's improvisation with saxophonist Aaron Bennett, recorded live at the Luggage Store Gallery earlier this year. The duet starts with a playful (and loud) interchange between the two musicians – Simon yelling "WHO! WHAT! WHERE!" in response to Bennett's loud "whonks" on the saxophone. Vocal jazz improvisation also shows its imprint on Meyer Kupferman's A Soul for the Moon. Conceived as a "solo, story-less opera," the 15-minute work alternates between desperate, angular music and sensual, throaty, improvised-sounding licks.
Broadway composers generally do their utmost to keep the words "out in front" of the music, and examples of their work are represented this month on several discs. Soprano Sumi Jo has cleverly chosen songs from Gigi and 1600 Pennsylvania Avenue to highlight the theme of her new CD Prayers. Also in the Broadway vein is Hoagy Carmichael's Sleepy for You, originally written with Frank Loesser for the Bob Hope movie Thanks for the Memories. You can listen to the "worded" version, recorded at a mostly-Carmichael concert in New Haven last year – be sure to check out the 10-year old jazz piano phenom Christian Sands on tracks 3 and 22 – and then listen to Ken Todd's quartet in a mellow instrumental interpretation of the same song. Naxos' new compilation The Best of Gershwin includes excerpts from Girl Crazyand his opera Porgy and Bess – in orchestra arrangements – but then you probably already know the words!
Another opera that is represented this month by (largely) instrumental arrangement is "Blue" Gene Tyranny's Driver's Son (he uses one singer in the second excerpt). In both excerpts, isle of the rose apple trees I and II, showcase Tyranny himself improvising in a relaxed way on the piano; the harmonies about halfway through the second excerpt are particularly pungent. There is also Jin Hi Kim's Jupiter's Moons, taken from Dong Dong Touching the Moons, a multimedia performance piece. Kim plays the komungo, a six-stringed fretted zither instrument that is native to Korea.
Considering the weight that Shakespeare's work holds in the realms of both drama and music, it seems fitting that there would be two instrumental works this month that take inspiration from the Bard's best-known tragedies. MacDowell's Hamlet and Ophelia is an early work, written after the composer and his wife had seen the play on a trip to London. William Henry Fry's Overture to Macbeth is notable for the "instrumentalization" of several lines from the play. Namyoung Pak's Sacred Sonata No. 2for string quartet takes its literary inspiration from another time-honored source: the Bible. Pak attempts to convey an important Biblical moment in each movement: Creation in the first, Crucifixion in the second, and a prophecy from the Book of Revelation in the third. Also descriptive is the last movement of Meyer Kupferman's Lunar Symphony, which he composed "to simulate a dreamer's voyage to an enticing planet, seductively distant." Another kind of voyage is depicted in Eastwood Lane's Sea Burial, arranged for the Paul Whiteman Orchestra by Ferde Grofé.
A piece that contains at least a literary, if not exactly a theatrical, reference is Mason Williams' Riding the Low Moon. The title of this South American-flavored guitar piece was taken from Rudyard Kipling's The Ballad of East and West. And speaking of titles, here's a double-whammy: Steven Rosenhaus' piano piece The Kiss, included on the disc Preludes to Passion. For the sake of the pianist, Laura Leon, who has obviously done her work, please ignore the title – the collection of pieces is far too interesting to put on while you're…well, you get my drift. The title of Nathan Currier's From the Grotto: A Sonata for Mozart's Secret Society reflects his intricate interweaving of fantastic and factual references to Mozart and his music. In the third movement, On the loss of family and related species (via K. 310), Currier "cross-references" two deaths in Mozart's life, that of his mother and that of his pet parakeet, with two of his most significant piano works: the sonata K. 310 and the concerto K. 453.
Words lurk behind the notes of Lantana's koto improvisation Tanka – Shoko Hirage. The tanka is a short Japanese poetic form consisting of a 5-7-5-7-7 syllabic structure. Words – two in particular – also seem to lurk behind the opening theme of jazz drummer Matt Wilson's Final Answer, included on his disc Arts and Crafts. Otto Luening's Tango, written for pianist Yvar Mishakoff, is theatrical "by default," if for no other reason than that the dance form itself has such strong dramatic overtones. And, in any discussion of theater, who could fail to include the music of John Cage, for whom all life was theater. If you bought the recording of Four4 we featured in last month's SoundTracks, then you will enjoy comparing it to this new rendition by the Amadinda Percussion Group. Because Cage leaves choices of instrumentation and note placement up to the performers, I think you will find the two interpretations "dramatically" different.
Although I tend to agree with Cage (that all music is theater), for the sake of simplicity I will break down and admit that there are a few discs this month of "absolute" music (yes, I know that is loaded – no need to post to the forum). Foremost among them, I think, is the 53-minute improvisation of The Circle Trio (Pauline Oliveros, India Cooke, and Karolyn van Putten), recorded at the Meridian club in San Francisco. All three musicians are virtuosi in their own right, and the stylistic range and flexibility that they demonstrate as an ensemble is stunning. I particularly loved the moment when Cooke, the violinist, works her way into a kind of hip-grinding, bluesy riff – you can hear a guy cheer in the audience – exactly how I would have responded, had I been there! Sophisticated jazz is also represented on Jorge Sylvester's In the Ear of the Beholder, particularly his two-part Por la Clav, with its asymmetrical meters and different Afro-Cuban and Afro-Brazilian dance rhythms.
Then there are three disparate discs that I group together under the rubric of "wild sounds." Scott Rosenberg explores the extended capabilities of flute, bass clarinet, and sopranino saxophone his disc Solo. One note of warning – I love high overtones as much as the next gal, but you might want to take off the headphones for this one. Warren Burt wrote his Book of Symmetries for a kind of "extended piano": a Yamaha Grand Disklavier hooked up to a sampler. Throughout the piece, samples of a microtonally-tuned piano are played back on small loudspeakers placed on the soundboard of the instrument. The listener hears "normal" piano tones doubled or tripled, but slightly "detuned." Larry Goldings' laconic comment about his solo Glass — "the organ has more sounds than I thought" — seems a bit disingenuous after hearing the effects he gets out of the instrument on the rest of the disc. Andy Parsons' A Whole Nother Storyfeatures the composer on "ewi" (electronic wind instrument); the CD is also worth hearing for Parsons' opening sax solo on Jaded.
Finally, for those of you out there who only come alive when the days get longer, take heart – not only does April bring Daylight Savings back to many of our American readers, it also brings the disc Summer Sketchesby the Billy Mays trio. These ten songs all have some connection to summer – "Summer Night," "Indian Summer," and so forth – including a tune by each member of the combo.