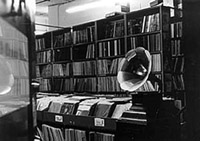 It was not by editorial design, but rather a reflection of the current state of new music in this country, that in a month where NewMusicBox focuses on funding for New Music, almost every recording featured in SoundTracks was either completely DIY or released by a small independent label that received, in varying degrees, some level of outside funding.
The major recording labels have mostly abandoned the cause of new American music, and most adventurous music in general, so it is up to smaller entities to keep the flame burning. A very visible exception to this rule continues to be Nonesuch, which although under the Time Warner umbrella, has been functioning like a small independent record label throughout its history and continues to do so to this day. It's hard to imagine any other label being able to release such important American new music documents as the 10-CD valedictory boxes for John Adams, Steve Reich and the Kronos Quartet. This month, recordings of Harmonium and excerpts from The Death of Klinghoffer, both of which were featured on the Adams box set, have been released independently, which hopefully will make even more people aware of this important music.
A much more modest, but no less significant, undertaking as Nonesuch's 10-CD musical encyclopediae is a 2-CD collection of George Antheil's own recordings of his music released by Other Minds. The long overdue Antheil recordings keep coming in his centennial year but much of his work is still unavailable. In addition, there are quite a few single-discs devoted to single composers this month, which serve as great introductions to a wide stylistic array. By featuring works by a single composer created over a period of years, these discs function like mini-museum retrospectives for these composers. They offer us a level of immersion that much of this music requires but cannot receive when a single work is presented out of context in a concert or on a compilation CD. For instance, Robert Macht's unique response to gamelan traditions becomes much clearer hearing all ten of the compositions of Innova's new CD of his music, as do Jon Deak's literary obsessions on a disc featuring four of his unique chamber works which incorporate story-telling. Lois V Vierk's unique compositional language of gradual pitch shifting is demonstrated remarkably well in a new collection on Tzadik that translates similar techniques to a variety of instrumental combinations. Similarly, by hearing a work by Hans Sturm incorporating Japanese instruments back to back with another very different work scored by a small jazz combo, we can get a much greater sense of who he is as a composer.
In the jazz world, where composition comes second after interpretation, it is rare to find "single composer" collections yet a good many jazz discs this month are compendiums of compositions by the leaders of the combos performing them. A singular compositional voice emerges on Pianist Myra Melford's new trio disc on Arabesque. The same holds true for a dreamy disc by a quartet led by guitarist Ben Monder, also on Arabesque, which features Theo Bleckmann from Meredith Monk's ensemble. Another jazz guitarist, Jay Azzolina, formerly involved with the highly successful pop fusion band Spyro Gyra, has made a surprise turn to acoustic hard bop for his latest quintet CD comprised almost entirely of his own compositions. Of course, in jazz and blues as well, interpretation is largely what defines musical personality, so in new compilations devoted to Cedar Walton, Charles Brown and the late Charles Earland, as well as brand new studio recordings by Lew Soloff and Joe McBride, or a live Afro-Cuban jazz set led by Bobby Sanabria, a single identifiable voice still emerges.
The New York New Music Ensemble's new all-Wayne Peterson CD is the first such collection devoted to this Pulitzer Prize winning composer whose 1992 prize-winning orchestral work has still not been recorded commercially. A new disc on Arabesque finally gives us a chance to hear the lush orchestral music of Judith Lang Zaimont, whose smaller-scale works have been the focus of many discs on a variety of labels. A disc on Mode offers orchestral works by David Felder, whose chamber works have previously appeared on a wonderful retrospective disc on Bridge. A disc on New World Records devoted to the music of post-serialist composer Louis Karchin offers 6 chamber works, all composed in the 1990s. There are also new discs featuring recent compositions by J. K. Randall and Ernest Woodall. A new disc by the Miami String Quartet devoted to the first three string quartets of Robert Starer allows for even more focused listening, providing the rare opportunity to hear a composer's ideas develop within a single genre over a 50 year period.
Of course, it can also be quite thought provoking to hear how different composers handle the same medium, as is the case in a disc by the Ensemble Capriccio devoted to new string trios by three American composers, including a celebration of Americana by Randall Davidson. Another disc offers saxophone quartets by Glenn Smith and Greg A Steinke.
Lastly, there are always a few discs that defy easy categorization. Randall Woolf's new adaptation of Maurice Sendak's children's classic Where The Wild Things Are mixes together so many elements it sounds like the work of several composers, but a closer listen reveals a unified whole. The same is true for the bizarre soundworld of Dave Soldier which is represented on two very different new CDs: one featuring his experimental rock band The Kropokins, which also includes Velvet Underground founding member Moe Tucker; the other featuring improvisation by a group of children.
A disc featuring some of the last performances by the late banjoist Bill Crofut also features some surprise guests, among them Dawn Upshaw, Frederica Von Stade, Chris Brubeck, and the London Symphony Orchestra. The surprises continue on Jeff Kaiser and Ernesto Diaz Infante's brass and guitar collaboration Pith Balls and Inclined Planes, which is even packaged in an extremely unusual way: a fold-out piece of cardboard held together by string.