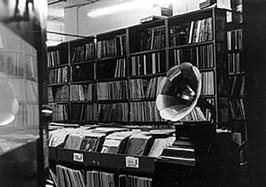 Many musicians and hard-core music lovers will swear to you that they never ever listen to music "in the background" while they work. Only some of them are lying. For me, music in the background generally has the same tantalizing effect as the smell of food coming from the kitchen — I just have to stop what I am doing and check it out. Then again, I am one of those people who derive perverse pleasure from devoting analytical attention to music specifically composed to be played in the background — outwitting the Muzak people, I like to think. Seriously, however, with the way all of our lives keep getting busier, most of us will probably admit that some of our most intense listening experiences may be not at home, sitting in front of the stereo, but at the dinner table, or in the car, when we are forced to sit still…
Given the season, if you are stuck in the car traveling or shopping, it might be a good idea to bring along the new CD of Ned Rorem songs, recently recorded by Suzanne Graham and Malcolm Martineau. The songs are all short — none longer than a couple of minutes — and each one packs an emotional punch. If your trip is a little longer, instead of listening to the Mendelssohn Op. 49 one more time, you could listen to one of the Arthur Foote piano trios. You could re-acquaint yourself with Copland's masterful opera The Tender Land, released by Sony as part of a 3-volume set celebrating the composer's centennial. If you like Copland, you would also certainly enjoy listening to the composer himself, rehearsing the chamber version of Appalachian Spring at a rehearsal in 1973.
There are also a few CDs I would recommend saving for the morning commute; perhaps listening to one of these recordings will save you that fourth or fifth cup of coffee. Peter Schickele's String Quartet No. 5 is an energetic piece that demonstrates the composer's strong love for diverse kinds of music, including fiddling and jazz. Three of Morton Gould's orchestral works have been recorded by the National Symphony of the Ukraine for Naxos, including the Foster Gallery of 1949. And included as part of the Sony Copland commemorative is Oscar Levant's enthusiastic performance of three movements from Billy the Kid, in an arrangement by Lukas Foss.
If you aren't in traffic, however, try putting Ezra Laderman's Duo for Violin and Violincello on your car stereo. Laderman's music is full of intriguing changes of affect, from grand to playful to melancholy. Herbert Bielawa's organ music is a fascinating mix of the old and the new: the Monophonies, for instance, are single-line pieces cast in medieval and renaissance forms, but written in a modernist melodic style. His Pipe Organ Adventures, on the other hand, are full of playful jazz touches. Jazz and modernism also meet in Bob Nieske's CD called Simplicity, recorded by his group, the Bob Nieske 3, and the Lydian String quartet. According to Nieske, the combination of trumpet and strings was inspired by Charles Ives' On the Pond and The Unanswered Question.
For staring out the window during an early winter sunset, I would recommend the stunning choral music of Morton Feldman, released on a disc that also contains some overtly political pieces by Stefan Wolpe. Then there is Clint Mansell's score to the movie Requiem for a Dream, a melancholy mixture of rock and minimalism, featuring the Kronos Quartet. Also for quartet is Augusta Read Thomas' passionate Fugitive Star. However, the ultimate "brooding" disc this month is Silencio, recorded by Gidon Kremer's group Kremerata Baltica. This disc includes Philip Glass' Company, along with pieces by Martynov and Pärt.
When you sit down for a nice bowl of hot winter stew, you might try listening to film composer's Elmer Bernstein's Guitar Concerto, written for and performed by Christopher Parkening, or John Biggs' lushly-scored Cello Concerto. I wouldn't advise pouring a martini, however, without a copy of Monika Brand's new CD, Love. These are really catchy, sophisticated songs, all original material from the pen of the singer herself. And speaking of shakers, there is a particularly suave arrangement of Cole Porter's "In the Still of the Night" for strings and shaker on Tom Wopat's In the Still of the Night.
When it gets right down to it, though, there is some music that is destined to stop whatever it is that you happen to be doing — pieces like Terry Riley's In C, featured in a rousing new performance by the Ictus Ensemble. If you love words, I would advise setting aside an evening for Stephen Sondheim's first musical, Saturday Night, which has finally been released in its fully-orchestrated version — the lyrics are witty, and full of references to 1920s Brooklyn. You might also enjoy Jon Deak's The Passion of Scrooge, a wonderfully inventive treatment of the Dickens classic. Most of the characters are played by the baritone, but the instruments in the ensemble also contribute musical "commentary" that is specified in the libretto.
Electronics also have a way of capturing my attention, even when they are used in a neo-Romantic context, as in Jerry Gerber's Symphony No.3, for MIDI orchestra. The American Composer's Forum Sonic Circuits VIII is a compilation of a wild variety of electronic pieces; two of them share the strange distinction of including Coke bottles in their "instrumentation." Another CD of electronic music, Transmigration Music, includes a piece by Mark Trayle that at times sounds intriguingly "wet," being based on sounds drawn from the "animal, mineral, and vegetable kingdoms." There is another piece on the same disc that evolves in real-time according to the interaction of a computer with the brainwaves of one of the performers! A fourth electronic disc this month is a CD issue of a 1970s German radio broadcast: a live performance of John Cage's Mureau and David Tudor's Rainforest II. The recording features a combination of pre-recorded electronics and Tudor's on-the-spot "processing" of Cage's rendition of the writings of Henry David Thoreau.
There are also some works for acoustic instruments that might as well be for electronics, the use of the instruments is so sonically interesting. John Cage's microtonal work Two4 was written for acoustic instruments, but you would never know it. The violin plays within a microtonal system of 84 notes to the octave, and in one of the two interpretations on the disc, is accompanied by the traditional Japanese sho. Aaron Bachelder's Nomos was written for violinist Sarah Johnson and an ensemble of percussionists with developmental disabilities. Mark Engebretson's The Bear was written for an appropriately "growly" combination of four baritone saxophones (but only two players). Roger Reynolds' music for strings is ear-catching for its brilliant, icy display.
Lastly, I really think that regardless of Gary Lucas' association with NewMusicBox, his solo guitar cover of the Ride of the Valkyries will make the most apathetic music lover sit up and take notice. His reason for including this on a disc of music with Jewish associations: "to defeat thine enemy, sing his song!" Another NewMusicBox In The First Person alumnus, Don Byron, has devoted almost an entire CD to covers of everything from Stevie Wonder's Creepin' to Puccini's Nessun Dorma. And given the season, I would recommend the new Christmas Album simply because every piece on it is American (including a piece by Charles Ives' 10-year-old daughter!), but also because there is one piece on it that is simply stunning: Carlisle Floyd's Long, Long Ago.