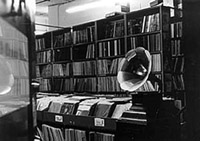 More probably than any component of NewMusicBox, SoundTracks inevitably reflects the diversity and ultimately uncategorizability of the music being created by American composers. Whereas each issue of NewMusicBox looks at a specific, albeit different, aspect of American music, SoundTracks always aims to be a reflection of what is being released on CD right now without any specific editorial guidelines other than that it is music by American composers that is submitted to us for our inclusion on the site.
This month we feature two very different new operas. William Mayer's A Death in the Family, based on a novel by James Agee, was staged in December 1999 at the Manhattan School of Music. Steve Mackey's Ravenshead, a one-man tour-de-force starring Rinde Eckert (who also wrote the libretto) was staged across the street at Columbia University, but they are worlds apart. Likewise, very different sound worlds are communicated in the symphonies by the late Samuel Barber and Irwin Bazelon, and the recent string symphony of Libby Larsen or the Concerto Per Corde by Christopher Rouse, also for string orchestra. A series of solo piano discs released this past month is also full of surprises, whether its Scott Kirby's latest survey of Terra Verde (new ragtime) or Anthony DeMare's homage to three of America's greatest maverick composers, a survey of piano works by David Kraehenbuehl or a collection of 20th century piano works performed by Gloria Cheng.
The variety of approaches to the voice is reflected in new discs featuring John Kennedy's haunting music for countertenor, Michael Torke's brilliant renditions of the Book of Proverbs as well as a collection of songs by the early American composer John Alden Carpenter, Diane Hubka's post-Shiela Jordan jazz vocals and Djola Branner's tribute to gender-bending soul star Sylvester.
There are staggering number of chamber music releases this month, from discs dedicated to works by James Newton, Harold Farberman, William Bolcom, David MacBride, John Cage, and Donald Grantham to two collections featuring flute works by David Leisner, Aaron Copland and Arthur Foote. While Leon Lee Dorsey's new quartet disc is clearly within the realm of straight-ahead jazz, Wadada Leo Smith's all-star quartet with Anthony Davis, Malachi Favors and Jack DeJohnette builds on the 40 year tradition of free jazz experimentation, and the latest release by PRISM, a saxophone quartet who blur the lines between jazz and contemporary classical music, adds a variety of guest musicians into the mix. Another disc that blurs the lines between composition and improvisation features music by Graham Reynolds played alternately by the Golden Arm Trio and the Tosca String Quartet. And Maya Beiser's latest CD, featuring cello compositions based on gamelan, Middle Eastern music and Cambodian traditional music blurs geographical as well as stylistic boundaries.
Audiochrome, the latest disc by Larry Kucharz, blurs the line between contemporary composition and techno music while new discs by Neil Haverstick and Erik Hoversten, both of whom have contributed to this month's Hymn & Fuguing Tune, lie somewhere in between the realms of new experimental music and alternative rock.