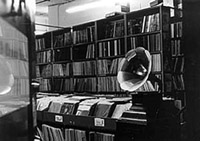 It is perhaps poetic justice that concurrent with our issue inspired by the winner of the 2000 Pulitzer Prize in Music that Bridge Records has released the world premiere recording of the Pulitzer winner from 1999, Melinda Wagner's Flute Concerto. There are a number of other Pulitzer alumni among the featured composers this month: Howard Hanson (Winner of the 1948 Pulitzer), represented here by his little-known solo piano music; Mario Davidovsky (Winner of the 1971 Pulitzer), represented with a retrospective disc featuring mostly works of the past decade; Ned Rorem (Winner of the 1976 Pulitzer), who is included on a disc of recent choral music; and Samuel Barber (two-time winner), who is one of 11 composers featured on a recital disc dedicated to art songs based on the poetry of Gerard Manley Hopkins. And they're not the only winners represented here. Michael John LaChiusa's Marie Christine has been nominated for a Tony Award for Best Original Musical Score. And, three-time Academy Award-winning composer Miklós Rózsa is represented by a disc of his should-have-received-major-awards-but-didn't concertos. (Another disc this month features concert works by five American film composers.)
Many of the great names in American music who made it into our "Why Didn't They Ever Win A Pulitzer?" Hall of Fame are here as well: Otto Luening, with a beautifully-packaged collection of his art songs; Earle Brown, with a remarkable re-issue of some of his early masterpieces; Morton Feldman, with a complete collection of his music for violin and piano featuring the bizarre For John Cage (one of his rare forays into microtonality); George Antheil, with yet another recording of his until-this-year long unavailable symphonies; Ruth Crawford Seeger, with a brilliantly-performed set of chamber works; and John Adams, with a new recording of his violin concerto. Philip Glass's violin concerto is featured in two separate recordings this month: the first paired with the Adams, the other on an all-Glass Naxos disc (pretty amazing, huh) featuring some mysterious booklet notes. There's even a new all-Glass CD on Nonesuch featuring the long awaited Symphony No. 3 which I'm thrilled to finally hear in not-bootleg-quality fidelity!
There are also three discs of free improvisation featuring Joel Futterman (provocatively-titled Authenticity, Relativity, and Revelation), and a new disc of orchestral music by Victor Herbert, as well as discs featuring big band compositions by Sam Rivers, vocal music by Daniel Asia, solo piano music by Carson Kievmann and another disc featuring solo piano works by seven different composers, small combo jazz recordings by Hal Gamper and Ravi Coltrane, a disc of chamber music by Richard Wilson, and a disc of chamber works by four SCI member-composers that blurs the boundaries between classical chamber music and jazz.
Just when you thought you heard it all before, there's always something startlingly new that lands on the desk and this month is no different. Jay Cloidt's collection of altered cat and baby sounds and disco-savvy string quartet is a good way to lighten up a potentially cynical morning. Sampler pioneer Barton McLean's Happy Days, included on a new collection of his electronic works on CRI, is also guaranteed to brighten up the room. A re-issue collecting works by Edwin London features some really surprising extended vocal writing and two new discs devoted to works by members of the Bang On A Can all-stars take the notion of totalism ever further than the term normally implies. The music of Nick Didkovsky combines the sonic universes of post-Bitches Brew electric free jazz and the post-modernist string quartet. And Evan Ziporyn combines progressive rock and Balinese gamelan.