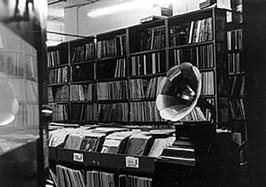 It's a funny thing how our weaknesses work, sometimes. My improvising abilities are pitiful – put something down on paper, I'll play it, but ask me to make it up, and I'm just reading the inside of my eyeballs. The good aspect of the situation is this: I stand in awe of composer-performers who improvise. I just think it's the coolest thing. And because of this awe (not unmixed with envy), I listen better.
Whatever your motive for liking improvised music, there are surely new notes to suit your fancy in this month's SoundTracks. Even the five improvised jazz discs cover a wide range. Mark Elf's Swingin' lives up to its name, with tunes by American song kings Jerome Kern and Cole Porter and others, as well as some by Elf himself. The soulful sounds of the steel guitar haunt Bill Frisell's new disc blues dream, which is also worth purchasing for the fantastic black-and-white photo on the cover. On first hearing, the music on Ben Allison's new CD Riding the Nuclear Tiger sounds deceptively simple; then you go back and realize that Charlie Brown's Psychedelic Christmas is bitonal – and there are more such surprises… The improvised jazz of W.O.O. Revelator has definite alternative rock overtones, although certainly not in the sense of having any kind of heavy back-beat. Just take my word for it that their song Windmills in Spaceis worth the disc – unfortunately, you won't see what I mean until you purchase the disc and put on a good pair of headphones. Anthony Braxton and Scott Rosenberg's Compositions and Improvisationsare mind-boggling, and worth every ounce of the concentration necessary to appreciate them.
An interesting "hybrid" of notated music and the free jazz of artists like Braxton and Rosenberg can be found in Wadada Leo Smith's Betty Shabazz: A Consistent Voice of Love, An Inspiration for Life. In this piece, the jazz composer and trumpeter has allowed bass clarinetist Marty Walker and Vicki Ray freedom in how they coordinate the parts he has written. More traditional "fully-notated" jazz is the subject of two discs: Italian pianist Marco Fumo's Rhapsody in Black and White, and the multi-composer disc Shades of Blue. Along with the solo transcription of Gershwin's Rhapsody in Blue, Fumo has included jazz great James P. Johnson's "answer" to the Rhapsody, called Yamekraw, a portrait of life in the South. Shades of Bluefeatures David Baker's four-movement work of the same name, H. Leslie Adams jazz-influenced Ode to Life, and Stephen Michael Newby's Gospel Songs for baritone and strings. Jazz makes a more subtle appearance in the late Irwin Bazelon's brass quintet, part of a retrospective disc of his music issued by CRI. Surprisingly, the contrabassoon concerto of Gunther Schuller, the father of "third stream music," contains no reference to the jazz idiom. I am not particularly partial to the sound of the solo contra, but I found the piece worth a second listen – the way he balances the orchestra (here in a piano reduction) around the low instrument is particularly interesting.
A disc of Paul Schoenfield's music contains two works that have their roots in improvisation. The jazzy Café Music was inspired by a night sitting in for the pianist at Murray's restaurant in Minneapolis, while the Slovakian Folk Songsare written-out improvisations on actual folk tunes. The improvised traditions of different world musics show up in the works of several other composers this month, as well. Miguel Frasconi's Galapagos Gamelan, for instance, is a series of improvised solos for a set of musical glasses. Patrick Grant's Fields Amazecombines the Pelog tuning of the Balinese gamelan with cross-rhythmic aspects of Latin American and West African musics. Balinese music inspired two of Evan Ziporyn's Four Impersonations; the Bang On A Can All-Star also uses his clarinet to "impersonate" a Japanese shakuhachi and an East African guitar. Two pieces on composer/pianist Beata Moon's Perigee and Apogee reveal the influence of improvised traditions. The driving rhythms of Safariseem appropriate to the title, while Antelope Vamp calls to mind images of a Brazilian street café. Similarly, Beth Anderson's September Swale seems to shift between different "exotic" musics – but again, I'm interpreting here – I heard some Asian-sounding modal material, a lyrical Spanish waltz, and down-home American mandolin-picking, among other "musics." Finally, American folksongs are the source material of Evan Chambers' Come Down Henry . The first of the three movements is a setting of one of my all-time favorite songs, John Henry, which tells the story of a contest between a man and a steam-powered drill.
There is improvisation that is neither jazz- or folk-based, of course, and this music takes all shapes. A Zen-like absence from composer control is evident in Cage's Four4, where he leaves the choice of percussion instruments up to the performers; in addition, they are left to decide where to place the note or note(s) within each specified time bracket. Predating his Zen studies, the 1942 work Credo in USrequires the use of either a phonograph record (of the performers' choosing) or random radio material during performance. Ellen Band shows the influence of Cage and others in her Radiatore, a nineteen-minute exploration of steam radiator sounds. Ellen Barkin and Benjamin Boretz's keyboard and synthesizer improvisation sounds comparatively more conventional, harmonies sweet to the point of irony.
Speaking of sweet harmonies, a must-listen this month is definitely David Lang's The Passing Measures. To really listen to this 42-minute work, you will need to set aside that amount of time in a quiet place – I first tried to listen to it on the subway, which was a mistake. As the composer explains it, this is music that teaches you how to listen to the music, and you will need the first twenty minutes just to "lower your blood pressure" enough to appreciate the slow-moving harmonies.
Good performers can make even the most complex notated music sound improvised. CRI has put out three discs that showcase some of these artists. Xak Bjerken's High Riseis a tour-de-force, imaginative performances of recent works by Americans Christopher Theofanidis, James Matheson, Karen Tanaka, Roberto Sierra, and Steven Burke. Speaking of piano music, six different artists have recorded James Sellars' five sonatas and his sonatina; both the performances and the works themselves are remarkably varied. Multiple virtuosi are represented on Riddles, a disc devoted to the music of Robert Maggio. Divide, played here by Daniel Grabois and Colette Valentine, is a welcome addition to the often-neglected horn literature. Love Rejoicesshowcases the songwriting of H. Leslie Adams, brought to life by the tenor Darryl Adams – his interpretations of Adams' Langston Hughes settings are a highlight of the disc.
And finally there are three discs this month that represent some of the directions that traditional large-scale genres are taking. Stephen Dankner's Song of Solomon: Symphony No.3is as voluptuous, harmonically speaking, as any work by Mahler or Rachmaninoff. Jerry Gerber's Symphony No. 4also has romantic roots, with the significant difference being the performing forces: the orchestra has been replaced by a "virtual orchestra," courtesy of the composer's MIDI setup. David Ward-Steinman combines the best of both worlds in his Chroma Concerto, a sonically enchanting interplay of "fortified" (partially prepared) piano, Prophet-5 synthesizer, celeste, toy piano, percussion, and chamber orchestra. Happy listening!