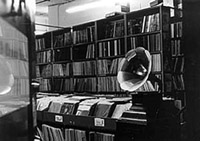 As usual, the 34 CDs collected in this month's round-up of new recordings of American repertoire reflect a stunning range of musical possibilities. A great amount of lost American musical history has been unearthed recently in recordings of symphonies by Virgil Thomson, George Antheil, and Paul Creston, organ concertos by Leo Sowerby, chamber music by Arthur Foote, and songs by Edward MacDowell, as well as an Ellipsis Arts collection of early electronic music featuring works by 30 American composers. (The music of one important composer overlooked by Ellipsis Arts, Gordon Mumma, is luckily featured on a career retrospective disc by Lovely Music.)
New discs featuring original orchestral works by Ferde Grofé and Robert Russell Bennett, today more often remembered for the orchestrations of music by Gershwin and Richard Rodgers, shed new light on their achievements, and a 2-CD collection of John Cage's text pieces offers an intimate side to Cage that most people who did not know him personally are unaware of, while a new disc of his orchestral work is further proof of the inexhaustible treasure trove that is the Cage archive.
A variety of new piano discs display an exiting array of approaches which range from Peter Serkin's lyrical approach to complex modernist scores to Paul Bley's lyrical approach to the often equally complex sound world of free jazz. Somewhere in between those two worlds are Elie Siegmeister's jazz-tinged contributions to modern piano music, collected on 2 new CDs (volume 1 and volume 2), Stephen M. Barnett's post-impressionistic counterpoint, Ernesto Diaz-Infante's Feldman meets Monk improvisations and the uncategorizable work of Keith Jarrett, two very different facets of which are represented here this month: his very personal solo piano interpretations of standards and his compositions for other players. And then there's a disc of rediscovered early works and fragments for player piano by Conlon Nancarrow, and a collection of new music for 2 pianos features an amazing quartertone piece by John Corigliano.
Old and new jazz sounds emanate from a big-band performance by the great Buddy Collette, the first-ever jazz disc on Bridge Records, as well as small group recordings by John Abercrombie, the Dave Holland Quintet, Sarah Jane Cion, and the genre's boundaries continue to get stretched with new discs by Neil Sadler and Andy Narell who solos on steel drums!
Jazz isn't the only music whose boundaries get stretched this month. A new disc by the Kronos Quartet, featuring a new piece by Terry Riley as well as arrangements by Osvaldo Golijov, continues the globe-trotting sonic explorations of their landmark Pieces of Africa disc, and Bill Frisell's new solo disc is a unique amalgamation of jazz, country, blues and several other things…
New discs of chamber music by Elliott Schwartz, Alan Hovhaness, and Steve Reich as well as large scale choral work by Frank Ferko offer great listening rewards as well, so give some of these discs a listen!