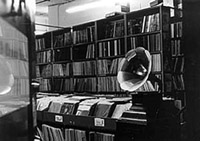 I was going to organize this month's SoundTracks around the subject of composers and conductors, but I got distracted (chalk it up to spring fever). Remember that silly game, a few years back, "Six Degrees of Kevin Bacon?" Well, I got to playing that with the CDs. Take Tan Dun's soundtrack for Crouching Tiger, Hidden Dragon. How could I not make a connection with Fred Ho's martial arts ballet Once Upon a Time in Chinese America…? (It's very interesting to compare how the two composers, one from the classical world and the other from the jazz world, deal with Asian musical influences.) Another soundtrack by a jazzman is Terence Blanchard's The Caveman's Valentine, the story of a former Juilliard student turned homeless recluse…
Speaking of Juilliard, alumnus Scott Steidl's Fire Dreams is based on his personal memories of New York, where he lived for thirteen years. Millennial Manhattan is the subject of Douglas Crase's poem Chelsea Square, the inspiration for Jeff Nichols' piano piece of the same name. Marilyn Nonken, the pianist for whom Chelsea Square was written, went to Eastman, where composer Peter Sacco and conductor Paul Freeman met as students; you can hear the results of their collaboration on a new disc from Albany.
Virtuoso violin playing links the Sacco disc (Lydia Forbes in his Violin Concerto No.1) to the long-overdue U.S. release of a two-CD set by the Mosaic Sextet, featuring Mark Feldman on the fiddle. The sextet includes bassoon (Michael Rabinowitz) but excludes saxophones, which can be found in David Stock's Sax Appeal, part of a disc recorded by the Transcontinental Saxophone Quartet. The third movement of Sax Appeal is a sarabande, a Baroque dance form, like the Gavotte/Musette from Perry Townsend's Suite for Prepared Piano.
A different kind of piano "preparation" is involved in Philip Corner's Concerto for Housekeeper, an 'action concept' piece in which the performer concentrates on the dirty keys of the instrument. Housekeeping is also the subject of "Guinevere Among the Grapefruit Peels", one of the numbers in Mira J. Spektor's Housewives' Cantata. Love, illicit and otherwise, is much discussed in the course of the review, and what says 'love' better than that old staple of the wedding circuit, Carrie Jacobs-Bond's "I Love You Truly"? And while we're on the subject of old, sentimental songs, there are several embedded in Victor Herbert's Naughty Marietta, recorded complete during the summer of 2000 by the Ohio Light Opera.
Naughty Marietta was released as an MGM movie in 1935 starring Jeanette MacDonald in the title role. It was a year later that the U.S. Government released its first commercial movie, Paul Lorentz's The Plow that Broke the Plains, with music by Virgil Thomson. Lara Downes plays a suite taken from the score on her new disc American Ballads. The title track of Downes' CD is Roy Harris' set of five folksong adaptations. One of Harris' colleagues was Ruth Crawford Seeger (in fact, they did folksong arrangements for the same early radio show), and her harmonization of the song Lonesome Road forms the basis of Larry Polansky's mind-breaking set of variations. Two of the fifty-one Crawford Variations reflect his intensive gamelan study. And who is more closely associated with the gamelan than Lou Harrison, who plays kendhang in this first recording of his Double Concerto for Violin, Cello, and Javanese Gamelan.
Included in the percussion battery for Earl Kim's Exercises en Route are "exotic" instruments akin to those used by Harrison as part of his gamelan: Japanese and African handsticks and a Japanese bell and woodclapper. The African reference can be stretched over to the "Song to a Dark Virgin" of Florence B. Price. Ms. Price was the first African-American woman composer to earn national recognition, making her a figure of singular historical importance, an honor she shares with Martin Luther King, Jr., to whom tribute is paid in Philip Koplow's Elegy for Viola and Orchestra. On the same disc (of works for viola and orchestra, played by Karen Dreyfus) is Jackie T. Gabel's Whale Hunt Dream, a programmatic depiction of a failed whale hunt. This failure would probably warm the heart of Steve Heitzeg, who frequently addresses environmental issues through his composition; no exception is Sandhill Crane (Migration Variations), included on a CD of excellent new piano music recorded by Teresa McCullough.
Two of the Migration Variations are dedicated to composers – variation 5 to Copland and variation 6 to Cage – just as John Harbison's Symphony No. 3 is dedicated to his friend and fellow composer Christopher Rouse. Also on that disc is Harbison's playful, didactic orchestra piece The Most Often Used Chords. All four movements of the work are based on the "fundamentals of music" pages frequently found on the covers of blank music writing notebooks. The influence of instructional material is shared by Craig Russell: the fourth movement of his Concierto Romántico is a long-overdue composition assignment given to him by a Spanish guitar teacher.
Spanish-style guitar playing makes quite a different appearance in John Polito's Aurora Alegre, a jazz piece with heavy New Age overtones. If you like New Age, then you will welcome Donald Walters and his exploration of the Secrets of Love. However, my personal feelings about this disc (and New Age music, in general) are suggested by the title of the final track on Lesley Pride and Laura Leon's new disc: "Lime Jello, Marshmallow, Cottage Cheese Surprise" (William Bolcom).
William Bolcom lives and teaches in Michigan, a state he shares with Anthony Iannaccone, whose string and piano music is represented on a new disc from Albany. Iannaccone taught part-time at the Manhattan School of Music during the 1960s, likely around the same time that composer Robert Manno attended as a voice student. Manno set Dylan Thomas' poem "Fern Hill" for baritone and chamber ensemble. As Thomas reminiscences about the charms of an old farm, so Ellen Taaffe Zwilich celebrates the gardens of Michigan State University in her Symphony No. 4 – The Gardens. Included on this disc of her music is a horn concerto she wrote in 1993 for David Jolley and a consortium of orchestras. Another horn and orchestra piece, notable for its jazzy side, is Craig Russell's Rhapsody.
Jazz and classical music meet again in what is certainly the most conceptually interesting disc this month, Sideshow, featuring eleven of Ives' 114 Songs interpreted by four jazz musicians. For two of these songs, Ives wrote his own text – "The Leopard" and "Slugging a Vampire" – a double duty also undertaken by Mira J. Spektor in her opera Lady of the Castle, her austere two-voice Magen Yerushalaim, and in two of the songs she sings on her disc Mira Chante. Fred Hersch wrote no words for his Songs Without Words, though it's hard to deny that he makes the piano sing.
Well, that does it. Does this mean that Fred Hersch has anything in common with Tan Dun? Has he ever met him? Well, they both live in New York, so probably at one time or another they've at least passed each other on the street or taken the same subway car…the subway…which reminds of the piece by Perry Townsend called Don't Ride Off which uses, as text, the piped-in safety warnings from the Lexington Ave./53rd Street subway station…well, and subway trains have conductors, right? Conductors…hmm…okay, okay, I'll stop, and leave you to draw your own web of conclusions. Happy listening!