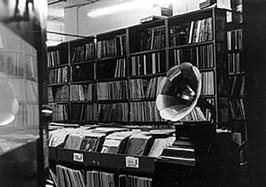 The only "borrowed music" this month comes in the form of "arrangements," and, unfortunately for our 'theme' this month, the source music was all borrowed properly! Guy Klucevsek's adaptations of two Burt Bacharach tunes, "The Blob" and "One Less Bell to Answer," on his CD Free Range Accordion, are both entertaining and strikingly original. If you haven't heard Klucevsek before, this disc will entirely reshape your perspective of what the accordion can do. Free Range Accordion also contains three of Klucevsek's own pieces, plus substantial works written for him by Lois V Vierk and Aaron Jay Kernis, and others.
Arrangements are frequently something of a necessity for woodwind quintets, although this necessity could be diminished by programming interesting new pieces like Roger Zahab's your offending kiss, recorded by the Akron-based group Solaris on their new CD American Quintets. And appropriately enough, for this centenary month, The Prairie Winds' new CD, Gale Force, includes a transcription of Copland's arrangement (!) of the song "Simple Gifts" for the ballet Appalachian Spring.
Having accompanied my share of music arranged for winds, I am happy to note that this month has also brought two new CDs of original solo wind music. The Music of David Maslanka features his lyrical music for saxophone, including the "Song Book," scored for the unusual combination of sax and marimba. The CD of Matthew Bennett's chamber music is impressive, not just for the breadth of the music, but because the composer himself solos on flute, clarinet, and bass clarinet.
An intriguing group of CDs this month invite the listener into entirely personal sound worlds. Carter Scholz's Eight Pieces.are experiments with tuning systems and the harmonic series: "Rhythmicon," for instance, is based on the first seventeen members of a harmonic series, organized in meters from 1/8 to 7/8. Overtone Music.is a collection of electronic improvisations by Hubert S. Howe, Jr., all slowly-evolving, swirling explorations of the acoustic components of different sounds. Rodney Oakes' Music for Midi Trombone features some pieces with explicitly political motivation, my favorite being "Erotic Rhapsody," which describes a meeting of political figures and television evangelists that devolves into an orgy. Slybersonic Tromosome is the name of both the disc and the group formed by Peter Zummo, on trombone, and Tom Hamilton on synthesizer. Their compositions make use of a variety of other instruments, as well, like the "beat thing," the "irrigation hose" and the "super funnel."
A retrospective disc of the late Lucia Dlugoszewski's music, Disparate Stairway Radical Other, includes her "Exacerbated Subtlety Concert (Why Does a Woman Love a Man?)" for the "timbre piano," her own invention. Basically, the composer plays the inside of a conventional piano with objects ranging from paper to baby food jars, producing a stunning array of different effects. If this is somewhat reminiscent of Cage's work with the "prepared piano," then Randy Hostetler's forty-five minute all-spoken tape piece Happily Ever After is reminiscent of Cage's text pieces. The whimsically-conceived Conspirare: Chamber Music for Solo Flute.features Patti Monson – both in solo and in ensembles of herself – in pieces that "expand" the instrument, either through the use of tape or through extended techniques.
Worthy of inclusion in the "personal sound worlds" collection, though no electronics or "super funnels" are involved, is the new CD of Lou Harrison's dance score Rhymes with Silver, commissioned by Mark Morris in 1997. The influence of Turkish music is particularly evident in three of the movements, but there is also a funky "Foxtrot" that combines the spirit and rhythms of the familiar dance with percussive clusters in the piano.
Hale Smith's music of the past fifty years is represented on a new disc from CRI. Two new recordings of recent works are included along with reissues of the powerful Innerflexions of 1977 and the In Memoriam of 1953. George Walker's Pulitzer Prize-winning Lilacs has finally been recorded and released on a new Summit CD that includes a performance of the Violin Sonata No.2 by the composer and his son.
Another premiere recording issued this month is Philip Glass' Symphony No. 5. commissioned by the Salzburg Festival as a celebration of the millennium. The two-CD set comes with twelve earth-toned pieces of folded cardboard, each inscribed with a song text; unfortunately, given its absorbency and pretty design, I am really inspired to use the libretto as a set of drink coasters! Also in the strange packaging department comes the Albany release of The Rollicking and Boisterous Music of Don Gillis: Music inspired by the American Southwest. The cover features a sepia-toned photograph of two young women with violins, one of whom has the phrase "Yeeehhaaaa!!!" issuing forth from her obviously closed mouth, and is adorned by a star containing the words "Music that's really fun!" Well…to their credit, the music is fun, in a full-bodied, forthrightly American kind of way.
Minus the potential coasters, Philip Glass' music made another appearance this month in the form of a new CD of solo piano works. UC San Diego professor Aleck Karis has recorded not only the ever-popular Metamorphosis, but also the less familiar Wichita Vortex Sutra. Another West Coast pianist, Tanya Stambuk, who teaches at the University of Puget Sound, has recorded another new CD devoted entirely to Dello Joio's piano music. Stambuk's playing is perfect for this music, and the "Short Intervallic Etudes for Well-Tempered Pianists" are really worth hearing. Alan Mandel has accomplished the impressive feat of recording, on two CDs, the major solo piano works of Edward MacDowell: all four of the difficult sonatas, the "Woodland Sketches" and the "Sea Pieces." Allen Brings' chromatic music for piano, harpsichord, and organcan be heard on a new Capstone disc; his six Praeludia for organ are powerful, because the instrument itself highlights both the intimacy and the thunder inherent in the score.
I am definitely rushing out to find the music for Edward Smaldone's piano pieces "Scenes from the Heartland," part of the CD of the same name devoted entirely to Smaldone's music. Like his Rhapsody for piano, the Scenes represent a rich combination of free atonality, Mahlerian lushness, and jazz. An interesting companion to this recording is the new CD of Alec Wilder songs – not just his snappy jazz tunes, but also his "art songs," in particular the moving "If You Are Happy (Covenant)," based on a poem by Tennessee Williams. On a personal note, I should add that the bassist on that CD, Aleck Brinkman, taught me almost everything I know about computers when he was a professor of theory at the Eastman School (he is now at Temple). Here's to versatile musicians!!