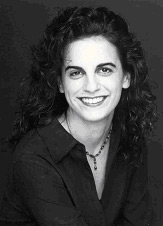 Stacy Garrop
Composer Stacy Garrop has won the fourth annual Raymond and Beverly Sackler Music Competition Prize. Her proposal to write a work for chamber ensemble earned her a $20,000 cash prize and a premiere performance next spring.
Garrop (D.M., Indiana University, 2000) is an assistant professor in composition at the Chicago College of Performing Arts at Roosevelt University.
Though Garrop says she is still in the very early stages of the piece, her work will be titled Mirror, Mirror.
"There are a number of stories and fables in literature involving the power of mirrors and reflections," explains Garrop. "Snow White's wicked stepmother whose mirror told the truth of beauty, Narcissus who fell under the power of his own gaze until he died, Alice's exciting trip through the looking glass, even Harry Potter who stared with yearning at his deceased parents the mirror of Erised—all involve encounters with mirrors or reflections, with a widely varied experiences as the authors who imagined them.
"The concept of my proposed piece involves two identical chamber ensembles, to be set up in exact mirror images of each other. One chamber group will serve as the subject in front to the mirror, and the other group will represent the mirror's reflection. For instance, if chamber group #1 represents the wicked stepmother asking the mirror who is the fairest of all, chamber #2 will be the voice of the mirror answering that Snow White is the fairest."
This year's jurors were Libby Larsen, Gerard Schwarz, and Craig Urquhart. The international award is sponsored by the School of Fine Arts at the University of Connecticut. The competition, which this year was geared specifically to a works for chamber ensemble, seeks to support and promote aspiring composers and encourage the performance of their works. Garrop's submission was one of 90 entries received.
Finalists for the 2005 Prize were composers Dana Wilson, Roshanne Etezandy, and Daniel Kellogg. Past winners have been Gabriela Frank, Karim Al-Zand, and Orianna Webb.